England v Sri Lanka, first Test: James Anderson and co have put hosts in ascendancy
Late wickets just reward for hard graft throughout the day
Last Updated: 15/06/14 2:51pm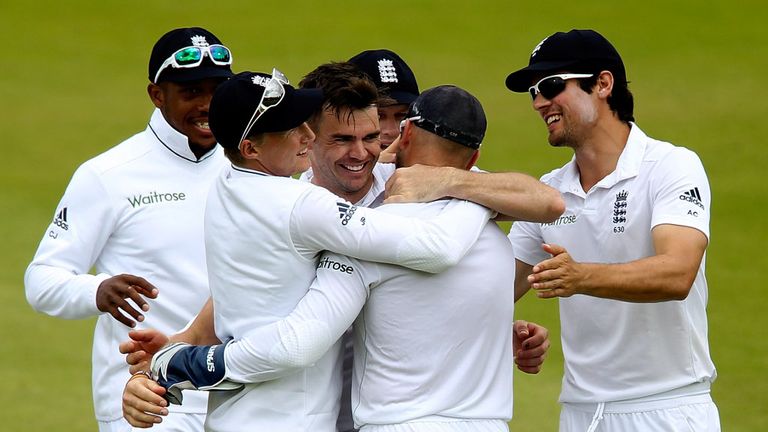 England's bowlers can be pleased with their work after the third day of the first Test at Lord's, says Sir Ian Botham.
Alastair Cook's attack stuck three times towards the closing stages of Saturday's play to leave Sri Lanka perched on 415-7, 160 runs behind England's first innings total.
Sky Sports pundit Botham saluted the way pacemen James Anderson, Stuart Broad, Liam Plunkett and Chris Jordan contained the visitors' run rate.
And with centurion Kumar Sangakkara now back in the shed, Beefy reckons England can kick on and push for victory over the final two days.
"The bowlers did their captain proud today," he said.
"It's never easy going out on a flat-ish wicket but they controlled things up until the second new ball and then made inroads.
"Either side can still win this but England are in the ascendancy, especially if they can blow these last three wickets away on Sunday morning."
Hurried
Anderson collected two wickets on Saturday, with Jordan, Plunkett, Broad and spinner Moeen Ali all striking once.
And Sky Cricket's Nasser Hussain believes Cook must be praised for the way he orchestrated England's bowling effort.
All credit to Plunkett for making one of the best batsmen to ever play the game [Jayawardene] look hurried and troubled.
Nasser Hussain
"England had specific bowlers for specific plans," he said.
"Broad used the new ball well but Mahela Jayawardene struggled against Plunkett with the old one and didn't know whether to play or leave the short balls.
"All credit to Plunkett for making one of the best batsmen to ever play the game look hurried and troubled, but also credit to Cook.
"He set some good fields and did well to use Plunkett immediately after lunch when he could have gone with Anderson."
Numbers
Sangakkara was the bedrock of Sri Lanka's innings, making 147 – his first century at Lord's – before he edged a wide ball from Moeen through to gloveman Matt Prior to hand the Worcestershire man his maiden Test scalp.
But that blip did not deter former Sri Lanka player Russel Arnold suggesting that, having fostered such a stunning career, Sangakkara can now be classed as the finest batsmen his country has ever produced.
"I would say Aravinda de Silva and Sangakkara are the best Sri Lankan players of pace," said Arnold, who figured in 44 Tests and 180 one-day internationals prior to his retirement in 2007.
"But if you consider what Sangakkara has done over a period of time and look at the numbers and consistency he is probably creeping ahead of Aravinda overall."
Hussain added: "Sangakkara doesn't have anything to prove to anyone – he has done virtually everything in the game and has just won the World T20 – but he has a hunger for runs.
"The hundred was a great moment for him and he played brilliantly, playing the balls he had to and leaving the ones he didn't have to."