Eng v SL, first Test: Gary Ballance showed range of qualities to capture maiden Test ton
'Sri Lanka will be under pressure on day five, albeit on a flat pitch'
By Nasser Hussain
Last Updated: 16/06/14 1:09pm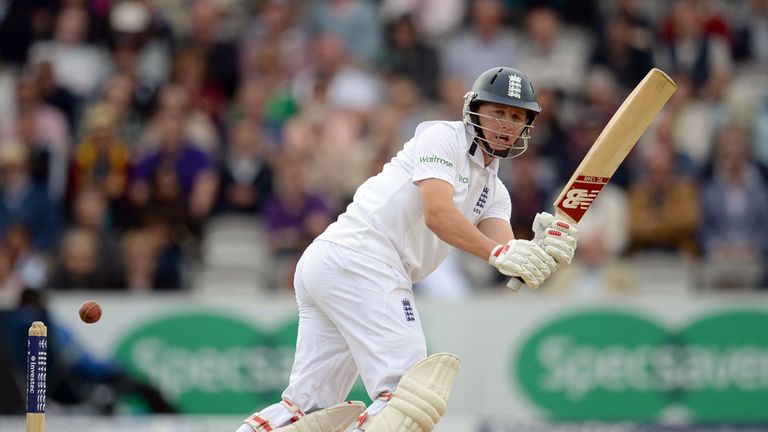 Gary Ballance has increased his stock – and put England in a commanding position – after notching a century on day four of the first Test against Sri Lanka, says Nasser Hussain.
Yorkshire star Ballance ended proceedings unbeaten on 104, helping his side to a score of 267-8 and a lead of 389 heading into the final day at Lord's.
Sri Lanka made life hard for their hosts – at one point they had Alastair Cook's charges 121-6 – but Ballance's maiden Test ton has given England a firm grip of the clash, insists Hussain.
"What strikes me is how composed he is and how he is able to play in two or three different ways," the former England captain said of Ballance, who brought up three figures with a six.
"He needed to get his head down, go into his shell and block for a while with England at 160-6, but towards the end, when he needed to put his foot down, he did, and that bodes well.
"He got vital runs for himself and his England career, but also the team.
"His hundred has virtually taken defeat out of the equation so Cook can now declare overnight, set some attacking fields and go all out for the win.
"You have to say that it is still a pretty good pitch and Sri Lanka have some very good players, but a few balls will spin and a few will bounce and the pressure will be on."
Starving
Cook's captaincy will be scrutinised on Monday, then, but it was his batting that was assessed on Sunday after the 29-year-old – a chief talking point on the latest Cricket Writers on TV – backed up his first innings total of 17 with a knock of 28 in the second.
Sky Cricket's Mike Atherton feels Cook is struggling to forget the peppering he received at the hands of Australia's potent pace attack, both this winter and last summer, and needs to make a few technical adjustments.
"Cook is a guy with 25 Test hundreds and over 8,000 Test runs so he is a fine, fine player," said Atherton. "But what we have seen in the last 12 months is Australian bowlers starving him of back-foot play and not giving him balls to cut, pull or clip off his hip.
"He is a little bit out of nick and there are some moving parts in his game which aren't quite in sync - he is playing with a stiff front leg and thrusting his hands at the ball, as opposed to someone like Kumar Sangakkara who is bending his knee before playing late."
Cook was one a trio of players to fall to the seam of Shaminda Eranga (3-63) in England's second innings – Test debutant Sam Robson (19) and Ian Bell (9) were the others.
Atherton explained how impressed he was by the 27-year-old, while fellow pundit Shane Warne – a man who knows a thing or two about spin bowling – praised Sri Lanka twirler Rangana Herath (4-95).
"He did well in the first innings when he was asked to bowl short and quick, but with the new ball in England's second innings he pitched it up from the Nursery End and bowled beautifully," Athers said of Eranga.
He has lots of variations, mixes things up in terms of pace and uses the crease and his flight well.
Shane Warne on Rangana Herath
"His groupings were very good, his line to the right-handers was excellent and he managed to get the ball to come back up the hill to Robson and Bell."
Warne added: "I think Herath is a subtle and underestimated bowler.
"He has been around for a while, has lots of variations, mixes things up in terms of pace and uses the crease and his flight well.
"He bowled very well today [Sunday]."
Watch the final day of the first Test from 10.30am, Monday, Sky Sports 2.