Cricket Expert & Columnist
England v Sri Lanka: Hosts must be 'ruthless' at Headingley, says Mike Atherton
Last Updated: 18/06/14 8:59pm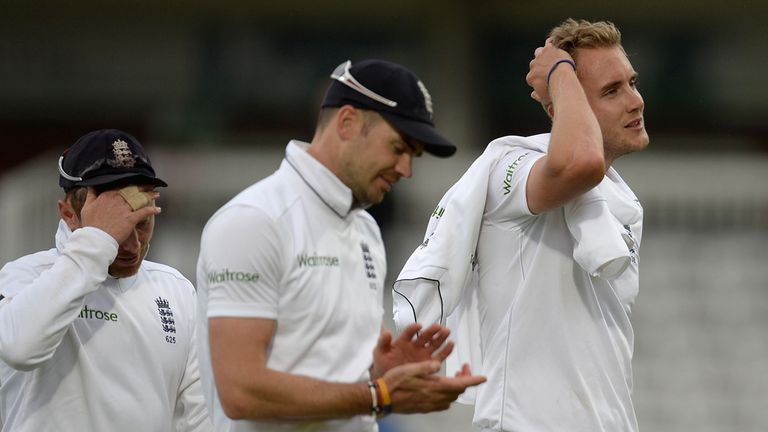 England will be strong favourites to win the second Test against Sri Lanka after going so close at Lord's – but they must be more ruthless at Headingley.
While Sri Lanka will be buoyed by surviving that dramatic finale on Monday, England really made all the running throughout the five days in the capital.
Sri Lanka were always behind in the game and I felt Angelo Mathews' decision to bowl first was a cautious one. He was worried about losing wickets up front and they never really challenged England, apart from maybe one little period on the fourth afternoon when they had the hosts 120-6. Sri Lanka were always chasing the game.
I expect England to make most of the running in Leeds but they need to hammer home their advantage.
Michael Atherton
I expect England to make most of the running in Leeds as well, but they need to hammer home their advantage in the way they weren't able to do at Lord's – because, ultimately, they weren't quite good enough to force the victory in the first Test.
There's no change in the England squad and I should imagine they'll go in with the same team and just hope for a pitch with a bit more pace, where the nicks carry and it's less easy for the Sri Lankan batsmen to bat out time.
Of course they'll want improvements at the top of the order after Alastair Cook and Sam Robson failed to fire, but otherwise it was a pretty good performance at Lord's, where the pitch was flat and unresponsive.
I haven't seen the forecast and I haven't seen the pitch but generally at Headingley you get a bit more movement off the seam than you do at Lord's, which should play into England's hands.
There's been some talk this week about the lack of a frontline spinner in the England team and the seamers are going to have to have enough about them to get the win in the second Test.
Moeen Ali is a perfectly ok spinner but he's not going to be taking many wickets in a Test match so it's down to the four seamers to keep pounding away and get the job done. And they'll have to do that while England continue to go in with this balance of a side that doesn't include a front line spinner.
It's not going to be easy – as we saw at Lord's – for them to pick up 20 wickets, though. Sri Lanka have some good batsmen and two world class players in Kumar Sangakkara and Mahela Jayawardene and England's bowling attack is heavily reliant on Broad and Anderson.
However, I can't see Sri Lanka beating England unless they get lucky with the conditions and find it sunny when they bat and cloudy when they bowl.
Ton up for Bell
The second Test will also be a landmark for Ian Bell – the batsman will be winning his 100th Test cap at Headingley.
He's been a fabulous player for England. You don't get to play a 100 Tests for England without being a good player and obviously having a strong mind as well. You get tested in all different ways over a lengthy career; your technique, the way you deal with difficult situations and bounce back from tough times gets tested.
The key for him was when he got dropped in Jamaica in 2009 and the way he knuckled down and came back from that. He's averaged 50 in Test cricket from that point onwards and it's been a very productive five years for him. So congratulations to him; he's been a fine player.
But I think there's a lot more cricket left in Ian Bell. He'll be a good man to shepherd some of the younger players, with the likes of Robson, Ali, Gary Ballance coming into the team, guys who are very raw in terms of Test match cricket. Bell is the perfect senior player to learn from.