Andrew Strauss
Cricket Expert & Columnist
England v Sri Lanka: Sam Robson wins Andrew Strauss' praise
Hosts in strong position to push for win, says former skipper
Last Updated: 21/06/14 8:18pm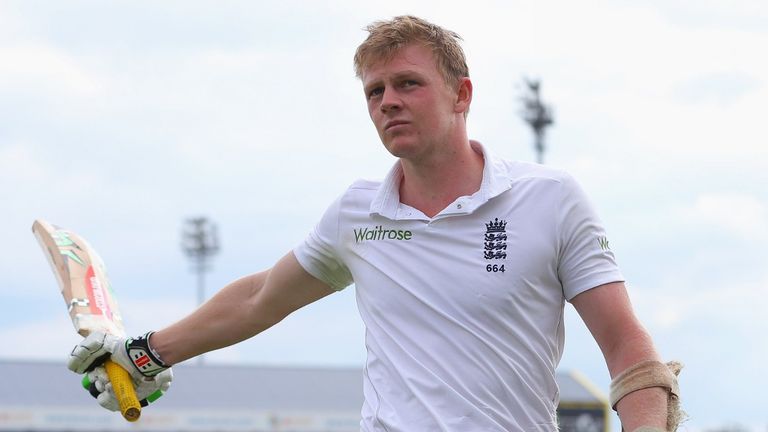 Sam Robson's patient maiden century for England has given them a great opportunity of getting back to winning ways, says Andrew Strauss.
The Middlesex opener built an impressive 127 in just his second Test for his country, as England finished day two of the Headingley Test with Sri Lanka on 320-6, a lead of 63.
Despite a late flurry of wickets, the hosts are in a strong position to push on for a series-winning victory and former England captain Strauss commended Robson on his contribution – and rejected any criticism about the pace of his 253-ball innings.
England need to re-learn how to win and they're in a brilliant position to do that in this Test.
Andrew Strauss
"He's done fantastically well," said Strauss, himself an ex-Middlesex opener. "He was under quite a lot of pressure coming into the game after he didn't have the best debut and I think we've seen him grow in confidence throughout the innings.
"Mainly at Lord's he was hitting through the leg side, not looking to hit anything through the off side – but we've seen a lot more of that type of shot from him in this innings.
"It's been a healthy innings. People have talked about him being a bit stodgy but I think he's played some good shots and in only his second Test match it's an outstanding effort.
"The comments that Peter Moores and Alastair Cook made about a brave new era of English cricket, playing positive cricket and entertaining the crowd, that will come later. For starters England need to re-learn how to win and they're in a brilliant position to do that in this Test.
"Alastair Cook and myself always used to say our job is to set the game up for the middle order, the likes of Kevin Pietersen, Ian Bell and these guys and it's similar now. Cook and Robson plan to set the game up, blunt that new ball attack and then we have plenty of shot players down the order. It's a perfect template to follow.
"Neither of those guys are Dave Warner-type cricketers, they just get stuck in, get over the new ball and then it gets easier the longer you're out there."
Roles
Former Sri Lanka batsman Russel Arnold was also left impressed by Robson's century and said the Australian-born opener's measured approach to batting will be a vital attribute to the England team in the future.
"Players need to complement each other, you need someone playing the anchor role," he said.
"There are different roles for different players and I think Sam Robson is going to play a crucial role for England with the game plan he has. He is very tight and that's the type of batsman you need on a pitch like this, who does not go out of his game and is ready to spend time out there
"He's very difficult to bowl to because he leaves that ball so well, gets the bowlers thinking what they're doing wrong and how they can get him playing and that's a massive plus to have at the top of the order."
Sri Lanka had some joy towards the end of Saturday, though. After Ian Bell – who had made a fluent 64 in his 100th Test - edged down the leg side, Joe Root (13) and Moeen Ali (2) followed in quick succession to give the tourists hope of limiting their deficit.
However, Strauss reckons if England can add as little as 40 to their overnight score, they will still be in a hugely commanding position to win the match.
"If England can get a lead over 100 the bowlers will be very encourage by what happened this evening," he said.
"There's definite movement there – they're might be some indentations in the pitch - and Headingley always creates opportunities for the bowlers. The England bowlers are going to be confident after the way they bowled on day one, too.
"England are still in a good position and Sri Lanka are going to need early wickets in the morning."