Cricket Expert & Columnist
England v Sri Lanka: Errors from hosts could be costly, says Nasser Hussain
Last Updated: 22/06/14 8:13pm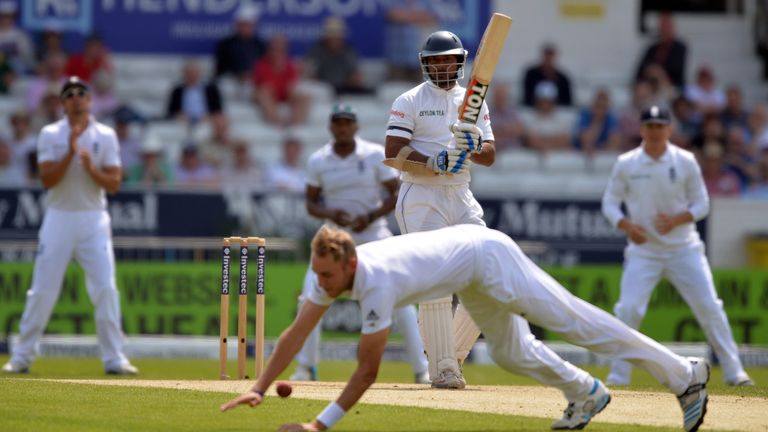 England could be set a 'twitchy' run chase after a 'clumsy' day at Headingley, says Nasser Hussain.
The hosts began Sunday full of optimism after Sam Robson's century set them up nicely on day two, but England only managed to add 45 to their overnight total as Angelo Mathews (4-44) and Shaminda Eranga (4-93) combined to bowl them out for 365, a first innings advantage of 108.
With the ball swinging and seaming at the end of England's innings there was plenty for the home side's bowlers to be encouraged by - however, after Liam Plunkett eventually removed the tourists' openers Dimuth Karunaratne and Jayan Silva, Kumar Sangakkara (55) and Mahela Jayawardene (55 not out) set about frustrating their hosts.
The fear of failure will come in because England can't lose to Sri Lanka after what happened in the winter.
Nasser Hussain
Sri Lanka closed 106 runs to the good and England will need to strike early on Monday. With the new ball on the way and a long Sri Lanka tail, Hussain reckons their chances are still good of clinching a series-winning victory – but warned things may be far from straight forward for Alastair Cook's men.
"England, after what's happened in the last six months, will get twitchy if they have to chase over 200," the former England captain told Sky Sports.
"The fear of failure will come in because they can't lose to Sri Lanka after what happened in the winter [in the Ashes].
"One thing that will keep them going is they've got a new ball in about half an hour's time tomorrow morning and a very long Sri Lanka tail. But they have to get to that tail.
"They've got a bloke at the crease who got a hundred in the last Test, the captain Mathews, and you've got 11,000 Test match runs in Jayawardene, with Dinesh Chandimal to come, who showed he can play and score quickly and take the game away from you.
"There's still a lot of work to do for England. I think they've had a bit of clumsy day today."
Errors
Hussain listed a number of errors made by the England side on Sunday, from not using Moeen Ali (2-26) until late in the day – when the spinner removed Sangakkara and Lahiru Thirimanne in quick succession – and opting for the heavy roller before play to bowling too short.
"There are reasons for everything they did slightly wrong today," he said.
"Moeen Ali – why did he come on so late? He bowled one over earlier, Plunkett got a wicket at the other end and on a pitch like Headingley you take your part-time spinner off, hence he doesn't bowl for a while.
"But the repercussion of him not bowling is the big guns are being bowled into the ground in back-to-back Test matches. Stuart Broad looks absolutely exhausted and Jimmy Anderson, who had a nine over spell up front, looks absolutely exhausted.
"The roller was also a clumsy decision. At Headingley, if the pitch has something in it make sure you keep it in it because these guys don't like the sideways movement.
"Then the bowling. Because it was up and down when England batted they went out there and banged it into the pitch - and it didn't do anything. We all know at Headingley you pitch the ball up. Consequently the ball goes soft.
"And they had three slips and a gully to the left-hander Karunaratne but it goes straight through there afterwards when Broad pitches it up. We all know at Headingley keep your catchers in.
"I think England will still win this game because of Sri Lanka's tail but I think they've been a little bit clumsy today."
Sri Lanka ahead
Former Sri Lanka batsman Russel Arnold, meanwhile, was more than satisfied with the performance of his countrymen.
Arnold had particular praise for Jayawardene, who is most likely playing his final Test innings in England.
"Sri Lanka had to win the day and I think they have," he said. "They are ahead and have a lot more to look forward to in the day ahead with the way the pitch is playing.
"They're on their way but they showed a lot of heart and courage. The tail which hasn't wagged is an opportunity for them – if they can get something together, they'll have plenty to bowl at.
"But Jayawardene, if he gets a good knock in he puts Sri Lanka in a position to win this Test match. That's what will drive him.
"He's a big game player. He's been quiet right throughout the tour and maybe even leading up to it but don't write him off.
"His attitude pleased me today. Right from the moment he walked in he was not afraid to play his shots and he looked like he wanted to take the bowlers on. Immediately he looked in good touch.
"It was about building a partnership with Sangakkara at that stage and it worked really well."