Alastair Cook: England skipper 'burdened' and needs to get away from cricket
'Quality leader Eoin Morgan could be candidate for top job'
Last Updated: 21/07/14 5:52pm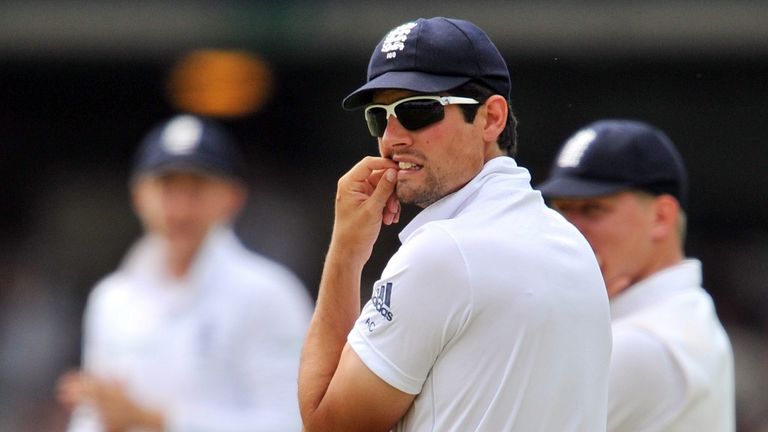 Sir Ian Botham reckons Alastair Cook must take a 'break' from international cricket - and could be replaced as captain by Eoin Morgan.
The opener's position as skipper is under even more scrutiny with his side now winless in 10 Test matches following the 95-run loss to India at Lord's on Monday.
Cook is also struggling with the bat – he hasn't notched a ton in 27 five-day innings – and Sky Cricket expert Botham believes a stint away from the spotlight is needed.
And the former all-rounder nominated England's shot-making one-day star Morgan as a potential successor as leader, even though he is not currently in the Test set-up.
He is a very good man and leader of people and he could come in with a breath of fresh air.
Beefy on Eoin Morgan
"I think the captaincy has become too much of a burden on Cook and he needs to stop and have a break," Beefy told Sky Sports in the wake of England's defeat.
"The situation is affecting how he is thinking out on the field – he looks tired, scrambled and is not changing his fields – so I would advise him to go and clear his head for a couple of weeks.
"I also think he needs to stop playing one-day cricket as when he was playing at his best and leaving the ball outside off-stump very well he wasn't playing in the shortest forms.
"And I would throw the name of Morgan out there [in terms of the captaincy] as he is a very good man and leader of people and he could come in with a breath of fresh air and score runs in the middle order, too."
Difference
Sky Cricket's Nasser Hussain questioned whether Cook – who has amassed 25 Test tons but none since his 130 against New Zealand at Headingly in May 2013 – would be able to find his batting form whilst captaining his country.
And the analyst feels that after the heavy reverse at Lords – despite England winning the toss and bowling first on a seam-friendly wicket – could lead to Cook seriously considering his position.
Plus, Andrew Strauss says that if Cook does remain as skipper he must get tough with his 'underperforming' senior players as he tries to end his nation's Test malaise.
Hussain said: "If Alastair gets a score in the third Test it won't change all of England's woes.
"If he gets an 80, England won't stop collapsing, or bowl better with the new ball, or bowl better at the tail, or play the short ball better.
"Cook needs to ask himself if he is making a difference as England captain and if he's not then he should give it to someone else."
Angry
Strauss added: "Cook is a great man and one of English cricket's greatest contributors, so it is hard not to feel sorry for him at the moment.
"There is criticism of his captaincy, criticism of his batting, no Kevin Pietersen, his senior players letting him down and youngsters making their way, so you wonder how much one man can take.
"He faces an unbelievably monumental task and it is hard to think of a more difficult situation that any England captain has faced than the one Cook is in at the moment."
"He now needs to get a little bit angry as a captain and say to his senior players: 'You've earned the right to be in this team because of your performances but you are not performing at the moment and I need you to stand up and do something'.
"He cannot skirt around the issue, he needs to hit it head on."