Charlotte Edwards Q&A: great times as women's cricket hits new heights
Selecting England team is becoming tougher and tougher with each passing year...
Last Updated: 08/08/14 3:31pm
England Women's captain Charlotte Edwards says her back-to-back Ashes winners are hungry to achieve greater success.
This summer the squad, announced today on the 72nd floor of the Shard in London, will play one Test and three ODIs against India before taking on South Africa in three T20 internationals – a series you can watch on Sky Sports.
Edwards led England for the first time at home against India in 2006 – the last time the two teams met in the longest format of the game – and the skipper, recently made CBE, is determined to keep raising the bar…
How big a test will this summer be?
Charlotte: India have some very tough players and in Mithali Raj, arguably one of the best players in the world. They beat us in 2006 and I remember it very clearly because it was my first experience of captaining England in a home Test, but a lot has happened since then and we're very confident of doing well this summer.
South Africa were in many ways the surprise package of the ICC World Twenty20, reaching the semi-final, but globally it was what the game needed. A couple of years ago I tipped South Africa as a team on the up and they are now coming to the fore in the way I expected.
Given the team's recent successes and the introduction of professional contracts, is it hard to live up to expectations?
The hunger is still very much there because this is the best time to be involved in women's cricket. We can't wait to get out on the park.
Charlotte Edwards
Charlotte: Not at all – we are embracing the challenge and after training together intensively this summer there is a clear improvement in our performance. I'm enjoying the experience more than I've ever done. I'm really pushing myself, as are the rest of the squad. The hunger is still very much there because this is the best time to be involved in women's cricket. We can't wait to get out on the park.
Is international success filtering through to County game?
Charlotte: The domestic scene has been fantastic this summer - I've played in some of the best games of my career this season. What's really pleasing is that more people are coming to watch us – over 500 people came to watch my team, Kent, play Sussex at Arundel, which was a great game. It's exciting to see where the domestic game will go.
Who has been making a name for themselves?
Charlotte: The most pleasing thing for me is that a lot of the England players are performing and scoring hundreds, particularly younger batters like Amy Jones, Tammy Beaumont and Danni Wyatt. We keep asking more of our younger batters every year and they keep delivering. Georgia Elwiss and Georgia Hennessey have also put in good performances and picking teams is becoming harder and harder as the years go on now.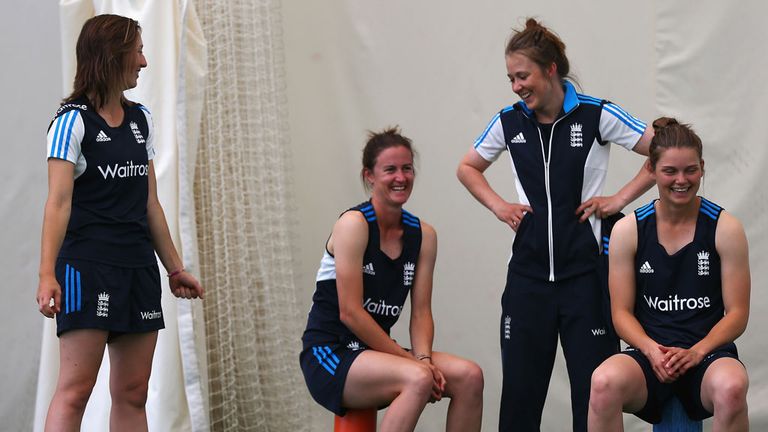 The recent Test matches have been unbelievable – our 61-run win in Perth this winter was probably the best game I've ever played in. For now the multi-format series is certainly the way for women's cricket to develop because anyone who has watched our two Ashes series will have seen some terrific cricket. The players have really bought into the points-based concept, as have the public, which is important.
The ODI results against India will count towards the new ICC Women's Championship. How big a change is that?
Charlotte: It's something the women's game needed. We've now got two years of competitive cricket against the top eight teams, with the top four qualifying for the 2017 World Cup. Getting through is everything, not least because the competition will be in England and Wales, so it's a big incentive. We can't wait to get started and then we're off to New Zealand in the winter. With the Future Tours Programme firmly in place, our challenge now is to develop as many players as possible in that time.
Kia Motors has become an official partner of England women's cricket. How did the team respond to this ground-breaking deal?
Charlotte: The players are over the moon. To think that this has come to pass after 18 years of playing is remarkable. The players are truly thankful for the sponsorship, not least because many of the girls spend so much time driving to and from training in Loughborough. It's proof of just how much the game has changed and continues to change all of the time. It is also a great message to all the girls playing cricket out there that nowadays there is a career in cricket.
Our latest series of Club Life features Clitheroe Cobras, an all-girls side in a predominantly all boys' U15 League. Is it difficult to pitch girls in at the right level against boys?
Charlotte: There is a fine balance to be struck when it comes to finding the right level of competition but we certainly encourage the girls to play with and against the boys as much as possible. I know that playing cricket with boys for an early age has enabled me to go on and captain England and be successful.
Generally I think that when the girls play together they enjoy it, win or lose. Generally they play two years above themselves, which I think is a great idea, but I've heard many success stories across the country where girls' teams are beating boys' teams, which is great for the future.
Chance to Shine has introduced over one million girls to cricket since its launch in 2005 so in time there's no reason why girls can't play in their own league as well as in another league against boys; obviously we want to encourage as much all-girls cricket as possible but where, if we can, to play in boys' leagues. The most important thing is that they are getting competition and if that's the way to do it, then so be it.
Watch England Women take on South Africa in three T20 internationals this summer, live on Sky Sports.