200th England Test live on Sky Sports: Benedict Bermange looks at the weird and the wonderful
Last Updated: 17/08/14 2:06pm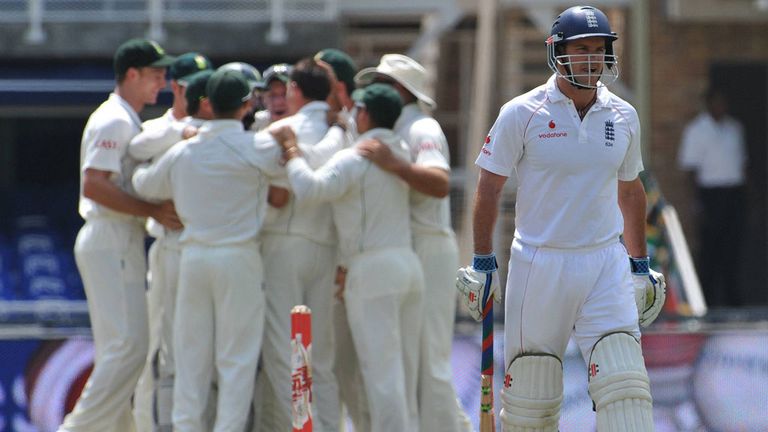 If it's happened in Test cricket, Benedict Bermange knows the stats.
But there's more to the game than numbers; ahead of the fifth and final Test between England and India – the 200th live England Test on Sky Sports - our stats man digs up some quirky incidents that have happened in the previous 199…
- At Johannesburg in 2010, Andrew Strauss was dismissed by the first ball of the Test.
- At Mohali in December 2001, debutant Iqbal Siddiqui hit the winning run for India from the last delivery he faced in his Test career.
- Ryan Harris at Adelaide in 2010 and Virender Sehwag at Edgbaston in 2011 were dismissed by the first ball in each innings.
- At Edgbaston in 2011, Alastair Cook became the only player to be on the field for an entire Test between England and India
- In England's three-Test series in India in 1993, Graeme Hick had the most runs, highest batting average, most wickets, best bowling average, highest score, best match bowling, and most catches for England. However, England lost the series 3-0.
- At Christchurch in 2002, Nathan Astle reached his second century in just 39 deliveries. His tenth-wicket partnership of 118 with Chris Cairns came at 10.89 runs per over.
- At Christchurch in 1997, England's first innings had individual scores of 12, 13, 14, 15 and 16, not to mention Graham Thorpe's 18. Alec Stewart filled the gap when he was dismissed for 17 in the second innings.
- Alex Tudor had his moment in the sun at Edgbaston in 1999. In just his third Test, the nightwatchman saw England to their victory target of 208 ending 99 not out. He is the only Test cricketer with a highest score of 99 not out.
- In 2013 Stuart Broad took 102 minutes to get off the mark at Auckland, a new record.
- At The Oval in 2012 South Africa became just the fifth side to win a Test losing only two wickets.
- At Galle in 2012, Sri Lanka became the first team in which four past, present or future Test wicketkeepers appeared together in one side – Chandimal, Dilshan, Prasanna Jayawardene and Sangakkara.
- The 38th run of the second Test at Colombo in 2012 was the two millionth in Test history. Mahela Jayawardene sliced James Anderson past point for four runs to bring up the landmark.
- Stuart Broad's seven first innings wickets against the West Indies at Lord's in 2012 were all caught by different fielders.
- At Leeds in 2013 New Zealand failed to score a run from the bat off the last 68 deliveries of the match.
- At Sydney in early 2014, Boyd Rankin took his first Test wicket with what is so far his last ball in Test cricket.
Watch the fifth and final Test between England and India – the 200th live England Test on Sky Sports – from 10am on Friday on Sky Sports 2.