England 3-1 India: new breed of batsmen doing absolutely fine, says David Lloyd
Mooen Ali's development as spinner a real bonus for Cook and Moores' regime...
Last Updated: 24/08/14 5:50pm
David Lloyd, Michael Holding and Shane Warne reflect on England's 3-1 series victory over India...
What impressed you most about England's victory?
Bumble: There are lots of things – but I'm going to focus on the new breed of England batsmen. We've seen a changeover from the time of Kevin Pietersen and Jonathan Trott to the new guys, who have been fabulous. Yes, there are other challenges to come – next summer they'll come up against Australia and Mitchell Johnson and the following winter South Africa and Dale Steyn but the way that they are going right now is absolutely fine.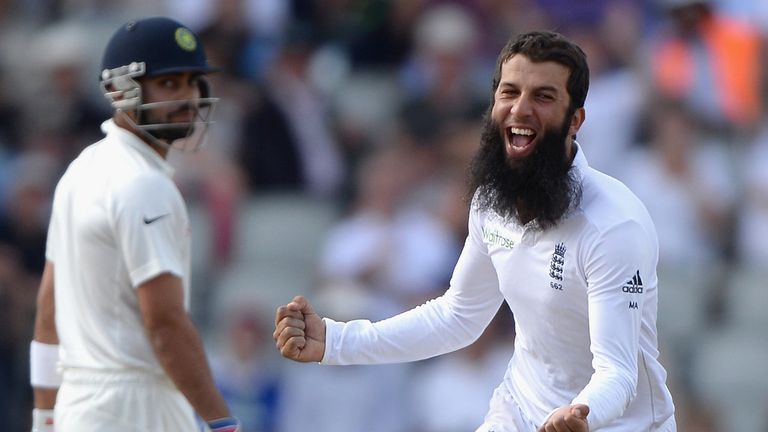 Shane: Moeen Ali's development as a spinner has been fantastic. It's been a real bonus for Alastair Cook that he's been able to take 19 wickets in this series on the pitches they've played on and against Indian players who are meant to be good players of spin. Stuart Broad and James Anderson also bowled extremely well but after that there's a bit of work to do so Moeen Ali's contribution was outstanding. He now needs to make some runs because if he's doing that in the top six it gives a better balance to the side.
Mikey: Believe it or not, I'm going to say Alastair Cook. He went through hell but went away and tried to find some way of getting runs. Yes, he was fortunate at the Ageas Bowl where he made 95 after being dropped on 15, but you could see that he was working. Everybody was pitching the ball up to him because they knew that was his weakness but he started to bat outside of his crease and was pushing forward as far as he possibly could. Yes, he wasn't facing the fastest bowlers in the world but he went out there determined to show that he could fix the problem.
Where can England improve?
Mikey: Chris Jordan and Chris Woakes stepped up and did what was required of them in this Test. I'm still not totally convinced that Woakes is a Test match bowler but in this Test he did what was required – he ran up and bowled a nice tidy line. He got wickets, which meant that the senior bowlers could get a bit of rest and Jordan did his job as well. He isn't the finished article either – he still has some work to do. When he bowls 100 balls, 11 of those are a little bit wayward, but as soon as he gets his action repetitive and he doesn't have to think about it I think he'll be a lot better bowler.
How big a lift is this for Peter Moores?
Bumble: The coach is absolutely thrilled – I had a chat with him after the presentations. I've been there and know what it's like when you are desperate to do well. It's a great feeling when you turn things around after a period of not winning. You need to be strong, you need to hold your nerve and the selectors have done that. Peter Moores will feel pretty chuffed at this stage. The selectors have done their job. Now he's got to dust himself down and start looking at one-day cricket.
How will India reflect on their defeat?
Shane: They came over here with some big raps on some of their players – Virat Kohli, Cheteshwar Pujara and the rest – but you have to look at that side and ask 'who has enhanced their reputation?' Maybe you could say Murali Vijay and Bhuvneshwar Kumar – but the rest struggled.
Mikey: I don't think any of these Indian cricketers can leave here and say 'ok, I had a reasonable tour'. We know that MS Dhoni went out there and fought. Perhaps he was motivated by being captain but I don't think a lot of the others were very motivated during this series and I don't think too many of them can say 'yes, I've done well'.