England captains Eoin Morgan and Joe Root urged to play brave by ECB chief Tom Harrison
By PA Sport
Last Updated: 20/03/17 10:59pm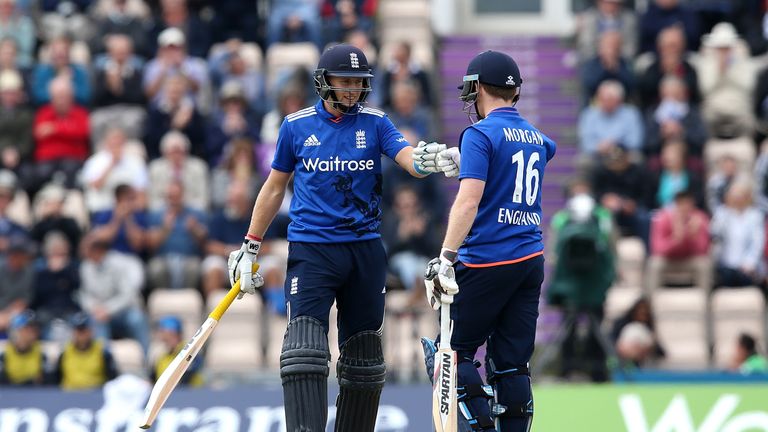 England captains Eoin Morgan and Joe Root have been told to play "brave cricket" with "smiles on their faces" as part of a wider strategy by the sport's national governing body to grow the game.
After five years with little change in the number of regular players at grassroots level, the England and Wales Cricket Board (ECB) is making a big push on boosting participation and on Monday launched a new campaign targeted at five-to-eight-year-olds - and their mums and dads - called All Stars Cricket.
But as well as trying to "get them young", ECB chief executive Tom Harrison wants the players and fans of the future to be entertained and inspired by today's stars.
Speaking on Monday, Harrison said: "[Director of cricket] Andrew Strauss and the England team are very clear that part of their responsibility is playing brave cricket - this commitment to playing an exciting formula of cricket every time they go on the park is linked to [the participation strategy].
"Joe Root and Eoin Morgan understand their responsibility to play exciting cricket for future generations to connect with and for fans to get behind.
"It's a very deliberate strategy. It doesn't work every time but we understand you're more likely to be forgiven for having a bad day if you've tried everything to win a game as opposed to trying not to lose it, which is a key difference.
"Ever since Andrew took the job as director of cricket he saw the link between successful England teams, and I mean successful by approach as much as results, was key."
This commitment to attacking cricket has been seen most consistently with Morgan's limited-overs England sides, particularly in the 50-over format in which England now regularly score more than 300 in an innings and last August posted a record 444 against Pakistan at Trent Bridge.
Having only taken over from Alastair Cook in February, Root has not had a chance to stamp his personality on the Test side yet but a change of attitude is expected.
Citing evidence that people who play the game are more likely to consume it and the importance of instilling those habits young - especially now with so much competition for youngsters' attention, pocket money and time - Harrison said the days of England trying to grind out a one-off Test victory are over.
"People like the fact the team is taking calculated risks, at very competitive limits, but also with a smile on their faces," he said.
Sky customers can now upgrade to Sky Sports and get 12 months for just £18 per month. Upgrade now!