Sky Sports Cricket: Broad's Ashes 8-15, England's 444-3 in highlights
By Sky Sports Cricket
Last Updated: 18/07/17 9:08am
Our new dedicated cricket channel is now live on Sky Sports!
To mark the occasion, our pundits have picked some of the most memorable match highlights from our coverage over the years.
From famous Test victories home and away, white-ball carnage and spectacular domestic performances there is no shortage to choose from.
To find out about the new Sky Sports Cricket channel, click here. Here's what else you can watch on the new-look Sky Sports.
Sir Ian Botham: England v Pakistan, third ODI, 2016
England win by 169 runs
Botham: "England 444; the highest ODI total ever. Need I say any more? There were a fair few sixes in that score as Pakistan were put to the sword - Alex Hales hit four big ones in his 171 off 122 balls, a record ODI score for England. He didn't run much during his innings, I can assure you, but he also wasn't the only one that came to the party as Jos Buttler (90no) smashed a fastest ODI fifty for England, off 22 balls, and even Pakistan's Mohammad Amir (58) blasted a highest ODI score by a No 11, off 28 deliveries.
"Eoin Morgan (57no) cracked a quickfire fifty too. He has been integral to the team's turnaround in white-ball cricket since the 2015 World Cup, where England were awful. It was embarrassing. But Morgan has changed the attitude of the players to bring it up to date with other sides around the world. Fifty-over cricket was somewhat dying out until that World Cup where Australia and New Zealand showed the way. England have since followed suit - they're no longer just looking at 300 as a good score, they want 400 - and will be a serious threat at the 2019 World Cup on home soil. Perhaps we'll see them score 500 there?"
David Lloyd: England v Australia, fourth Test, 2015
England win by an innings and 78 runs
Bumble: "This game will forever be remembered for Stuart Broad's 8-15. A terrific performance from him; extra special because it was against Australia, and coming on his home ground at Trent Bridge. I was on commentary that first morning, watching as the wickets tumbled - Broad just hit his straps, bowled brilliantly, with that little bit of seam movement and got the crowd rocking. It was one of those days where it all clicked into gear. Any sort of movement and Australia had no answer - 60 all out!
"There was also that catch by Ben Stokes in the slips, diving behind himself to pull off a blinder to dismiss Adam Voges. The reaction, particularly the 'Oh my Broad' celebration from Broad was great theatre. He was aghast; hands to his mouth, eyes popping wide open. Joe Root hit a hundred in the game too and England ultimately won convincingly to clinch the Ashes. Ian Ward was able to get a glimpse into the celebrations in the dressing room after; Joe Root put a mask on and launched into a cracking Bob Willis impression - all good fun - but then Wardy couldn't quite get out in time before being sprayed, drenched by all sorts of drinks. Terrific scenes."
Nasser Hussain: Australia v England, fifth Test, 2011
England win by an innings and 83 runs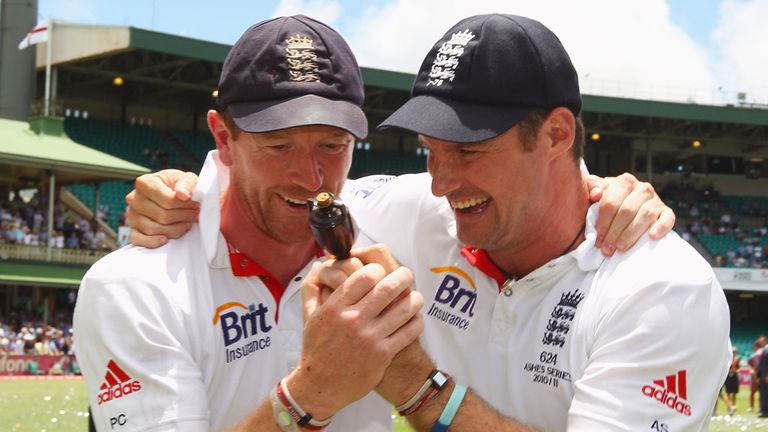 Nasser: "Having been walloped by Australia so often over the years (particularly down under), the sight of Andrew Strauss' side grinding them into the dust to claim England's first Ashes win in Australia for 24 years with a momentous 3-1 series victory, was a very proud moment. England went into the game 2-1 up after a crushing win in Melbourne and once again they only needed to bat once as the home team had no answer to another dominant display from a disciplined outfit moulded by Andy Flower. Quite simply, England played 'no fear' cricket, bowling Australia out twice for under 300 after Michael Clarke had chosen to bat. Even when Australia were 105-1 on the first day there was no sense this wasn't England's game and once James Anderson (4-66) had rattled through the middle order, the batsmen – led by Alastair Cook – inflicted further scarring on their hosts.
"Cook signed off from a scintillating series with a majestic 189 and Ian Bell (115) and Matt Prior (118 off 130 balls) further exposed the limitations of an attack that epitomised a very poor Australia side. Once England's bowlers had their foot on the throat, they didn't let up; Anderson, Tim Bresnan and Chris Tremlett shared the majority of the wickets but once again Graeme Swann put in a shift, getting through 28 overs at under three-an-over. When Tremlett bowled Michael Beer to complete victory by an innings and 83 runs, England embarked on a thoroughly deserved lap of honour around the SCG. It was a special moment for us all – current and former players, fans and viewers at home, all of whom had waited so long to see witness such an achievement."
Mike Atherton: India v England, first Test, 2008
India win by six wickets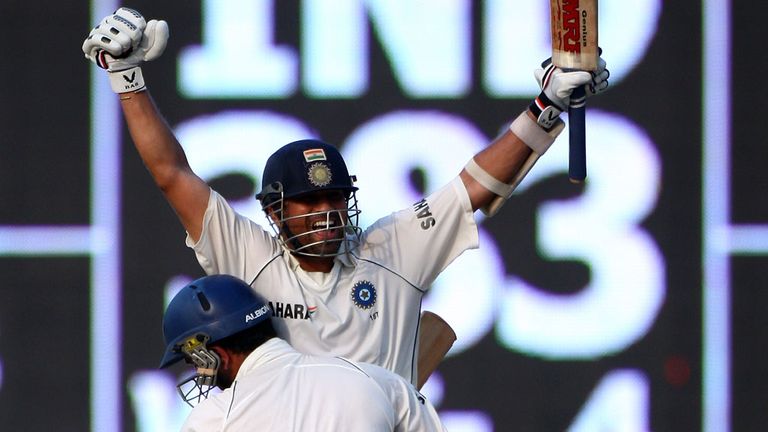 Athers: "This match resonates with me for many reasons. The build up to the game in Chennai was very tense after the bombings in Mumbai, but I remember one advert in particular which featured Sachin Tendulkar pledging to do his utmost for India every time he played. England did the right thing in returning to India after the tour was initially abandoned, however, Kevin Pietersen's side was surrounded by security so there was a lot going on.
"The game built up to a fine climax and on the last day, India succeeded in chasing down the 387 they needed to win, for the loss of only four wickets. I remember going out onto the pitch at the end of the game and the atmosphere was unbelievable. Tendulkar had just scored a match-winning hundred in front of what was virtually a full house and it was very evident what the achievement meant to all those that were present. The emotion made it a special place to be at that particular moment."
David Gower: South Africa v England, second Test, 1995
Match drawn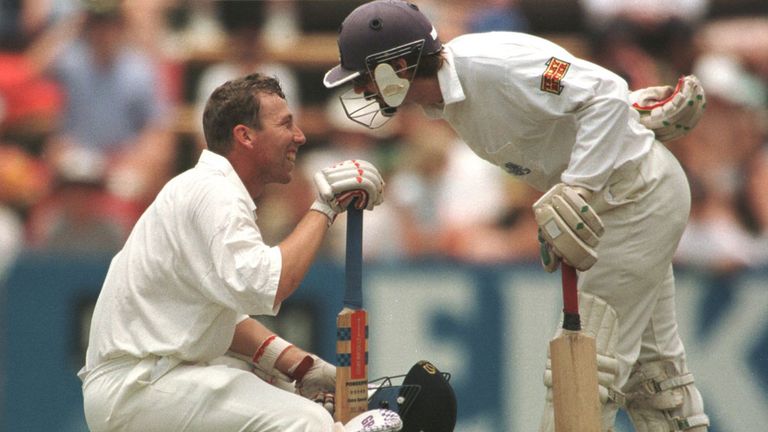 David: "For sheer bloody mindedness at the crease and an example of utter commitment to your country's cause, I'm going to select Michael Atherton's 185 against South Africa in the second Test at Johannesburg. Set a highly unlikely 479 runs to win, the tourists were 232-5 when Jack Russell joined skipper Atherton at the crease - and 277 minutes later the pair were still there, unbeaten and unbowed. Given the situation they were in and that they faced a bowling attack that included Allan Donald and Shaun Pollock, few gave England a chance of saving the game.
"But Atherton's innings, which lasted 643 minutes and comprised 492 balls, proved that with the right mindset, allied with determination and no shortage of skill, it is possible to salvage a game. His effort was a testimony to everything that makes Test cricket the true challenge it is. Atherton and Donald had many a gladiatorial contest over the years, not least at Trent Bridge in 1998, and it was one of the defining battles of that era."
Bob Willis: West Indies v England, first Test, 1990
England win by nine wickets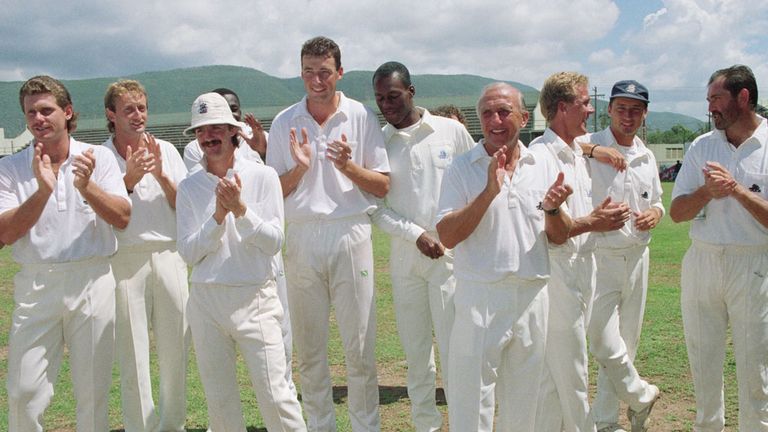 Bob: "England's nine-wicket victory over a mighty West Indies side at Sabina Park - the first England Test to be broadcast live from overseas - was a tremendous springboard for Sky's coverage. It was a moment that changed cricket broadcasting forever and signalled a shift in the fortunes of both sides. It was a great surprise that England were able to bowl the West Indies out twice on what was probably the last of the old-fashioned pitches at Sabina Park, where they used to spin roll it circularly to get a gleaming shine.
"Both Angus Fraser, who took 5-28 in the first innings, and Allan Lamb, who cracked 132 first up, had a tremendous record against the West Indies. Lamby scored six of his 14 centuries against the men from the Caribbean while in modern times only Fred Trueman, John Snow, Fraser and latterly Steve Harmison have had any success in the West Indies at all. It's worth making the point that the side England beat was only missing Clive Lloyd from the halcyon days when the West Indies dominated world cricket."
Rob Key: Birmingham Bears v Notts Outlaws, NatWest T20 Blast, 2017
Birmingham win by six wickets (off final ball)
Rob: "Thinking of my favourite game I've covered for Sky, straight away this one comes to mind. It was probably one of the most dramatic games I've ever seen. Though there was the unfortunate head injury to Luke Fletcher which cast a shadow over events, the end of the game was unbelievable! With Birmingham needing one run to win off the last ball, Michael Lumb fumbled the ball over the stumps, with a run-out practically guaranteed. I don't think I've seen as close a finish, ever.
"It is also the first game I did with my great mate Freddie Flintoff on commentary. We always said we wanted to be out in the middle to finish a game for England together, but calling an exciting T20 finish will do. Sky really do lead the way with their T20 coverage. I love being down in The Pod; what a genius innovation that has been. You really get the speed of the game, the emotion of the game, come across and you can get incredible access to the players as they come off the field. It makes you want to do every game from down there."
To find out about the new Sky Sports Cricket channel, click here. Here's what else you can watch on the new-look Sky Sports.