Kevin Pietersen says Jason Roy should play for England in Tests
Roy hit six out of Oval while smashing T20 Blast fifty on Sunday!
Last Updated: 14/08/17 8:48am
Kevin Pietersen told Sky Sports that his Surrey team-mate Jason Roy belongs in England's Test side.
Roy has made 68 appearances for his country in limited-overs cricket - striking three hundreds and nine fifties in his 46 ODIs and two half-centuries in 22 Twenty20 internationals.
The right-hander, who averages a shade over 38 in first-class cricket, has yet to make a Test appearance but Pietersen believes he would make England fans "so happy" if given licence to play shots in the middle order.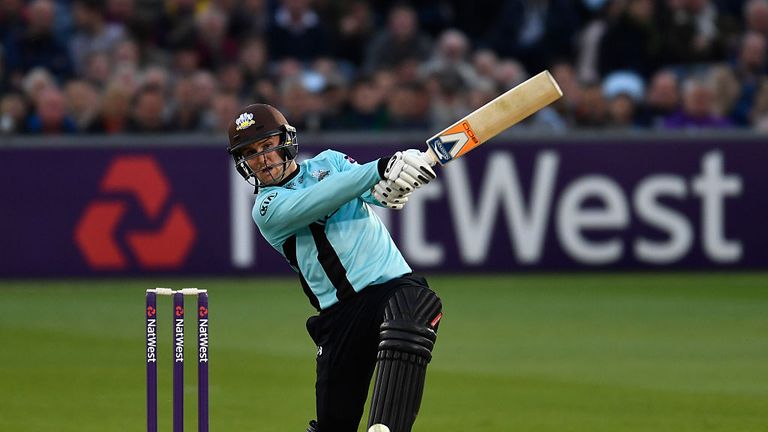 "He has gone through a rough period - he was dropped by England [at the end of the Champions Trophy] and is worrying about his place," said Pietersen.
"But he shouldn't be worrying about his place - and he should be playing at six in the Test side. He's got that much talent.
"He whacks, proper, proper bowlers, he reverse sweeps pace. England should say 'you've got a 10-year career' and give him the self-belief to go and ride it out.
"He will make English cricket fans so happy - he is super talented and you do not throw these guys away. These are match-winners and bring people to stadiums.
England should say 'you've got a 10-year career' and give him the self-belief to go and ride it out.
KP on Jason Roy
"He is super-skilled and has every single shot but I just think he's got to try and go back to basics.
"He can hit boundaries in lots of places and doesn't need to play the stupid option. Maturity and level of games [will change that]."
Roy's team-mate Mark Stoneman has been called up into England's Test side and will make his debut alongside Alastair Cook at the top of the order in the day-night Test against West Indies.
"It is a huge opportunity for him," said Pietersen. "He hits the ball sweet, and the hundred he got in the [Royal London One Day Cup] final, on a big occasion, was really, really good."
"I am going to put my neck on the line and say Stoneman will score runs," said Andrew Flintoff. "I remember Steve Harmison telling me 10 years ago that Stoneman and Stokes were the two."
On Roy, Flintoff added: "I've never really bowled at a player like him but I can imagine you'd be stood at the end of your mark second guessing what he's going to do.
"He can hit the same ball in three different areas - and even your best balls can disappear."
Watch the first Test between England and the West Indies - the first day-night Test in England - live on Sky Sports from 1pm on Sky Sports Cricket on Thursday (first ball 2pm), with over-by-over commentary and in-play video clips on our digital platforms.