Strauss hails ruthless England
Andrew Strauss hailed a ruthless England after their extraordinary victory over Sri Lanka in a rain-affected first Test in Cardiff.
Last Updated: 31/05/11 6:59am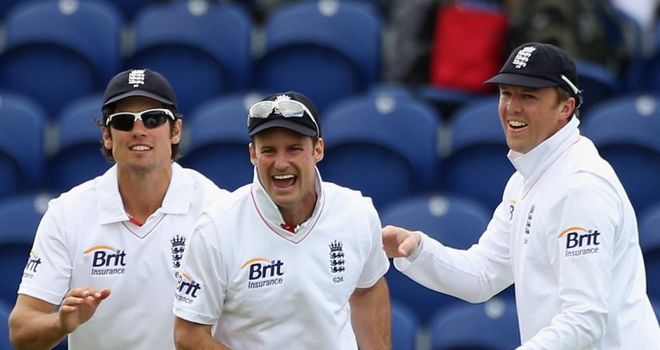 Andrew Strauss hailed England's ruthlessness after they pulled out an extraordinary victory over Sri Lanka in the first Test in Cardiff on Monday.
Strauss' side defied the inhospitable Cardiff weather - not to mention most pundits - to knock over the tourists for just 82 in 24.4 overs and seal a remarkable innings-and-14-run win.
With the players kept in the dressing rooms until 3pm on the fifth day and plenty of overs already lost to rain throughout the match, it looked as if any hope of avoiding a draw was lost.
But having allowed Ian Bell two overs to register his 13th Test century, Strauss immediately declared and gave his bowlers 51 overs to take 10 wickets with a scanty lead of 96. They responded in style, rolling over Sri Lanka in only 24.2 overs.
"We were very keen to press for a victory but obviously we thought it was going to be a long shot to achieve it," said Strauss.
Impressed
"I was very impressed. We showed quite a lot of ruthlessness in Australia this winter and this was another example of that."
Official figures recorded just 922 fans coming through the turnstiles to witness England's win, though the gates were thrown open at 4pm, and Strauss was pleased with the way his side managed to fashion a sense of occasion regardless.
"That was one of the big challenges for us, to create our own feeling of intensity," he said.
"It was a small crowd but they got into it and all credit to them for doing so.
"You can't blame people for staying away with the weather like it was in the morning, but these are the things that test you as a side: how desperately do you want to win?
"I think we showed we really wanted it and we got what we deserved."
England name their squad for Friday's second Test at Lord's on Tuesday morning, with a replacement for the injured James Anderson the main debate.
Steven Finn is a certainty for the squad, with Ajmal Shahzad and Graham Onions also under consideration.