Systematic change
Marcus Trescothick says the DRS is forcing Test batsmen to reinvent the way that they play spin.
Last Updated: 03/02/12 7:23pm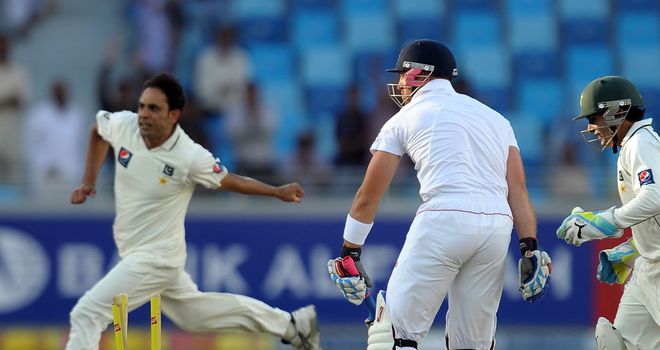 Marcus Trescothick says the Decision Review System is revolutionising cricket by forcing batsmen to reinvent the way they play spin.
The former opener expressed his sympathy for England's top order after 16 wickets fell on the opening day of the third Test against Pakistan, in Dubai.
Nine of those victims were trapped in front of the stumps, bringing the total of LBW decisions in the series to 35. England reached stumps on 104-6 in reply to Pakistan's 99 all out. Read our report here.
Tough
Sky Sports pundit Trescothick explained that the DRS has made batsmen fearful of using their pads as a line of defence, singling out the dismissal of wicketkeeper Matt Prior as an example of how players are trying to change their game.
"The England batsmen, more so at present, are just trying to keep their legs out of the way," said Trescothick, who played 76 Tests for England.
"It was very clear that Matt Prior was playing the ball from around the wicket; he tried to get his legs towards leg stump and it has just gripped a bit and he's been bowled middle stump.
"That hasn't happened in the past; people always get LBW for that or, as we've seen, don't get any dismissal at all. Batters are going to have to develop a different game against spin completely and you can see that the guys are already thinking about it because there is something not right.
"The game is all about small margins and inches here and inches there; if you make the ball spin one inch and it's enough to pass the bat, that's enough. With the line that Abdur Rehman is bowling and the way that the batters have developed this technique, he is going to be very, very close to hitting the stumps or getting LBWs.
"With the pace at which the Pakistani spinners bowl, it's very tough to adjust once the ball has hit the pitch especially if you are playing in the front foot; if you are playing off the back foot, of course you've got a bit more time because you can see the length that it spins.
"You play the line that you expect it's going to be; if it turns, they you try to make sure that you are covering that spin. If you don't, in the days gone by in county cricket you play and if you miss it it's still hit your pad and you'd generally get away with it, so I feel for the guys with DRS. It completely revolutionises the game."
Marginal
Fellow Sky Sports pundit and former England international Bob Willis said that while the impact of the DRS may be good for spinners' wicket tallies, it has the potential to undermine umpire confidence as it exposes their ability - or otherwise - to call borderline decisions.
"DRS is revolutionising Test match cricket and it will continue to do so in the sub-continent; if the ICC twist India's arm to use it as well, spinners worldwide are going to have a field day and the record books are going to be re-written," said Willis.
"To see one of the world's very best umpires Simon Taufel get three decisions wrong is a major surprise; he may not be comfortable with DRS. We were hearing that he's thinking about retiring from all the travelling around the world and DRS may hasten his decision.
"Some of them were very marginal decisions. I thought, for instance, that Kevin Pietersen was pretty unlucky to be given out. For batsmen it seems that every puzzle that gets resolved throws up another conundrum in the bowler's favour.
"If this predictive element of HawkEye is accurate, we are going to see Test match scores plunging. This is forcing batsmen to change the way they play. What they are doing now is making sure that the ball doesn't hit their pads but prior was one of several embarrassing dismissals today and poor old Eoin Morgan may be walking the plank in this innings. Are England going to take him to Sri Lanka if he doesn't post a score?"