Opener closed
Sir Ian Botham joins a host of former England players having their say on Andrew Strauss' retirement...
Last Updated: 30/08/12 9:25am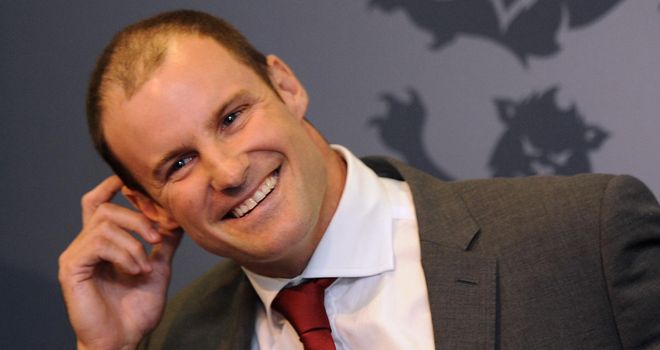 England captain Andrew Strauss has called time on his tenure as a professional cricketer, bringing to an end a career that has included three Ashes triumphs, 21 Test match hundreds and leading his nation to the top of the Test rankings. Read below to hear what names from around the game have been telling Sky Sports News about the left-hander's decision to retire...
Sir Ian Botham - former England all-rounder
"When Strauss prolonged his holiday in Tuscany and didn't come back to play for Middlesex I think the writing was on the wall. It will be an emotional time for him. It's been a major part of his life - particularly the last two or three years with England.
"This year's been a little bit of an anti-climax for him. He got some runs at the start of the year but not so many against South Africa.
"But he can look back on a great career - 22 hundreds is a terrific effort; he took England to World No 1. I don't think he's got anything to be ashamed of - far from it. He'll be held up as one of the better captains England have had over the years.
"He put England back on the map. There was a lot of talk about where they were going when he took over. A little bit like Nasser Hussain did when England were rock bottom, Strauss got them back up and running.
"He'll always remember that moment in Australia when they wrapped up the series. They crushed Australia really, to be honest, in their own backyard. That will probably be one of his best memories as a captain - not as a player, so much but as a captain because he led that team and that will be very special for him."
Paul Collingwood - former England all-rounder
"Strauss probably could have got his form back. There's a lot of weight that goes with the captaincy in terms of the pressure and the mental side of it. If he could have given himself maybe another year in terms of seeing where he is with the bat without the captaincy [then things might be different].
"But he obviously believes in himself that he's gone as far as he can do. Everybody has a shelf-life and he's made a decision to go now, which we've all got to respect.
"I don't think the whole Kevin Pietersen situation will have helped. It's probably just a co-incidence in the timing of things. One thing I always think of is he bought a dog about a year - a year-and-a-half ago. Whenever you buy a dog you've certainly got retirement on your plans!"
Peter Moores - former England coach
"I don't think [the Pietersen controversy] had any bearing on Strauss' decision to retire, if I'm being honest. I think Strauss is very used to making key decisions - there are always issues surrounding international sport whether it's with players or with schedules or whatever. So he's used to all that sort of pressure, I think.
"I think he's probably decided it's time to go. He's committed a lot to it. Probably the legacy of Andrew Strauss, like all great captains, is that he's committed a lot to his team and to other people around him. There comes a certain period of time when you think 'ok, it's time to change and take on a new challenge' and that's obviously what he's decided."
Angus Fraser - Director of Cricket at Middlesex
"It is a sad day for me because I have followed Andrew's career closely and taken a huge amount of pride in the way he has played, captained and conducted himself. It is sad for Middlesex, too, as the career of one of our greatest cricketers has come to an end, though it was nice that his last innings for us was an unbeaten hundred. Andrew has achieved a lot and there is plenty for people to be proud of; he has been a great ambassador for cricket.
"He said that winning the Ashes in Australia was the highlight of his career and coming back from an achievement like that is a case of 'Where do I go from here?' Is there quite the same buzz when you turn up for Test matches? Do you try different methods to reinvigorate yourself and get the energy levels up?
"There is also the fatigue factor; I don't think people realise how full on a job it is to be an international cricketer. Most of his conscious hours were spent working out how to make this England side better and it does take its toll. He also said his batting was an issue and I think a lot of little issues made him come to the decision.
"[The Kevin Pietersen situation] has not been an influence on his decision, though, and if it had cropped up 18 months-two years ago he would have dealt with it correctly and head on like he always does and moved on. He had conversations [about retiring] long before the Pietersen issue had raised its head."
Marcus Trescothick - Former England opener
"I'm a little bit surprised by Strauss' decision - I didn't think it would come quite as soon as it has done - but I'm not surprised that he's finished from all forms of the game because as he said he wanted to go out at the top and on his own terms. He's obviously had enough and the time is right for him.
"Form is vital to your own game; you want to go out there and perform and lead from the front. When you are asking a lot from the players and the squad itself - you're asking them to put their bodies on the line and win games by doing a lot of hard work - you've got to be taking it forward. It's clear that that has played on his mind. He said himself that he hasn't produced performances that are as good as he'd have liked over the last six months but his absence is still going to leave a hole for them to fill.
"It's going to be tough to replace Strauss at the top of the order. Should they go for a young guy? If so then you are looking at someone like Joe Root potentially but they go to India next and that's one of the harder places to go on tour. Nick Compton has had a great season and done really well; Michael Carberry has had opportunities in the past. It's trying to think where we are going to look to outside of that. Whether they keep in hand and move Jonathan Trott or Ian Bell up, we don't know yet - we'll wait and see.
"It would be the best situation for all if England can sort out and resolve the Pietersen problem. Everyone wants to see Kevin playing for England and doing well because he is a joy to watch. England need their best players if they are to get back to World No 1; you need the whole team firing together first of all and hopefully that can involve Kevin along the way."
Dominic Cork - Former England seamer
"Let's be honest about it, to have the Kevin Pietersen situation put into the mind of Andrew Strauss does not help the situation. Yes, when you come towards the end of your career you take time to consider it.
"If England were still No 1, if Strauss had have been in good form, would he have carried on? I still think he would have walked away because I think the whole situation has affected him."
Steve Harmison - former England fast bowler
"I don't think anybody is going to give the England captaincy up over an argument that can be resolved. The situation with Kevin would have been resolved and spoken about.
"I think Andrew might just think 'it's time for me to go for the best of the team'. Andrew is a very, very strong person. He's big on team ethics, he's big on team goals.
"The reason England have been the best team in the world for the last 18 months has been a lot to do with Andrew Strauss and Andy Flower making sure the team has team unity. That's why a lot of the stuff that is out at the minute is speculation because nobody really knows.
"I enjoy that because what goes on in the dressing room should remain in the dressing room ."