The end of an era?
Sir Ian Botham and Mike Atherton discuss whether Kevin Pietersen will wear England colours again.
Last Updated: 18/09/12 2:53pm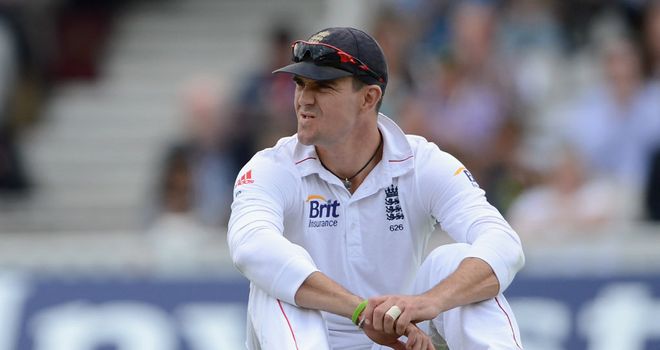 Kevin Pietersen says he remains available for an England recall after being left out of the Test squad for the tour of India. Read the story.
But is his England career already over after he was left out of England's Test squad for the tour of India?
The ECB have cited unresolved issues for Pietersen's omission - and it's unclear if there can be any way back.
Click here to get the opinions of Bob Willis and Nasser Hussain...or read on for more expert views...
Sir Ian Botham...
"A lot of ground had to be given by all parties and I couldn't see that happening, so it isn't a surprise to see Pietersen left out. I think it's just a case of moving on and getting on. He's a great player but it's his choice; it was a strange thing to do, to send those messages, and I think that if he had put his hands up there and then and said 'ok boys, I've messed up here - sorry, it wasn't meant like that' then things would be fine. But you can hardly come back with an apology now, so it's very, very difficult for all parties and I think you move on.
"I'm sure that KP will do very well - he'll play in the IPL, the Big Bash and all that other stuff and he'll cope. For England I think it's a case of saying 'ok, we've had a great time, he's been a great player but now we move on'. It's a bit like saying the West Indies miss Viv Richards - yes, but you move on. Pietersen still had a couple of great years in front of him, but it's not worked out. So there's no points in 'ifs' and 'buts' - you just get on with the reality of it and the reality is that he's not there."
Mike Atherton...
"You just don't know if he will return; you don't know how it is going to pan out. I think this makes it more difficult for him to get back in because I think it is out of his hands now. If Eoin Morgan or Jonny Bairstow do really well, then the selectors have a tricky decision. If England get absolutely trounced in India and none of these batsmen in the middle order do very well then it will obviously make it easier for him to come back. I am not quite sure why it is taking so long to resolve these issues. Kevin Pietersen has apologised, they have had face to face meetings and it seems ridiculous that they cannot sort it out. Clearly they can't.
"I think it becomes more difficult the longer it goes on, other people think otherwise. If someone does really well in India it makes the selection for New Zealand more difficult, then the issue is whether KP makes himself available when NZ come to England because that impact on the Indian premier League and if he doesn't make himself available for that then it is difficult to see him playing in the Ashes. It does not become easier and I wish they would sort it out.
"England are not as good a team without KP. I have heard a lot about happiness and team spirit and all that carry on but good players win Test matches; good batsmen and good bowlers win Test matches. I have yet to play in a team where everyone is best mates with everybody else. You need to be mature enough to go out onto the park with people you don't like. Obviously there has been a profound loss of respect but there have been plenty of teams when people have not got on, you just have to get on with it."