Mike Atherton says England missed chance to make in-roads into India innings on day one of first Test
Wicket-taking opportunites went begging for England on day one of the first Test, says Athers.
Last Updated: 15/11/12 3:06pm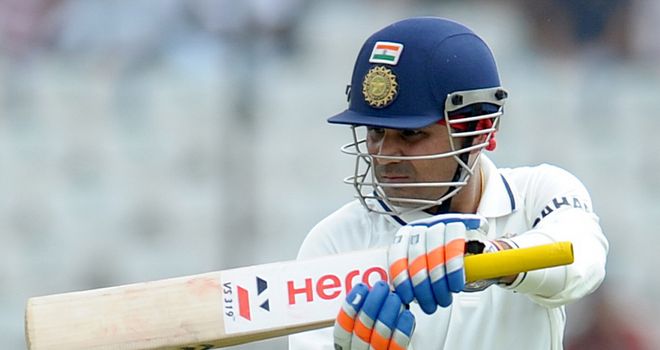 The hosts racked up a total of 323-4 at stumps, thanks to a typically robust ton from Virender Sehwag and a measured 98 not out by Cheteshwar Pujara, while England spinner Graeme Swann claimed each of his side's four scalps.
Atherton, however, reckons the tourists could have been in a far healthier position if myriad wicket-taking chances had been grasped, and he says England must now post a hefty first innings tally to stay in the game.
"England missed four chances in the field and in these conditions on a pitch like this you can't afford to do that," said the former England skipper, after observing the action live from inside the Sardar Patel (Gujarat) Stadium.
"Pujara should have been caught at mid-on by Jimmy Anderson when he had eight and Sehwag was dropped down the leg side by Matt Prior on 80, while there was also a missed stumping.
"Plus, there was a dropped catch form Jonathan Trott, albeit a difficult one, when Virat Kohli was cutting Graeme Swann, so England will think that a day that started horrendously and got better in the afternoon could have been better still.
"They have to knock India over for 450-odd and not let the innings run completely out of control and then it will all come down to England's first innings.
Foundation
"Often in the subcontinent the first innings shapes the game and if England can stay competitive and India don't have a disastrously big lead, anything can happen as the pitch wears.
"Alastair Cook, Nick Compton and Jonathan Trott must set a foundation and then the flair players like Ian Bell, Kevin Pietersen and Samit Patel can hopefully take the attack to India's spinners, but India have an advantage as they have two (frontline) spinners to England's one."
England's quicks - Anderson, Stuart Broad and Tim Bresnan - left the field at the close of day one wicketless.
But Atherton thinks the trio were not aided by the arid Ahmedabad track - or the fact that the bludgeoning Sehwag was in such imperious form.
"It was a very flat pitch in the morning and there was no bounce at all for the seamers and the kind of reverse swing that they got in their final warm-up game (against Haryana) didn't really materialise, "added the Sky Sports pundit.
"It was real tough work for the seamers, especially against someone of Sehwag's brilliance; you're talking about one of the best openers the game has ever seen, especially in his home conditions. He has dismantled attacks before, got a couple of triple centuries and no-one gets runs at a quicker rate."