Hope for England in India after first Test rally, says David 'Bumble' Lloyd
England are finally showing some mettle in the first Test, says David Lloyd, after a brainless first innings.
Last Updated: 17/11/12 12:32pm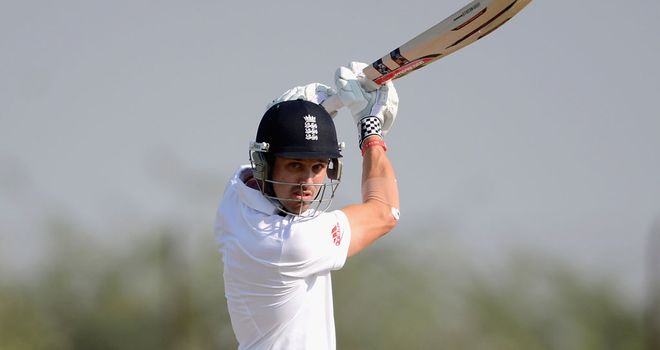 Compton and Cook put on an unbroken first-wicket stand of 111 after the tourists were bowled out for 191 in their first innings and were forced to follow on, in Ahmedabad.
Spinners Pragyan Ojha (5-45) and Ravichandran Ashwin (3-80) did the damage for India first time around but the duo could not break through in England's second innings - and Lloyd says that although Cook's side still trails by 219 runs, they can take some hope from their position.
"England in the first innings were brainless - in the sense of the word that they didn't use their brains," said Bumble. "Second time around I think they can say that they are in the series. I think they've played very well.
"If I was an England selector I'd be absolutely thrilled at what Compton's done; he'll have never seen anything like this. You'd expect it from Cook - he's been in tricky situations before.
"But to come out as an opening pair and see out that very difficult time when you are following on, I think that England are now in the series."
System
Cook closed the day unbeaten on 74, with Compton posting 34no off 104 balls - and Lloyd said the pair proved that it is possible for England's batsmen to score at the Sardar Patel Stadium if they have a clear and positive game-plan.
"It's all about scrambled brains and unscrambled brains," he reflected. "That might be difficult for people to understand but it's about having a clear mind of what you are going to do and where you are going to score.
"You've either got to play right forward or right back to the spinners and in the meantime devise a system about where you can pick up runs.
"The theory of it has all happened in this second innings where the field has actually pushed back and it is England that has pushed the field back."
Arrears
Former England skipper Mike Atherton was equally impressed with the openers' partnership and said it should inspire the remainder of the team to up their game in an effort to avoid defeat.
"As an opening batsman and a former captain, I think what Alastair Cook has done in both innings but in particular this second innings is quite incredible," he reflected.
"It's a new experience for him - captaining England for two days in the field; he absolutely knows that he's made an error in team selection by leaving out that second spinner [Monty Panesar] so that's playing on his mind as well.
"So you know that you are in arrears as a captain, you've got that to make up as a player - so well done to him.
"As Bumble rightly said, credit to Compton. This is a long way from the green fields of Taunton. He wouldn't have seen a lot like this with men around the bat and the ball spitting; he was under pressure having not got runs in the first innings.
"So both of them have shown their mettle here second time around. We see it a lot, don't we? Sides that are faced with a mammoth first-innings score - 521 in England's case - they struggle first time around and then do much better in the second innings.
"It's the effects of those two days in the field. The critical time for England in that first innings was that 18 overs that Dhoni gave them on the second evening; when you've had two very wearying days under the hot sun in the field.
"To lose three wickets was critical for England on that second evening. There was really little room for recovery in that first innings but they've done much better second time around."