Alastair Cook Test hundred in India proves he's tough enough to captain, says Nasser Hussain
Nasser Hussain says opener Alastair Cook has proved that he's tough enough to captain England.
Last Updated: 18/11/12 12:28pm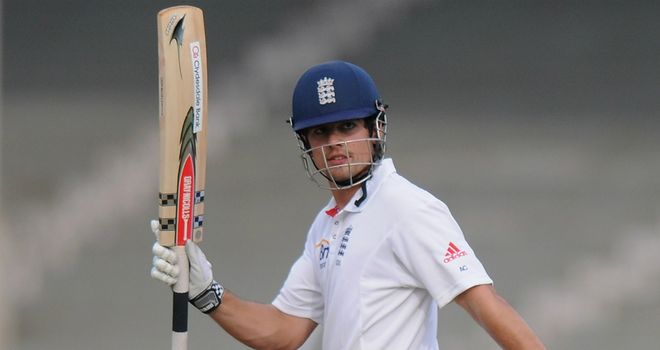 Cook became the only batsman to make a ton in his first three Tests as captain, striking 168no to help the tourists to 340-5 in their second innings on day four of the first Test against India in Ahmedabad.
The 27-year-old - who now has 21 Test tons to his name - shared an unbroken sixth-wicket stand of 141 with Matt Prior (84no) as England, following on, erased their first-innings deficit of 330 to earn a slender 10-run lead going into the fifth and final day.
"We've praised Cook throughout his career because he can bat long," said former England captain Hussain. "He just enjoys batting; he doesn't seem to sweat at all, get worried or lose concentration.
"It's a very important game for him too. It's his first proper game as captain of England - forget the one-day stuff and a couple of Tests in Bangladesh; he is the official England captain now and to start well like this will tell everyone that it's not affecting him at all.
"He's played spin brilliantly. He's getting way out in front - he's not getting trapped on the crease and bringing short leg or leg slip into play. He's getting fully forward or fully back but really his greatest attribute is what's between his ears.
"He works with [batting coach] Graham Gooch, whose old cliche is 'you've never got enough runs'. He'll say it to you every time you come off the pitch at a break. Even now Goochie will be in Cook's ears saying exactly that."
Character
England began day four on 111-0 but lost five wickets before reaching 200 only for Prior and Cook to stop the rot and ensure the match went into a fifth day.
The pair posted their 100 partnership off 193 balls with Prior contributing 57 of the runs and Hussain said he has huge respect for the way in which the wicketkeeper approached the challenge of saving the Test.
"I like his attitude towards the game. You can't just say - as we've heard Pietersen say a couple of times - 'that's the way I play'. That's not good enough. You have to play and adapt to the situation. He's not a personality player, he adapts to the situation and the situation today was to stay with his captain and bat time.
"If you bowl him a bad ball, I'll tell you, Matt Prior will put you away - predominantly through the off-side. He's got lovely hands through that off-side, playing with the spin.
"I just like him as a character. I heard yesterday evening that he did the press in Ahmedabad and they say he just gave very honest, no bluff answers. There was none of this 'we're going to take the positives out of the game' and 'we're hitting them well in the nets'. Matt Prior just tells it how it is. If you're not playing well, he'll tell you.
"Take the whole nonsense about Kevin Pietersen: when Kevin Pietersen was out of the side, who was the one lad out of everyone who rang up Pietersen and actually spoke to him? It was Matt Prior. He's a no-nonsense type of guy."