The Overview: Day 5
Early optimism faded in the comms box as India picked up early wickets before smashing their way to a series lead...
Last Updated: 19/11/12 12:34pm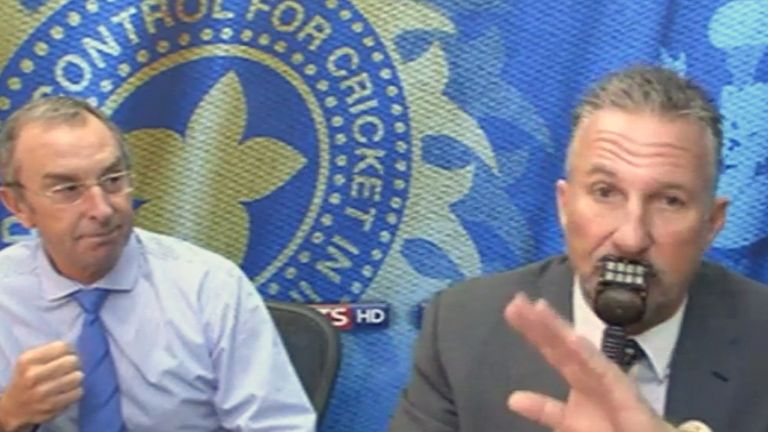 And before play Beefy was optimistic.
Sir Ian Botham: "Who'd have thought we would be discussing England's chances of saving the Test two days ago. I think they've got every chance now. India look very tired and England looked quite the opposite yesterday. I have no reason to believe they can't do it. If England can take control of the first two hours this morning, anything is possible. India are expected to win this after the start they had and you could see the depression around the ground yesterday with the India supporters. The players would have felt that. If the England players can keep them at bay for an hour or so, their heads will drop I'm sure."
However, England's hopes took a huge blow when Matt Prior returned a catch to Pragyan Ojha after adding just seven to his overnight score...
Botham: "It just stuck in the pitch. He was on the back foot and just wanted to push it down the ground and he just got through it too early. That's what India needed. Prior can not believe it. He played so, so well but that really is a soft dismissal."
And things got worse for the tourists when Ojha bowled Cook - who had scored the highest total by an English batsman when following on - for 176 to leave England on 365-7, a lead of just 35.
Nick Knight: "It keeps a bit low but that's the moment they wanted. Ojha got five in the first, now he has four in the second. What a brilliant innings has come to an end. Cook's bowed head says it all."
Nass: "That's a big, big wicket and you can see what it means to them. It probably means India go one up in this Test series now. That's what they'll be thinking and that's what Cook will be thinking. But 10/10 for the England captain, that was a magnificent effort."
Stuart Broad could only contribute three during his short-lived innings, Yadav's caught and bowled putting India in an extremely commanding position, with Graeme Swann coming to the crease.
David Gower: "Graeme Swann would no doubt do better to play a couple of shots. The lead is 48 and if England have any chance they'll need to add runs quickly, they can't just wait for the last two wickets to fall meekly. But it has been India's morning, they had a real battle yesterday, their heads would have been done, but now the atmosphere in the stadium as changed dramatically."
And, taking Gower's advice, Swann swots for a huge six.
Bumble: "Where's that come from? Six pennyworth!"
Botham: "He's someone who in these circumstances is better off playing his shots. He's a good clean striker of the ball and here the slog-sweep gets enough of it."
However, Swann's growing confidence is his downfall and he's bowled for 17 trying to switch hit Ashwin.
Botham: "If he persisted with that it wasn't going to last too long and that's exactly what's happened. But it's not really down to those guys down there to get runs."
Bumble: Anderson comes to the crease. He always fancies a bat. He's got a best of 34 and England could do with that right now. Their lead's 76 and you'd say that isn't enough - but they've still got to be got!
Anderson's opportunity to better his best knock was cut short, though, when Bresnan's drive to the sub fielder at cover ended England's innings. Their 406 all out left India needing 77 to win and at lunch Botham's optimism was over.
Botham: "If we lost Prior and Cook as the first two wickets it was always going to be over very quickly, we just have to accept that. The top order failed again with the exception of the captain and you can't expect the tail end to keep on doing it. They shouldn't be in that position. But India stuck to their task, capitalised on their breakthroughs and just need 70-odd to win."
Knight: "521 plays 191 after the first innings and you don't win many Test matches from that position. That's what the management must look at to improve. Going into today there was a certain reality - Cook and Prior needed to bat out the session. But India had a bit more zip in their deliveries this morning."
Botham: "It'll be over in about 40 minutes this afternoon. Sehwag knows the new ball is the time to attack, he did that in the first innings. There's no reason he'll change his tactics."
Michael Atherton: "It's still a pretty good pitch. I'd think Swann will open the bowling and try to get a few flutters. You never know, but you'd think 70-odd isn't enough."
Bumble:"Talk in the England dressing room will be let take some down with us."
However, Pujara signalled India's intent with a fine cover drive off Swann for four as India sailed to 28-0.
Hussain: "Pujara doesn't care about a spinning pitch and Swann. This is going to be over in a hurry."
Bumble: "Terrific attitude from India; confident play and they're quickly onto 28 with some scintillating stroke play."
Swann finally made the breakthrough, Kevin Pietersen catching Sehwag on the boundary. But at 57-1 surely it was too little too late.
Botham: "Pietersen has said he's caught it, Sehwag accepts it which is good to see, that's how the game should be played. His momentum takes him towards the boundary, he just checks himself and, I tell you what, he had barely half an inch to spare!"
But that didn't hold up India for long and Kohli hit the winning runs to put India one up in the series.
Botham: "India richly deserved that. Alastair Cook will be disappointed; he worked hard but lacked support from his senior batsmen."
Knight: "In the end it was a doddle really. India had to work on days three and four but those runs on the board from the first innings paid dividends. England couldn't muster anything like that in their first innings. They were much better in the second innings thanks to Cook. India will be delighted."
Botham: "England have hopefully learnt a couple of lessons but India have worked hard for this victory and done extremely well."
See if England can strike back in the second Test - live on Sky Sports 1 HD from Friday from 3.30am.