England must change their approach to team selection, says Nasser Hussain
England must be more flexible in their selection to utilise Monty Panesar's talent, says Nasser.
Last Updated: 26/11/12 1:26pm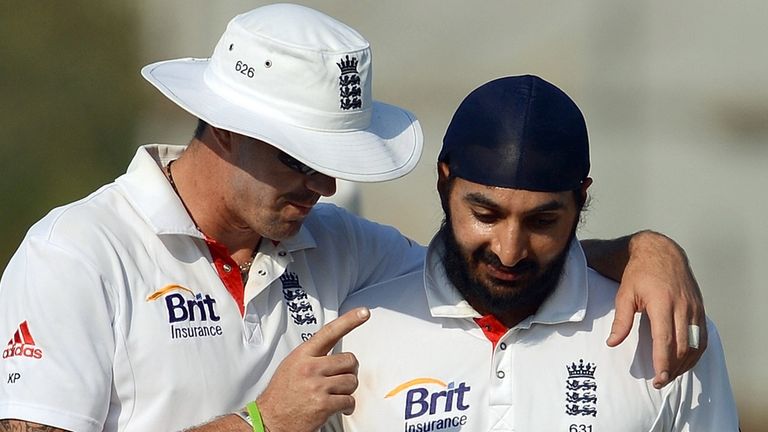 Recalled spinner Panesar was instrumental in England bouncing back from defeat in the first Test with a 10-wicket victory in Mumbai to level the series at 1-1. The Sussex tweaker took 11 wickets in the match to show the selectors what they'd been missing in Ahmedabad.
After such an impressive performance, former England captain Hussain believes England must alter their approach and consider the threat Panesar offers - not only in India, but in all conditions.
"India have good players of spin but when you have two quality spin bowlers, like England have, you have to back yourselves," said Hussain.
"Before this Test match England backed Panesar and Graeme Swann and they repaid them with that faith.
"In the past England have been quite stubborn about [selecting three seamers and one spinner]. It's almost like they're saying 'we'll do everything possible not to play two spinners and five bowlers'.
"They turned up to the first Test in Ahmedabad saying 'the stats tell us Tim Bresnan might do well here'. They should have had the mind-set of 'wherever possible we will try and play our five bowlers'.
"Occasionally in England you won't need two spinners and Monty or Swann will miss out. But at the moment all they're thinking about is seam and their batsmen; they should be thinking 'Monty is one of our best bowlers'.
"It's worth a change of mind-set. England shouldn't make generalisations of 'India play spin well, so we can't play Monty'. We've seen in this Test match when its spinning and you have high quality spinners India are not always great."
Flexibile
Sir Ian Botham believes Panesar will play in the remaining two Tests and believes England's approach to their team selection - which he disagrees with - stems from the Ashes thrashing they received at Headingley in 2009.
"Everyone talks about changing bowlers," he said. "If you look at that game in 2009 at Headingley, they played five bowlers and lost in two and a quarter days. Well, I'd suggest the batsmen have something to do with that.
"You shouldn't look at the bowlers every time you lose and chop and change them. Sometimes you have to change the batsmen. But we're a bit stereotyped in our thinking in England.
"The bottom line is Monty Panesar should always play in this part of the world, it's a no-brainer. In England, ok, there are times you don't need two spinners, but you have to be flexible.
"The team selection in Ahmedabad was so far off the mark and it was exposed. They came here with the side they should have played in Ahmedabad and they got the result. There's a message there."
KP key
Reflecting on England's team performance as a whole, Hussain praised the spirit of Alastair Cook's side and said Kevin Pietersen's Man of the Match winning innings of 186 demonstrated just how important he is to the tourists.
"I don't think we've doubted the character of this present England side under Andy Flower and Andrew Strauss, and now Flower and Cook," said Hussain.
"England's second innings performance in the first Test would have helped, as well. Unlike last winter, where they were collapsing in the last innings and going into the next match feeling down, they got 400 in their second innings in Ahmedabad, bowled pretty well and actually came into this game with a bit of confidence.
"But make no mistake, though, Kevin Pietersen was vital. The moment he comes back and bats the way he does he puts the opposition bowlers on the back foot.
"It looked like the pitch was doing nothing when Cook and Pietersen were batting but Pietersen was doing so well he made India look pretty ordinary. When England went out there you could see the pitch was doing so much.
"All credit to England. I thought it was a bit quick for some people in the media to be saying 'it'll be 4-0' after the first Test; England are a better side than that and they've shown it."
You can see live coverage of the third Test between India and England from Kolkata at 3am a week on Wednesday, on Sky Sports 1 HD.