The Overview: Day 4
Beefy, Nass, Bumble, Knight and Gower discuss DRS, Dhoni's problems and Compton smashing England to victory...
Last Updated: 27/11/12 9:25am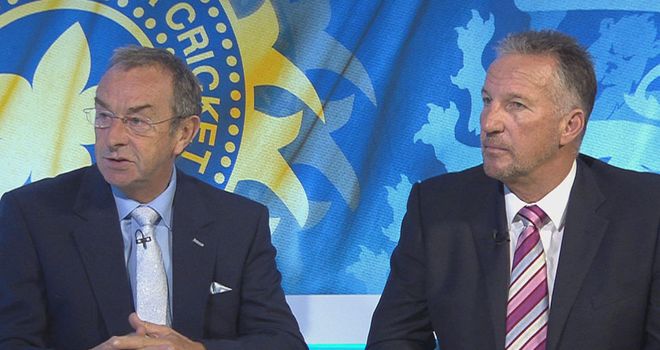 That put them just 31 ahead going into the fourth day and with the wicket continuing to deteriorate it was down to opener Gautam Gambhir - 53 not out - to give the hosts any hope of avoiding defeat.
However, even with England's batsmen likely to be set a small total to chase there was still work to do. Many in the tourists' camp will clearly remember England slumping to 72 all out in pursuit of just 145 against Pakistan in the United Arab Emirates earlier this year.
And David Lloyd alluded to that result at the start of play...
Bumble: Morning all! Three more wickets needed for England. Anybody nervous? I concur with everyone who's said it's been a terrific Test match so far. We've seen some high class performances; England's spinners have done exceptionally well, we've seen some wonderful batting from Kevin Pietersen, Alastair Cook and Gambhir is still there with 53.
Any doubts about how India would approach their task were answered with a huge hit from Harbhajan Singh, who smashed Monty Panesar's first ball of the day for four over the infield for four.
Bumble: Now then there's some intent there! Over the top for four. Counter-attack by India!
Botham: Well, he can keep on playing like that. That could have gone anywhere!
That, though, was as good as it got for Harbhajan, who, attempting to cut Graeme Swann, only succeeded in edging to Jonathan Trott at first slip to leave India on 128-8
Bumble: Terrific start from Swann! Bit of bounce, bit of spin does for Harbhajan.
Botham: It's got tight on him and he's got nowhere to go.
Nasser Hussain: There was turn and bounce. Harbhajan should probably know better. He'd want someone cutting him from out there on this sort of pitch. That catch was a bit of confidence building for Trott at slip as well.
Next in and next out was India's only pace bowler Zaheer Khan who skied a Panesar delivery straight up in the air for Matt Prior to pouch after adding just one to his side's total.
Botham: Oh, that was just a matter of time. He couldn't get a bat on the ball, he was playing, missing, playing, missing... He decided to have a go but that was a number ten's shot. He's been beaten left, right and centre, by Panesar and hardly got the bat on the ball. That was typical from a tail-ender: he gave it the big heave, looked into the grandstand but it had gone straight up!
And India's second innings closed on 142 all out when Gambhir was given out lbw for 65. Replays showed he clearly got bat on the ball before - as our pundits agreed - India only have themselves to blame for not allowing DRS to be used in this series.
Nick Knight: Gambhir's not happy. He's got a little feather on it but Tony Hill doesn't see it and says good enough and sends him on his way. It's been an excellent morning for England because they wanted to wrap this up quickly. There was resistance yesterday from Gambhir but he's the last to go for 65.
Gower: That dismissal was another candidate for DRS.
Nasser: I wonder if this Test series might change the Indian board's mind on DRS. It was actually Duncan Fletcher who came up with the idea and I wonder if he'll be brave enough to go in there and say 'on these sort of pitches and conditions we need it'. India is a hard place to umpire: there are men round the bat, little inside edges like that, lbw decisions... I was commentating in the first innings and thought one was absolutely plumb and it hit the bat.
Gower: Yes, but Nass, we have seen you try to umpire in that piece we did at Lord's
Nasser: I was brilliant! But seriously, the last two games have made Aleem Dar look a poor umpire and he's not. Whether he's become reliant on DRS or it has put him under more pressure, I don't know. But, like players, umpires go through form and he's having a poor series.
Botham: There is another solution. The sides that want to use DRS use it and if India choose not to then so be it. If India don't want to use it and England do, we'll continue. That would accelerate the process of changing it.
Bumble: I'm absolutely with Ian! If you don't want to use it don't. Of course umpires will have bad games and make mistakes but the fact is with DRS you get 4% more correct decisions.
Gower: This must be sleep deprivation at its worst! You can not seriously suggest two sides playing the same game should play it under different rules?
Botham: Yes I am.
While the debate about the use of video technology will go on for some time, England's run chase seemed set to be over quickly, with four byes from the first ball getting them on their way - and again highlighting MS Dhoni's recent struggles behind the stumps.
Nasser: That's a good start, we'll have that!
Knight: That's an inauspicious start for Dhoni but perfect for England.
Nasser: He's got some work to do, Dhoni. He might be a super one-day player, a brilliant T20 player and a very good captain but his batting and keeping in Test match cricket is not where it needs to be at the moment. If India lose this Test there will be a few questions asked.
And Nick Compton put his foot to the pedal, smashing the ball for four down the ground as England moved to 12-0 in quick time.
Nasser: He's hit that hard, he's hit it seriously hard. You don't have to be Einstein to work out Compton's intentions here: 'I'm going to get you before you get me'. That's the right way to go.
Knight: It's a brave shot but it's an excellent shot.
Cook and Compton continued to attack the Indian bowlers and, with 25 more needed, Compton blasted Ojha for a huge six, straight down the ground.
Gower: That's brave and very good from Compton. Good footwork and it's cleared the rope.
Botham: A flat six and that's broken the back of this total. England are wrapping this up in style. Well played, good shot.
And, just as the chase started, England are gifted four more, with leg byes sealing victory. There's a roar of delight from Compton and the tourists have levelled the series at 1-1.
Knight: Delight for Compton, delight for captain Cook. England are back. Can they play in these conditions? The answer is yes.
Bumble: I like that celebration from Compton. He's a new guy, finding his feet in the team. Job done. Special, genius from Pietersen, wonderful bowling from the two spinners and wonderful play from Cook have turned this series upside down. Get a new script. England have outplayed India - and that is some feat in India. It promises to be an absolutely rip-snorting series, this!
Nasser: I'm sure there were words in the dressing room after what happened in Abu Dhabi when they were chasing 140 odd and just went into their shell and were bowled out for 70 in less than 40 overs blocking. Someone in that dressing room must have said 'when we go for this run chase we will have positive intent' and that's what they did.
Botham: It will have done Compton a world of good this; a little cameo, almost a free licence and he did well. He played some good shots, he came down the wicket and I think he'll benefit from this.
Nasser: It will be interesting to see if he still has that confidence if England win the toss and bat first in Calcutta. It's easier to do it when you're chasing 50. But he's shown everyone he has those shots and he can put them into practice in the next Test now.