Michael Atherton pays tribute to Alastair Cook for becoming England's most prolific Test centurion
Michael Atherton paid tribute to Alastair Cook after he became England's most prolific Test centurion.
Last Updated: 06/12/12 12:36pm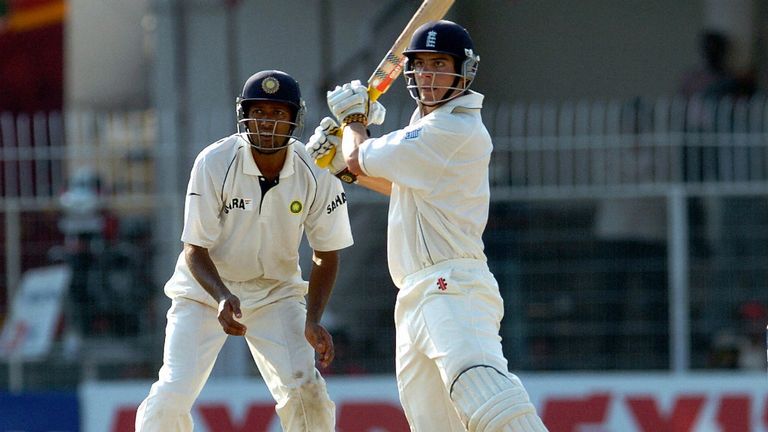 Cook set a record for England Test centuries with his 23rd as England assumed control of the third Test against India in Kolkata.
The England skipper passed Wally Hammond, Colin Cowdrey, Geoffrey Boycott and Kevin Pietersen who are all on 22 with a confident 136 not out to help England reach 216-1 in reply to India's 316 all out at the close of day two.
"In a historical contest nobody has done what he has done - no Englishman anyway," said Atherton on Sky Sports News.
"Plenty of other batsmen have got many more Test match 100's than Alastair Cook and those are the batsmen he will be looking to emulate. The likes of Jacques Kallis, Sachin Tendulkar and Ricky Ponting who have 30 -40 Test hundreds.
"Those are the figures that Cook will be aiming for and I have no doubt that he will get there at some stage.
"No Englishman has got 23 hundreds, it is a record that has stood for many many generations ever since Wally Hammond got to 22 and others have joined him on that list but now Cook has gone ahead of them all.
"He is playing magnificently, so fluidly and with such certainty - I don't think I have seen a English batsman play with that level of certainty since Graham Gooch way back in the early 90's."
Atherton believes that England can really push on from their commanding position, but says it won't be easy.
"The deficit is just 100 and England will hope to wipe that out by about lunch time on Friday," added Atherton.
"Then they will bat for about four more sessions to keep India out in the field for the long hot day - there are one or two ageing bodies in that India side. Then put them under pressure second time round.
"I don't think it will be easy because I don't think this pitch will break up like it did in Mumbai, but scoreboard pressure and two and a half days out in the field - well that is no easy task for India."
Flagging in the field
Meanwhile, although impressed with England's batting performance, Nasser Hussain was critical of India's fielding on day two.
Cheteshwar Pujara dropped Cook on 17 - a costly error - but throughout the day the India fielders were fumbling, making simple mistakes and allowing England to take quick singles.
"It was diabolical," Hussain said of the hosts' fielding.
"It's a bit of a cultural thing [India's fielding problems]. They love to bat and be Sachin Tendulkar, they love to bowl and be Anil Kumble, but fielding is not part of their psyche.
"It's hot, it's hard work, you field for a long time and you don't get a fielding contract for the IPL - it's all about bashing sixes and fours.
"Batting and bowling is very important, but fielding is crucial and England are going to run them off the field for the next day and a half."
Don't miss any live and exclusive cricket coverage this festive season. Click here to visit Sky Sports' Festive Calendar