England score is a good one, considering tough surface, says Sir Ian Botham
England made just 199-5 on day one - but that's a good score on a tough wicket, says Sir Ian Botham.
Last Updated: 13/12/12 5:37pm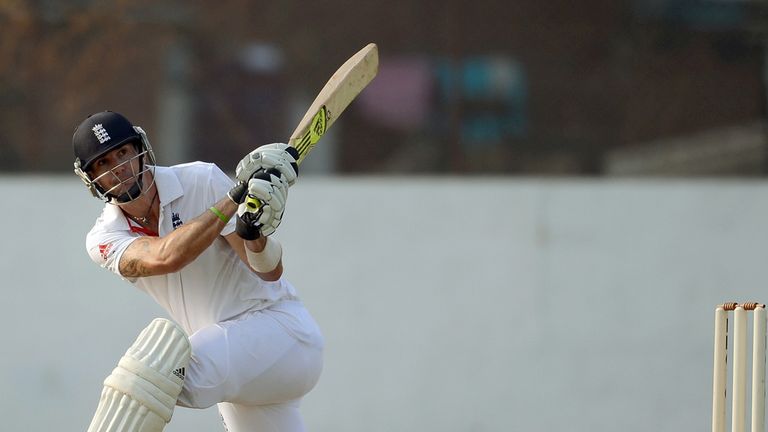 Alastair Cook won the toss and opted to bat first but that move looked like it might backfire when the tourists lost Nick Compton and Cook himself for just 16 runs.
Jonathan Trott (44) and Kevin Pietersen (73) steadied the ship before succumbing to debutant Ravindrasinh Jadeja and Ian Bell joined them back in the hutch after he laboured to a 28-ball score of one before chipping to short extra cover.
However, a composed, unbroken 60-run stand between Joe Root (31no) - winning his first Test - and Matt Prior(34no) moved England to 199-5 at close.
Botham believes that total, on an already-cracked surface, has put England in a good position and predicts that India, who must win the match to draw the series, will struggle when it is their turn to bat.
"It's very difficult to keep the board ticking on this pitch," said the former England skipper.
"Let's see how it goes after India have batted because they're the ones who have got to try and force this game and I don't see how they can force it.
"The danger on these surfaces is the ball gets stuck in the wicket, goes nowhere and hits the bottom of the bat, like with the Ian Bell dismissal. I don't see how you run it around. You either get a full toss or a long half volley you can drive or hit, otherwise it's very difficult to keep the board ticking.
"England have guys who like to score runs at a quick pace [and they haven't been able to] and the pitch isn't going to get any better. It's going to get lower and it will turn.
"The other thing to factor in is not only do England have better bowlers but they're confident, too. India aren't confident and it is very difficult to get your confidence back on a pitch like that."
Soft dismissals
However, Nasser Hussain believes the tourists could be in a better position at the end of day one, had their middle order not 'got themselves out'.
"England said before the game they had to be ruthless in this game and I think Andy Flower and Cook will feel, against spin, they haven't been quite ruthless enough," he said.
"We mustn't confuse what's a difficult pitch to bat on to one that has actual spin. How many balls actually did that much? This was a difficult pitch to score on but only two deliveries really spun.
"But England got themselves into a shell, there were 80 overs of dot balls, they didn't manoeuvre the strike well enough and it led to some soft dismissals.
"The middle order who should have been scoring heavily got themselves out. Trott left a ball which didn't do anything and hit off stump, Bell chipped it to short extra cover and Pietersen, who probably understood the pitch the best, was caught at midwicket.
"These two guys at the end - Root and Prior - showed you can bat on this wicket. It's not a difficult surface to survive on. But you have to make them get you out.
"I liked that about Root. He said: 'right I don't have to score boundaries every delivery but you're not going to get me out'. If everyone in the England side had that mentality they'd be in a better position this evening."
Root to success
Botham was also impressed with England's debutant and praised the way the 21-year-old adapted to the conditions and situation.
"It's a big feather in Root's cap to be selected ahead of Eoin Morgan, Johnny Bairstow and Samit Patel, players who have a played a few innings for England," he said. "He's leapfrogged the lot.
"From what I've seen today he's been hard to fault: his technique has been good, his patience has been good.
"On debut when you hit a couple of boundaries you want to keep going but he's shown great composure, a lot of skill and he's well organised. It's not easy to adjust on these surfaces, so fair play to him.
"He's done a great job and if he and Prior bat to lunch on day two England will be in a very good position."
Don't miss any live and exclusive cricket coverage this festive season. Click here to visit Sky Sports' Festive Calendar