The Overview: Day 2
Anderson turns up the heat on India in Nagpur as Nasser encounters some chilling boiler problems...
Last Updated: 14/12/12 1:03pm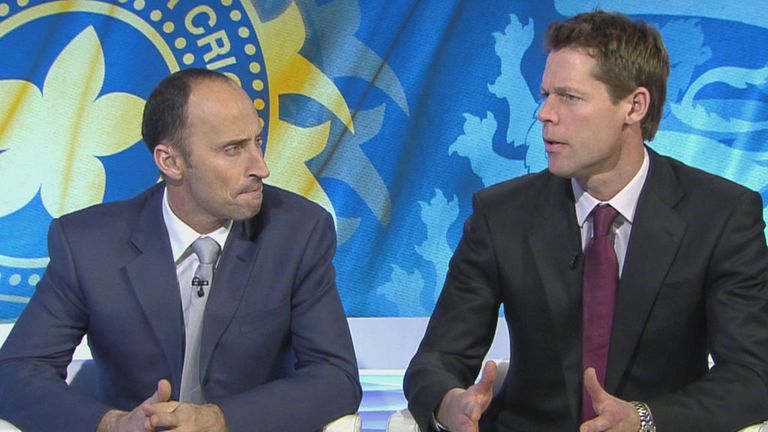 Having restricted England to 199-5 from 97 overs on a turgid opening day, the home side - needing to win the match to square the series - had to take quick wickets and then try to bat themselves into a position of strength.
Standing immediately in their way were debutant Joe Root (31no) and Matt Prior (34no), not to mention a pitch offering little assistance to their battery of spinners...
David Lloyd: Yesterday was a desperate day on a desperate pitch - this is an absolute shocker and Test cricket can do without it . Players have no alternative but to play a certain way because the pitch is that slow - it's no good for players or the spectators watching. This is a pitch where you should be saying 'we ain't playing on this again'. England have just got to extend their partnerships and bat as long as they can. That's the responsibility of the two at the crease but India will have a different ideas...
Those ideas initially came to nothing as Root reached his maiden Test fifty off 154 balls and England supped drinks on 241-5 but on the resumption Ravichandran Ashwin bowled Prior (57) to break a stand of 103 runs...
Sir Ian Botham: Matt Prior is the best all-rounder in world cricket, in my opinion. I regard all-rounders as someone who does two jobs - he is good with the gloves and he bats extremely well. People say 'bring Prior up the order' but I say leave him there at seven. Adam Gilchrist was happy in that position for Australia because he felt he had enough time to get out of keeping mode and get into batting mode.
I think Prior was shocked when he got out - I think everyone was a bit surprised. You could see him thinking 'how have I missed that, what's it done?' The fact is it did nothing - it just went straight on.
Talking of nothing, Tim Bresnan fell lbw to Ishant Sharma for a two-ball duck...
Beefy: When it comes to all-rounders I am less convinced about Tim Bresnan - I think any runs from him are a bonus. He will have seen that the ball is reversing and people will have been telling him that as well but he gets his foot planted and is caught half-forward on the line. It just looked out.
Bumble: Sharma is the only seamer that India have, whereas England have got two and I think Bresnan the bowler should be very effective on this pitch alongside Jimmy Anderson. In contrast, Sharma has had all of the work to do and he could have done with somebody with him.
Root reached lunch with 65 runs to his name, his stoicism prompting a few comparisons likening him to a certain former England captain...
Mike Atherton: Root has played really well. He's looked very composed - I think that's the first thing you look for in a player, to see how at ease and at home he looks. A lot of England's debutants in recent years have done really well and I think that's a real tick for the English Performance Programme. Players start to learn their trade in county cricket but then they are taken out of that and given that extra level of learning through the EPP before they get into the Test squad.
David Gower: One or two trained observers around here have compared him to you - he has been called 'Atherton-esque'!
Athers: Well, he's a good player, clearly! I see a bit of myself in him - he's got a slightly curious, swinging gait - he's a bit ponderous in the way that he moves; from a distance he doesn't look the greatest athlete but when you watch him play he's got nice, crisp footwork. I can't remember being that composed on debut; I was 21 and very green with a couple of county cricket seasons under my belt. I came into a losing team and had to learn on the job. Now, there is still an element of Joe Root learning on the job here but I think somebody like him comes into the England team much better prepared than someone like him would have done 20 years ago.
David: I do remember your debut, in 1989 against Australia - that losing team was mine...
Beefy: You can't fault Root - his temperament has been magnificent. He's seen a couple of wickets go around him but he's set up a partnership with Matt Prior which has set up England's total. The most important thing is he's taking time out of the game - it is hard work and this pitch isn't going to get easier. The way he has stuck to the task, his footwork and his concentration, have been magnificent.
Bumble was (almost) keeping a close eye on Root's score as England began the afternoon session on 277-7...
Bumble: Root 67 - he's just pulled off 66.
Nass: It would have been reasonably funny if you'd said it when he was on 66.
Bumble: He's getting his kicks.
But the 21-year-old was kicking himself after he chipped his 229th ball in Test cricket straight back to Piyush Chawla, 27 runs short of a maiden ton...
Nick: Root started positively and never really looked back. This is a pitch that isn't going to test you technically but it will test you mentally: can you hold your nerve and build a partnership? Can you not get frustrated when the score isn't ticking over? Root has shown he can and that's been the most impressive part of his innings. He seems very much in control of his own game technically.
Swann, in rather gung-ho fashion, swaggered to 50 off 87 balls with six fours and a six and added another maximum before a rather ill-advised attempted reverse-sweep handed Chawla his wicket.
Nass: Swann was not someone who was going to nurdle his way to fifty so he played his shots and hit boundaries. It was about time he produced, to be honest: it's been three years since he got a fifty in Test match cricket and we all feel he's a better player than that. If Swann does want a second spinner in the side all the time, he's going to need to get more runs because if everybody does move up one he'll need to get these sorts of runs on a regular basis, not once every three years.
Chawla (4-69) duly wrapped up the innings by removing James Anderson, who could crack on and focus on his main role...
Nass: I think 330 is a good score. I think it puts in perspective the nonsense that was spoken about this pitch yesterday. Kevin Pietersen said it's the hardest pitch he's ever batted on - well, try Lord's in April when it's nipping around with the Duke ball. That's slightly harder! This pitch hasn't spun at all. One thing that England have done better than India is they've picked the right balance of the side. Anderson and Bresnan can both reverse swing the ball and with a bit of low bounce and I think they'll be more of a threat than the spinners.
How very prescient of Nass, as Anderson bowled Virender Sehwag for a second-ball duck to interrupt discussions about his chilling domestic problems...
Bumble: It looks very comfortable for the players out there in Nagpur. It's about 25 degrees there but it's really cold here in the UK. You need the heating on...
Nass: I know where you're going with this... I've just had a text to say 'the boiler's gone'. What's a call-out fee for a boiler?
Bumble: OOOH! Bowled him. What an absolute rip-snorter that is! Sehwag's gone. What a start for Anderson!
Nass: Bowl straight, nip it back onto the stumps - it was absolutely perfect from Anderson. The seam brought it back in. Sehwag has seen Anderson try to shape it back in and he's played for the inswinger but it's pretty much a straight ball. That's the key - it's straight. That's what you need on this pitch and there's a big, big hug between Anderson and Pietersen. Sehwag's gone and it's 1-1.
Gautam Gambhir (17) and Cheteshwar Pujara (15) saw India through to tea with no further loss on 32-1 with runs still hard to come by...
Athers: I think England will be reasonably happy with their total; India will have to bat their socks off to get into a decent position. Joe Root was excellent and that was virtually the first mistake that he made when he got out. He looked gutted when he got out - I think he fancied a debut hundred - and Graeme Swann played nicely. It's infuriating that he plays that reverse sweep when he's got so many other shots in his locker. Root and Swann have shown that this pitch is not a minefield - it's relatively easy to stay in on. The question is when captains set the field quite deep, it's not easy to score with any fluency.
Pujara (26) was making decent enough progress until Swann got one to bounce a little and Bell took a fine one-handed catch at short leg, although replays showed the ball had clipped the batsman's elbow rather than glove...
Nass: Pujara hasn't hit it but it was a brilliant 'catch' from Bell - he works on his fielding at short leg for hours. It was good from Alastair Cook too - he had Root in there at short leg but they went back to Bell. The ball came off the elbow which is why the umpire gave it - he heard two noises. I think that's why you need DRS in this part of the world.
There was no doubt surrounding the next dismissal as Anderson crashed through the defence of Sachin Tendulkar (two)...
Nick: Tendulkar's mighty unlucky because the ball keeps low. He looks at the pitch as he walks off. I was just saying that they like to bowl straight at him and that's certainly straight enough. It's another beauty from Anderson - it certainly does keep low and bowls him via the inside edge. There was nothing really Tendulkar could have done.
Bumble: You've got to feel for him. He was trying so hard to get a start, to get a score but Anderson had different ideas. It doesn't matter how good you are, how good you've been; you need that little bit of luck and he hasn't got it. India are 64-3.
That became 71-4 as a rampant Anderson did for Gambhir (37)...
Nick: Anderson's proving to be too good today for India's top-order. Gambhir wasn't sure which way the ball was going - Anderson was hiding it in his run up. This one moved away and Gambhir got a little feather on it; it was a simple enough catch for Matt Prior. India are in all sorts of trouble here.
Meanwhile, Nasser's boiler problems were persisting...
Bumble: A tweet has come in - apparently the advice is to pour a kettle of hot water on your condenser pipe.
Nass: You're confusing me with someone who knows what a condenser pipe is.
Beefy: Do you know where the boiler is, full stop? I'll take that silence as a 'no' then... Why don't you just put out your address and anyone in the local area can come around and help? Is that a good idea?
Nass: Not particularly!
Beefy: You could give away a few mince pies and a bit of mulled wine to everyone who comes around to make an enquiry.
Oddly, Nass ignored Beefy's suggestion - preferring to focus instead on the final few overs of the day, which India ended on 87-4 - some 243 behind.
Nass: This has been an excellent day for England. If there was any doubt after day one about which way this way was going, I think England have shown that they are still bossing this series. The lower-order batsmen stayed with Root, who was brilliant, and then Anderson and Swann did the damage with the ball - Swann with a fortuitous wicket, Anderson with a lot of skill. No wonder they are both smiling. The day belongs to England.
Beefy: Very much so. The run-rate has fallen back to below England's now - it's 2.12 - and Andy Flower should quite rightly be very impressed with the team and their efforts.
Watch day three of the fourth Test between India and England from 3.55am on Saturday on Sky Sports 1 HD.