The Overview: Day 3
Beefy, Nass, Nick, Bumble and Athers analyse a dramatic day three of the fourth Test in Nagpur.
Last Updated: 15/12/12 1:03pm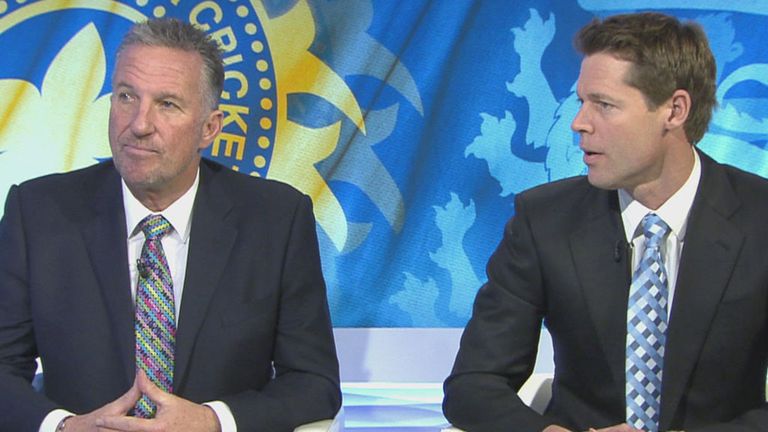 India began day three staring down the barrel of a first-innings deficit - teetering on 87-4 in reply to England's 330 as they struggled to adapt to a dead Nagpur pitch.
Sir Ian Botham: Jimmy Anderson is the leader of the pack and turned up again yesterday. He's got great rhythm and is controlling the ball, dictating where it's going. Today is a day where the England bowlers have to all turn up, all chip in and get well supported in the field.
I watched the pitch report earlier. The cracks are opening up a bit more. We saw a couple turn yesterday - particularly when Sachin Tendulkar came out there. We've got uneven bounce, we've got reverse swing, and we're all ready for that crucial third day.
But any doubt as to whether overnight batsmen Mahendra Singh Dhoni and Virat Kohli would go quietly were quickly expelled, as they edged the hosts to 146-4 with some determined batting.
Athers: It's pretty dull stuff. Cricket more than any game is dictacted by conditions and with no bounce in the pitch, it's very difficult for anyone to prosper. India are playing the hand they've been dealt and are obviously hopeful of getting up to England's total, no matter how long it takes them.
There was also lunchtime analysis of Ashley Giles' appointment as ODI and T20 coach...
Beefy: It's a good idea to take some of the workload off Andy Flower, but my concern is that Andy Flower will be sat thousands of miles away and Ashley Giles - who is an ambitious man - is there in charge. It says Flower is still overall coach, but what happens if Giles loses a series 3-0 and in the press conference says that it wasn't the way he wanted to do it? I can see problems.
Bumble: I think there's going to be a freshness but I'm agreeing with Ian. If you take some of the points out of the media release, 'Flower is accountable for all results' and 'Giles is accountable to Flower for results.' I just think that's a little bit murky. Would it not be better if Flower was just in charge of the England Test team?
And it's back to the action as England wait patiently for an afternoon breakthrough on the wicket front... but despite umpteen lbw shouts and the use of a new ball, Dhoni and Kohli continue their obdurate resistance and have reached 227-4 by tea.
Athers: You can say what you like about Dhoni and over the last week there have been thousands of people having a go at him, but he's got some guts. It's a similar thing to the World Cup final in that he's pushed himself up the order as if to say 'Right, I'm going to lead us out of this mess.'
Nick: I thought that was a fascinating couple of sessions. I know it's not the entertainment Test cricket expects these days, but it's almost old-fashioned cricket. A side under huge pressure and a captain under the most pressure possible. Billions of people looking at you and questioning you, and you pull a performance like that. Yes, they're still 100 behind but they've done everything they can so far.
The evening session continued as the rest of the day had preceded it - Kohli and Dhoni plodding methodically on, both in relative comfort and both seeming set for centuries...
Nass: There's no pace in the pitch to bowl bouncers. Have we seen enough yorkers? Perhaps a bit of KP - play the ego of Dhoni vs KP? He got Dhoni out at The Oval for 92 and bowled well recently up at Headingley.
Then, shortly after Kohli had ignited the crowd by beating his captain to 100... suddenly... Swann turns one from around the wicket
Nick: FINALLY the breakthrough for England and Kohli goes!
Nass: Brilliant knock from Kohli but Swann has his second wicket and India are now 269-5.
Anderson then steamed in and caught Ravindra Jadeja (12) in front of his stumps with one that was arrowing inwards, and England looked to be ready for stumps with two crucial late wickets in their grasp. Indians, meanwhile, everywhere waited for their captain to rubber-stamp his personal revival by reaching three figures...
Dhoni pushed towards short mid-off in an attempt to steal a single for his century - and the crowd fell silent as Alastair Cook rattled the stumps with a sharply-released throw... The wait was excruciating...
Bumble: Now then, NOW THEN third umpire.
Beefy: That's out, Bumble. His bat's got to be over the line. Common sense tell you it's out.
OUT! Dhoni run out 99.
Beefy: Dhoni will be wondering if he needed to do that. Probably not...
There was still time for Swann to seize further momentum for England by knocking over the off stump of Piyush Chawla, and the hosts were left 33 runs behind with only two wickets in hand at the close - on 297-6.
Sir Ian Botham: It was so important that England didn't let their standards drop. I thought they looked a little ragged just before tea and we discussed how important it was to keep everybody at the top of their game. That's exactly what happened - the bowlers were magnificent, the fielders picked everything up and the run out at the end was the icing on the cake. Their superior fitness showed.
Nass: I think you take a lot of credit for a day like that. It gives you more pleasure to walk in when you've had to work so hard for wickets. All the hours in the gym, on the treadmill and getting themselves fit physically and mentally pays off. They went into the final drinks break without a wicket and yet they can come back at the opposition like that. It was brilliant work. India are well in the game and it could still go in any direction, but England should take a lot of pride in what they achieved in that last hour.
Nick: It was quite humbling to watch, Dhoni and Kohli bat like that under pressure. Particularly in Dhoni's case - the whole Indian nation is on his shoulders and his team was in trouble. We've got an insight into the fact that he's got plenty of fight left in him. We'll go through the stats and realise that he's played within himself which isn't his natural style, but really that's just about absorbing pressure and sending a message of defiance. I thought it was brilliant stuff from both players.
Nass: Dhoni had been off-strike for quite a while and he also had to run around Anderson. I thought Anderson did well. Some from India would say it's cheating but Anderson had no reason to get out of the way. Also, Duncan Fletcher maybe won't be too happy that Dhoni didn't dive. A dive might have got him in and confuse the third umpire. The third umpire was brave and right - he waited until he got the right angle. It was out.
Nick: It's great from Cook too. He had a lot of his mind at the end of a long day. Then, with Dhoni on 99, he's probably just edged forward a bit hoping he'll take the single and he can throw down the stumps. It was brilliant from Cook and it could be the one moment where Dhoni maybe slightly lost his nerve a little bit. We've all done it on 99.
Nass: The question is really, would India have got that run out, and do they have the attack to produce what England did in that last hour. I don't think they could have done it because I think England are stronger. I think they had the ability in Dhoni and Kohli - but just that last hour, England dug deep.
Nick: The game situation dictated the way he had to play. His natural way is to be aggressive. He was actually a bit with the second new ball - the tempo of his innings just upped slightly. By and large, he was picking off the spinners. He read the game situation. He normally likes to bully the spinners by getting on the front foot and hitting them down the pitch but in this innings, he played differently - sitting back and picking them off.