Review of 2012 - Cricket quotes of the year
We pick out a selection of the best soundbites from the cricketing year.
Last Updated: 21/12/12 5:13pm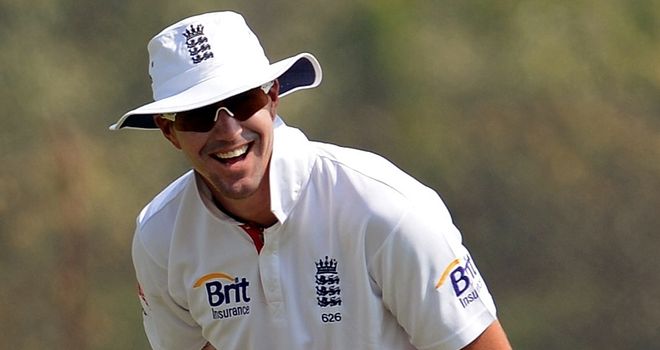 "If you die, you die. You don't see which is a better way to die." India captain Mahendra Singh Dhoni's response to being asked if losing 4-0 in Australia was worse than losing 4-0 in England the year before.
"It has been 16 years since I first played a Test match for India, and I feel it's time for me to move on and let a new generation of players make their own history. I was fortunate to be part of a wonderful era when India played some of its finest cricket at home and abroad. Many of my team-mates have become legends, not just in India but in the wider cricketing world. I admired them, learnt from them and I leave the game with wonderful memories and strong friendships. It is a great gift to have." India batsman Rahul Dravid after announcing his retirement.
"Misbah is a very sensible person, cool minded. We sit down together, discuss things, have no ego problems. I feel very comfortable with Misbah." Pakistan coach Mohsin Khan on captain Misbah-ul-Haq after Pakistan whitewashed England 3-0 in the Middle East.
"We've no complaints, we haven't played good enough cricket but we've been frustrated because if you didn't get wins it the start of the season, the rest of the matches have largely been rain-affected. We had great times last year, this year has been completely different. You feel different emotions and you feel upset and you feel that for your supporters as well who have supported so loyally all season." Lancashire coach Peter Moores after his side were relegated a year after winning the County Championship title.
"It's tough being me in this dressing room." England batsman Kevin Pietersen after the draw with South Africa at Headingley in August. He was dropped for the deciding Test in the interests of team harmony.
"Let me be clear - this is not just an issue between the captain and Kevin. There are deeper issues, certainly of trust and mutual respect that need to be addressed. There are unresolved issues that have reared their heads in recent weeks, and they have to be resolved before there is any way forward. You resolve these issues face-to-face with people, not through PR agencies. If this matter is going to get resolved, that is how it's going to have to be... It's a very sad situation for everyone involved." England coach Andy Flower gives his take on the Pietersen saga.
"In truth I haven't batted well enough for a long period of time now. For a captain to perform his role properly, it's important that you're not a passenger in the side and that people aren't speculating as to whether you should be in the side or not... I know with my own energy level and motivation that I wasn't going to improve as a batsman. I'd run my race." England captain Andrew Strauss after announcing his retirement in August following the 2-0 series defeat to South Africa.

"We aren't here for archaeology." England and Wales Cricket Board chairman Giles Clarke attempted to draw a line under the Pietersen saga at a press conference to announce the batsman's recall for the tour of India.
"All the hard work paid off today. The West Indies are finally going well again, we have a great future." Marlon Samuels after West Indies' victory at the World Twenty20.
"You can't go into this for a bit of fun, it's a serious sport, a serious business. I found that out over the past few months, doing the sparring, doing the training. There will be critics and doubters out there and it's a big task I've taken on, I'm just concentrating on the fight and we'll see what the reaction is. It depends if you take it on board - as a cricketer I didn't read too much of the press, I just wanted to be comfortable in what I'm doing. It's not something we're talking about in our camp, we're concentrating on tomorrow night and putting all the good work into practice." Former England all-rounder Andrew Flintoff before his professional heavyweight boxing debut. Flintoff recovered from an early knockdown to beat American Richard Dawson on points over four rounds.
"He (New Zealand coach Mike Hesson) said I wasn't a good enough leader, that this team needs a strong leader and that I wasn't a strong leader. If I wasn't a strong leader why would he give me the Test captaincy? He said 'Ross, I am going to recommend to (director of cricket) John Buchanan that we have a new captain for SouthAfrica.' There was nothing in there about anything to do with a split captaincy." Ross Taylor after being sacked as New Zealand captain
"It's a decision I thought long and hard about, put in long consideration about the decision, at the end of the day it was about my results and my output in this series so far. It hasn't been to the level required for batsmen and players in the Australian team. My level of performance hasn't been good enough. This is not a decision that's been made by the selectors, this a decision that has been made by me. I'm glad I've got the opportunity to go out on my terms." Australia batsman Ricky Ponting after announcing his retirement in December.
"I am extremely humbled. For us it means the world, there are people in our set-up who have taken many beatings on tours of Australia. We know what is required to win here, we have been a part of something really incredible and special. This is the proudest achievement of my career." South Africa captain Graeme Smith after his side's 1-0 series win in Australia.
"I think it's on a par with the Ashes. As an Englishman, winning in Australia after so long meant a huge amount. But in that dressing room there for that last half an hour, knowing what we had achieved, it was a very special place and it will live long in my memory.We adapted well. The bowlers have been brilliant and our batters have contributed big runs. Everyone in the squad can be very proud, especially after Ahmedabad." England captain Alastair Cook after his side's first series victory in India since 1985.