Eoin Morgan was coolness personified as as he smashed England to a last-ball victory, says Nasser Hussain
Eoin Morgan was coolness personified as he smashed England to a last-ball victory, says Nasser Hussain.
Last Updated: 22/12/12 7:47pm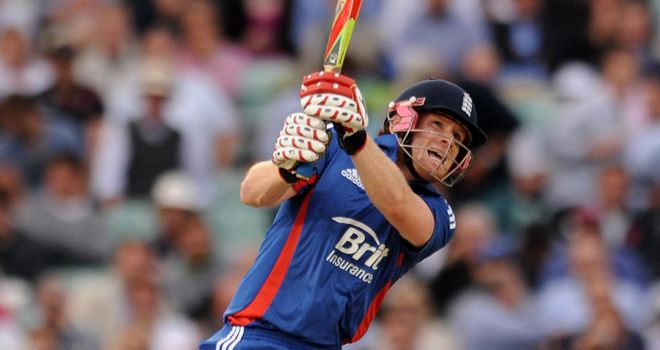 The tourists needed three off the final delivery from Ashok Dinda to level the two-match series and Morgan, standing in as captain for the injured Stuart Broad, clubbed Ashok Dinda straight back over his head for six to secure a six-wicket victory.
Openers Michael Lumb (50 off 34 balls) and Alex Hales (42 off 33) set the platform for the win, before Morgan (49no off 26) and Jos Buttler (15no off seven) propelled the visitors past their target of 178 to complete England's highest Twenty20 run chase.
"What a brilliant, brilliant game - a brilliant way to end the year," Hussain told Sky Sports. "Having one 'finisher' in a team can be risky but I think England are developing having two finishers now; Jos Buttler has something about him and Eoin Morgan is just fantastic.
"I don't think Morgan is just a finisher and I think he's underused by England. I think he's brilliant. He's so calm and so cool; to do that as captain is absolutely outstanding. It doesn't get any better than smashing the last ball out of the ground to win a game.
"Some players would fret that they are not getting the strike and the run-rate's going up - you don't want to be left needing 25 to win off the last two - but he just backs himself to be able to do that. While he's in the middle, England always feel they've got a chance and that's why they want him right at the end there because he is so cool under pressure.
"Now they've got Buttler as well, I think they can afford to risk him a little bit more."
Whacked
India, who secured a five-wicket victory in the opening match of the series in Pune, put themselves in a strong position to wrap up the series with Virat Kohli (38) and skipper MS Dhoni (38) top-scoring in a total of 177-8 after being invited to bat.
However, Hussain felt the home side failed to learn from the mistakes England's seamers made and that they again let themselves down in the field.
"It was a fantastic England performance but you've got to ask questions about Dhoni not opening the bowling with a spinner to Lumb, because Lumb got off to a flyer, and you've got to ask questions of all the seamers today," he said.
"I think every seamer with the exception of Tim Bresnan really has to look in the mirror and say 'did I get my lengths right today?' I don't think any seamer apart from Bresnan bowled well. They bowled short and the kept getting whacked.
"They all got carried away with the bounce and when they did adjust, they adjusted to length and length got whacked. It happens like that some days and you just have to give credit to batsmen. I thought the batting on both sides was excellent.
Plan
"I just wish that England - but not just England, any cricketer - would think on their feet a little bit more in a game, even a Twenty20 match.
"I reckon a lot of England's plans were set out before the game for a slightly inexperienced captain. The plan was to bowl short. They've been good bowling short against India in the past because if you get your yorker slightly wrong, it gets smashed out of the ground.
"Historically those plans have worked but today it didn't so maybe they should have gone fuller. Maybe it was just the dew and they weren't confident enough to get it up there. We saw Jade Dernbach try one and it slipped out of his hand and it was a no-ball over waist high. He didn't bowl as many slower balls as usual either, because of the dew factor.
"But I would then like England to think on their feet a bit more. They left Danny Briggs out and tried to hit India with pace but then James Tredwell takes 1-27 from his four overs. At that stage you've got to say 'Samit Patel - you try to bowl us four overs for 27. If everyone does that they only get around 130-140. So your plans before a game may be excellent but they've got to change within a game as well."
Desperate
Defeat denied India the chance to climb to the top of the world Twenty20 rankings and Hussain believes that missed opportunity will hurt players and spectators alike.
"In India they don't forget about any game of cricket - they will be going through every single little bit of why they've lost," he said.
"You could see it at the end with the crowd - there was absolute silence. For England to go to Mumbai, their Lord's, their home of cricket and win a Test match after going 1-0 down and then to go there in a T20 after going 1-0 down is a monumental effort.
"Dhoni was desperate to win that match and for his side to go No 1 in the world T20 rankings. He could then say 'I'm doing my job in one-day cricket even if we've got work to do in Test cricket'.
"But if everything starts going pear-shaped, then Dhoni, Duncan Fletcher and the team come under more and more pressure.
"It's a shame there isn't a decider but the England boys will be very, very pleased on their journey home tonight. There will be a couple of bottles of champagne drunk on that flight tonight!"
India face England again when the ODI series gets underway in 2013! Watch the first ODI from 8.30am on Friday January 11, on Sky Sports 1 HD.
Sky Sports has secured the rights to England's tour of New Zealand - catch the first T20 international live on Sky Sports on February 9.