First Test: What the newspapers made of the opening day at Trent Bridge
A look at what some of the leading writers in England and Australia said after the first day of the first Test.
Last Updated: 11/07/13 10:18am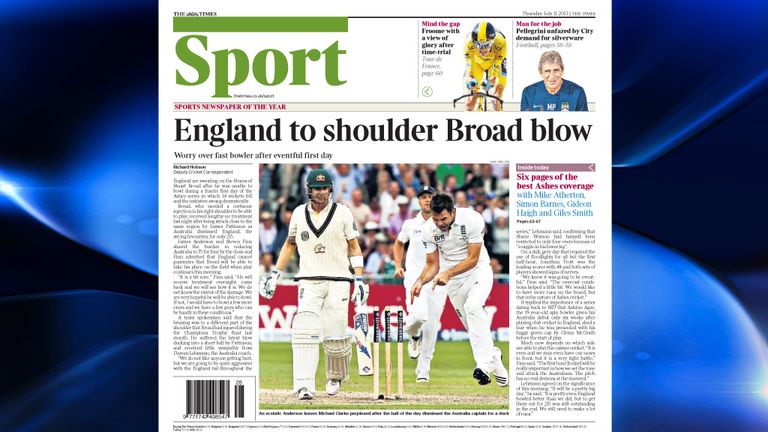 Paul Newman - Daily Mail
"Well, it was worth waiting for, wasn't it? All the talk and anticipation that swirls around the start of an Ashes series was fully justified on Wednesday by a tumultuous opening day at Trent Bridge that left the first Test on a knife-edge. It did not quite follow the script, which expected English dominance, but instead came a day when the fallibility of the batsmen of both teams led to a compelling, giddy, almost bonkers contest which ended with honours just about even."
Derek Pringle - Daily Telegraph
"Ashes contests have struggled to live up to the sheer ding-dong nature of the 2005 series but Wednesday's play at Trent Bridge did a more than passable impression, with 14 wickets falling and a bowler on each side having the opportunity of a hat-trick. It was the most wickets to fall on an opening day since the 17 at Lord's in 2005. If seam and adrenalin caused the carnage at Lord's, it was swing and nerves that were the prime disposers of batsmen here, though the odd bad choice of shot and the application of poor technique were its close allies."
Mike Selvey - The Guardian
"What a day. Exhilarating and exhausting in equal measure - and that just for those watching - England and Australia slugged it out on a day that had been expected to produce runs and instead saw the home side's batting succumb to the sheer endeavour of Peter Siddle, who took five for 50, and then the Australians stumble against the new ball. Three years ago in Brisbane, Siddle began the last series with six for 54 and a hat-trick on the opening day, and now he was to make a similar impact. His first delivery, an away-swinging yorker that castled Root for 30, set in train a procession of wickets that saw 13 fall for 212 runs in 58 overs."
Richard Hobson - The Times
"One particularly stingy bookmaker was offering odds on Tuesday of 12-1 about England securing a 5-0 whitewash, but if events on the first day of the Ashes series confirmed only one thing, it is that Australia are nowhere near as bad as the gambling element among the public seem to think. A few thoughts must have turned to the equally frantic start to the 2005 campaign as Australia dismissed England cheaply yesterday only to succumb at an even faster rate when they themselves took guard."
John Dillon - Daily Express
"The thunderous sporting rumble which had rolled from the rugby mud of Sydney through the summer glory of Wimbledon shook the late afternoon in Nottingham, too, after the trademark fly-past from the Red Arrows at the very beginning of play. On the sticky, floodlit day when the Ashes began with an unexpected surge of rough-neck Australian spirit, it simply needed Steve Finn and Jimmy Anderson to begin mowing down green-capped batsmen for the sense of wonder to continue into this morning."
Chloe Saltau - The (Melbourne) Age
"Peter Siddle led Australia into combat on an epic first day of the Ashes but by the end of it the batsmen were in a familiar position - on the ropes. England was bundled out for 215 in just 59 overs by a young attack bursting with nervous energy. That scoreline was arguably as big a surprise as the debut of teen spinner Ashton Agar. Not so surprising given recent form was Australia's batting response."
Malcolm Knox - Sydney Morning Herald
"If an Australian could freeze time, it might be at 5.05pm at Trent Bridge on Wednesday 10 July. England rolled for 215 and short an opening bowler; Shane Watson slashing the boundary ropes with a bat like a broadsword. Even the sun was thrusting, Australian-style, through the cloud cover. Was that a familiar look in England's slumped shoulders and Australia's strut? Yes, but only for a nostalgic cameo. This is 2013, not 2001."