Ashes Paper Talk: A look at what the media made of the third day at Old Trafford
We look at what the English and Australian press made of the third day of the third Ashes Test at Old Trafford.
Last Updated: 04/08/13 11:18am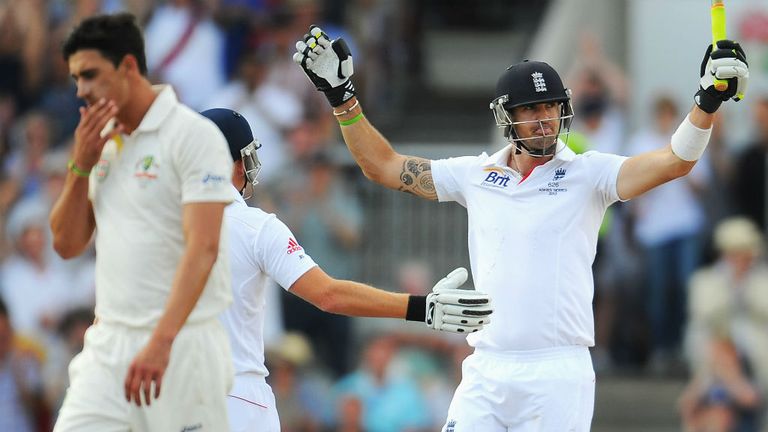 Kevin Pietersen took centre stage on Saturday with a timely knock of 113 that stalled the tourists' push for victory, although late wickets offered Michael Clarke and his men renewed hope.
England reached the close on 294-7, some 233 behind Australia's mammoth first-innings total of 527-7 and Clarke will still harbour ambitions of enforcing the follow-on.
The contest remains finely poised, but observers from both side were united in their praise for Pietersen after his fabulous knock on day three.
Here's what the papers had to say...
Malcolm Conn - Herald Sun
Kevin Pietersen is pure theatre. He is one of those rare beings who is bigger than the game. The star who entertains the masses and inspires a generation. They add value to tickets and broadcast rights, offering an extra dimension the game desperately needs as it faces ever greater challenges from football codes on both sides of the world. After World War Two it was Keith Miller the urban fighter pilot, in the '70s it was the wild colonial boy Dennis Lillee and a decade or two ago it was Shane Warne, cricket's answer to the Hollywood soap opera. They become an axis the game revolves around, and that's the way they love it. When Pietersen inevitably arrived as an England player Warne loved to call him the walking ego, which was ironically appropriate. Being the centre of attention is a natural state. There is a magnetism that draws the spotlight to these stars. They are more than just great cricketers.
Steve James - Daily Telegraph
It was a defining day for England. That might seem rather strange to be offering that observation about a side 2-0 up in the series, but it was the day on which their big guns simply had to fire for the first time in this series in order to rebuff the brave Australian fightback. Captain Alastair Cook did moderately well in that regard. But Jonathan Trott did nothing of the sort, uncertain whether to play or not, and poor Jonny Bairstow is no gun at this level yet. The scene was set for big Kev, the biggest of the guns. And, despite a start to his innings that was scarcely fathomable in its nervousness, he fired all right, making a century and easily grabbing the headlines.
Malcolm Knox - Sydney Morning Herald
If a Kevin Pietersen century were on the big screen, it would have to be un film de Baz Lurhmann. You only have to watch a few frames to know whose it is. Bombastic yet brittle, unlimited in its ambition and self-regard, it contains, at every moment, the equal possibility of artistic genius and mind-boggling ineptitude. For many, it is a triumph. For others - say, the eleven Australians in the front row on Saturday - it would be twice as good if half as long. Whatever the subjective verdict, the entertainment world would be a duller place without their kind. Pietersen is unlike, if not disliked by, his teammates. Other English batsmen succeed through playing within their limitations, whether that is Ian Bell's polished classicism or Alastair Cook's victory of temperament over talent. Pietersen does not acknowledge limitations, and bats in a sort of rage against orthodoxy which reflects a tension of opposites: a new Englishman who relishes this oldest of national rivalries, a standover man with a John Inman walk.
Chris Barrett - Melbourne Age
(Kevin Pietersen) England's box office batsman had eluded Australia's bowlers, threatening with every single, slap to the boundary and smirk to kill off their Ashes revival at Old Trafford. But with Starc's dismissal of Kevin Pietersen for 113 in the final hour of day three, the tourists' hopes of victory in the third Test remained very much in tact. England finished Saturday on 7-294, trailing by 233 runs, with Australia churning diligently through their middle order with an indefatigable performance in the field. They are far from over the line yet and their opposition is not their only enemy. A familiar friend and foe of cricket teams in this part of the world still lingers dangerously for Australia: the unpredictable Manchester weather.
Vic Marks - The Guardian
Just occasionally Kevin Pietersen can do pragmatic. At a sun-kissed Old Trafford, which is unlikely to be the case throughout the last two days, Pietersen delivered just what was wanted. His 23rd Test century, which means that he is two behind Alastair Cook in a healthy race, gave a hesitant England side a glimpse of the haven that is a draw, but at this stage only a glimpse. At 110 for four, with Cook heading for the dressing room, England were listing badly. A 115-run partnership between Pietersen and Ian Bell restored the equilibrium. However, this Australian side has finally found some backbone and three wickets in a taut final session leaves England 34 runs short of the follow-on target with three wickets in hand and much grafting to do if they want to celebrate the retention of the Ashes. Pietersen's was not a dull innings - he is seldom capable of that - but for the most part it was a discreet one by his standards. He progressed in fits and starts. There were two consecutive pull shots against Mitchell Starc that suggested he might produce one of those specials. Soon after he hit Nathan Lyon for two straight sixes in swift succession. But then he appeared to rein himself in as the situation demanded, probably to the relief of his team-mates but to the slight disappointment of another capacity crowd.
Paul Hayward - The Telegraph
With England imperilled in this third Ashes Test, Pietersen raised his bat to the Manchester crowd to mark his 23rd Test century - his fourth against Australia - after lifting an uppercut to third man to reach three figures off 165 balls. There are people in this England set-up who would not care if they never had to talk about Kevin again. Few, though, would choose to go into an Ashes series without the England batsman most capable of turning a game on its head through sheer bravura. Never mind that Pietersen's talent walks the line between extravagance and self-indulgence. The figures say he will win you a Test often enough to compensate for the political distractions. Or save one for you, if the act of rescuing it offers him a chance to feel really good about himself. However much he brands himself, or is drawn to celebrity's flame, his true milieu is the one that made him: Test cricket, where he has time to stretch his majesty across a genuinely national event.
Wayne Smith - The Australian
Painful memories of 2005 resurfaced at Old Trafford today as Kevin Pietersen yet again interposed himself between Australia and a desperate Ashes revival. Eight years ago this month, Australia was fighting tooth-and-nail to retain the Ashes. A comfortable victory in the First Test at Lord's had been followed by two excruciatingly close defeats, by two runs at Edgbaston, by three wickets at Trent Bridge and Australia arrived at The Oval for the fifth and final Test needing nothing less than a win to hold onto the urn. Batting a second time after a breakeven first innings, England was in early trouble and still looking wobbly at 4-109 when Pietersen strode to the centre and proceeded to break Australian hearts with a whirlwind innings of 158, replete with 15 fours and seven sixes. Australia had its chance to cut him short, when Brett Lee induced an edge into the slip when Pietersen was 15, only for Shane Warne to spill the simple catch. So it was again in Manchester today as Pietersen dramatically reduced Australia's hopes of a dramatic comeback in this year's Ashes campaign. Though down 2-0 in the series, Australia had made all the running on the first two days at Old Trafford and went into the third day with its best shot at victory built on ripping through England in order to impose the follow-on. The wickets came, but in a slow drip feed. Never could the Australians get a run-on and the reason was Pietersen.
Peter Hayter - Daily Mail
A year ago, Kevin Pietersen marked his magnificent 149 for England against South Africa at Headingley by informing Sky's Ian Ward that he was unable, unwilling or both to guarantee he would still be playing for them 12 months on. At Old Trafford, in a hard-fought century that ranks nowhere near that masterpiece in terms of the quality of strokeplay but might yet end up near the top of the list in importance, the maverick, 33, showed once again why, while they probably could do without him, England would really rather not. His 23rd Test ton might not be enough to prevent Australia pulling off victory here - England remain 34 runs shy of avoiding the follow-on and trail by 233 - and indeed his dismissal for 113 at 280-7 had the strong whiff of a game-changer about it.
Alec Stewart - The Mirror
Australia must still believe this Ashes series is alive and kicking after another fine display in the third Test at Old Trafford, which has given them a chance of forcing victory. England are still 34 runs short of the follow-on after closing day three on 294-7. Led by the outstanding batting of Kevin Pietersen with a fine 113, Alastair Cook & Co will be hoping the game is safe. A draw would secure them the Ashes for a third consecutive series, but there is still plenty of cricket to be played yet. It's easy to think that, barring a batting collapse of biblical proportions in England's second innings, the third Test will end in a draw, but it's far from certain.
Stephen Brenkley - Herald Sun
Perhaps death and taxes have the edge but there was something inevitable about England's fourth century in the Ashes series yesterday. It was scored by Kevin Pietersen and went some way, though no by no means all, to ensuring that the great prize of the terracotta urn will be coming home for the third successive time. Pietersen had been on the periphery of affairs in the summer so far, injured at the start and short of runs since his return. This is not where he likes to be and his determination to nudge his way from the edge of the stage was demonstrated by the intensive treatment he had for a calf strain in the week before the Third Investec Test. It all went to suggest that a key intervention was nigh and yesterday it duly arrived when England needed it most. He was not always at his most fluent in compiling his 23 Test hundred but there were patches of brilliance and chutzpah of which only he is capable.