Pick of the day
We look back on the best of the action, reaction and opinion from day four at Old Trafford
Last Updated: 04/08/13 9:21pm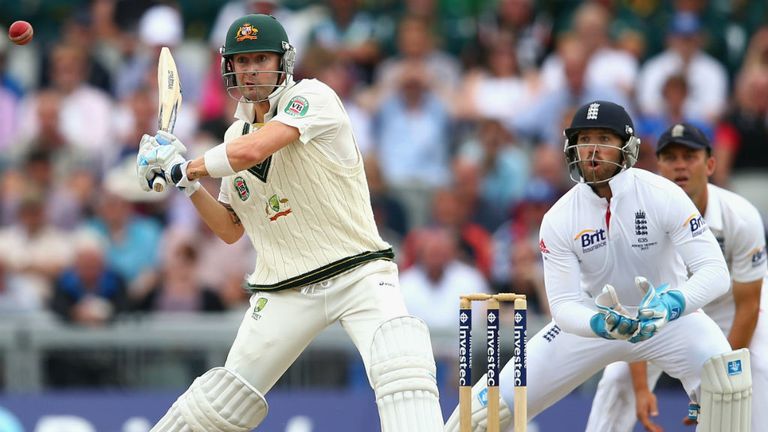 The hosts started the day by managing to avoid the follow on, then saw Australia reach 172-7 before bad light and rain brought an early end to the action on day four at Old Trafford.
With the tourists holding a lead of 331 an overnight declaration is expected, meaning Australia will have to take ten wickets between the expected weather delays on Monday to have any chance of regaining the urn.
With Australia's hopes now fading as quickly as the light on Sunday afternoon, we look back on the pick of the action, reaction, video and opinion from the fourth day.
Weather intervention
England started the day on 294-7 in their first innings and managed make their last three wickets last for 80 minutes before they were fully dismissed. Matt Prior was the last man out with the score on 368, with the deficit of 159 meaning Australia were not able to enforce the follow on. The tourists knew that quick runs were needed and their batsmen played with the aggression required, scoring 113 runs in 22.3 overs during the afternoon session. Pantomime villain David Warner scored 41 after being chosen to open the batting, while Michael Clarke (30 not out) also chipped in at a decent rate. But first bad light and then rain ensured that no play was possible after 4.25pm.
Man of the day
Warner has been under a huge amount of scrutiny during his first Test since being disciplined for a physical attack on Joe Root in a Birmingham bar during the ICC Champions Trophy earlier this summer. Despite being booed at almost every opportunity, the left powerful left-hander impressed with a knock of 41 in the second innings, where he opened the order after batting at six first time around. It would have been interesting to see if the fans would have applauded him if he reached his half-century, but he fell nine runs short of that mark after being caught by none other than Root at deep square leg.
Switch hitter
Gary Neville has established himself as one of the nation's top sports analysts through his work on Monday Night Football, but on day four he showed his aptitude stretches further than the football field. Neville popped in to see the Sky Cricket team at Old Trafford and, after a stint in the commentary box, was down in the Ashes Zone to have a dig at Nasser Hussain as well as highlighting the way technology is used to analyse both cricket and football. "I think the technology you're now using in cricket and we use in football is fantastic," he said. "We use it for a reason to give the viewer, the fan, a better experience."
Facing the quicks
One day after he joined Hussain to give any prospective youngsters a masterclass on basic batting technique, Sky Sports expert Andrew Strauss took things up a notch on day four by demonstrating how to deal with 90mph fast bowlers. The former England captain was the logical choice to put himself in the line of fire having only retired from the game last year and showed that his timing has not eroded yet as he met a number of fearsome deliveries from the bowling machine with a straight bat. After seeing off the ultra-quick deliveries, Strauss then displayed his trademark cut shots with the speed turned down slightly.
Staying grounded
If the poor weather does materialise on Monday, it would take a heroic bowling effort from Australia - or a shambolic batting one from England - for the touring side to keep their hopes of regaining the Ashes alive. But England wicket-keeper Matt Prior, who helped extend the England innings with a battling 30 on Sunday morning, is taking nothing for granted. "Don't look too far ahead. It's a day away but it feels years away," he said. "It's another long day, another load of hard work, another load of cliches - taking one ball at a time, not getting ahead of ourselves. That's the mentality that's served us well and got us this far."
Bad light decision?
Even the vociferously pro-England crowd were miffed when play was stopped for bad light in the afternoon session. Though the floodlights were turned on at the state-of-the-art venue, umpires Tony Hill and Marais Erasmus ruled that the conditions were unsafe for pace bowling, with England skipper Alastair Cook unsurprisingly not prepared to play two spinners. "We try and play as long as we can," Hill said. "We were able to stay out a heck of a lot longer under the lights - but when we started losing it (tracking the ball) completely from square leg, we gave the skipper (Cook) the option to use spin, and he didn't want to do that."
As it happened
You can relive all the best action from day four by reading our interactive commentary from Old Trafford. You can also view a gallery of the day's best images here.