Ashes Paper Talk: What the press say about England v Australia
We look at what the press at home and Down Under made of the first day of the fourth Ashes Test.
Last Updated: 10/08/13 8:22am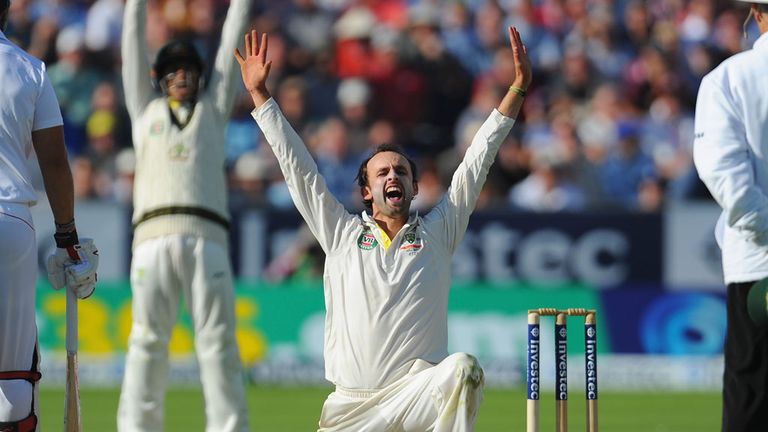 Alastair Cook won the toss and chose to bat first, but 238-9 was all they could manage as only the captain could reach a half-century and several wickets fell thanks to loose shots.
Michael Clarke will no doubt be delighted but also have a tinge of disappointment that this was the first day at Chester-le-Street and not the final day at Old Trafford, but it showed that the Aussies are not just going to roll over despite the prospect of taking the urn back with them being lost.
So will Australia's continued dominance have the media Down Under waxing lyrical about their boys in Baggy Green, and will England's batting woes attract more bad press?
Malcolm Conn - Herald Sun
There has been little love for Australia's spinners in the post Warne-MacGill era and Nathan Lyon has felt the cold shoulder twice this year. A tidy off-spinner whose record stacks up with some of Australia's best, Lyon has been forced to endure some unexpected kicks in the guts. So there was a mixture of surprise and joy when it was Lyon who ran through England's middle order on the opening day of the fourth Test at Chester-le-Street. Fast bowlers were expected to dominate on a pitch which traditionally aided seamers but England was 1-88 when Michael Clarke introduced Lyon after 35 overs and 7-193 late in the day when Jonny Bairstow was leg before wicket sweeping.
Wayne Smith -The Australian
Kevin Pietersen, who arguably has the greatest appreciation of his own abilities of any cricketer who has ever played the game, doesn't rate spinners. He said as much after scoring his century at Old Trafford. And he especially doesn't rate Lyon. That he also made amply apparent in Manchester. Lyon surely must have felt like gloating last night after undoing the man who seemingly has made it his business to hit him out of Test cricket but, wisely, he didn't. All four wickets were significant in their way considering how over-reliant Australia has been on its pacemen to ruffle English feathers so far in this series, but there is no question which one Lyon will look back on with most personal satisfaction.
Lyon's Ashes moment finally arrived at Durham, too late to save the urn, sadly, but perhaps just in time to help Australia level the series.
Richard Hinds - Herald Sun
If the Ashes horse has already bolted, Australia seems determined to ensure it does not gallop too far out of sight. Having seemingly overcome the most difficult first session conditions, England had ground their way to 1-107 after lunch. But four wickets from Nathan Lyon, and a tight, testing display by the Australian seamers, put the Australians well on top as the England top order folded. Lyon had not gotten the chance to prove his worth on the final day at Old Trafford, when the match was abandoned with England under extreme pressure. But, this time, the off-spinner cut his way through the England top order taking the wickets of Jonathan Trott, Kevin Pietersen, Ian Bell and Jonny Bairstow, as England collapsed in the bright afternoon sun.
Chris Barrett - Sydney Morning Herald
Snubbed for the first two Tests of the Ashes, Nathan Lyon has hit back to drive home his value with a starring role as Australia continued their momentum from Manchester to take the early ascendancy in the fourth Test at Durham. Australian coach Darren Lehmann hinted that the tourists might have seized the momentum in England with their display at Old Trafford, where they believed they would have won on the fifth day had it not rained. It certainly looked the case on Friday. The Ashes have been conceded but Australia had a spring in their step while for much of the day England, in a mystifying performance, were largely either playing poor strokes or bogged down.
Simon Hughes - The Telegraph
England's performance on Friday was the definition of Taking Things For Granted. They won a good toss on a decent, though not entirely trustworthy pitch, progressed to 107 for one and 149 for two, before capitulating in a blur of lazy, ill-judged shots. Australia's bowlers winkled out six wickets at a cost of just 49 runs, before the last pair restored an iota of respectability. It was true throwaway cricket. No wonder Andy Flower's face was fixed in a stern grimace for the second half of the day.
Vic Marks - The Guardian
Two up and two to play is not so bad when you hold the Ashes. There may even have been a temptation for the selectors to experiment with those Ashes secure, though this was wisely rejected. England could play Graham Onions at Chester-le-Street instead of Tim Bresnan, but if they do it will be on the grounds that they think Onions is in the best side for that venue, not from a desire to experiment or rotate.
Two up and two to play is also a handy position when 50% of the batting lineup is not functioning too smoothly.
Paul Newman - Daily Mail
England had the perfect chance to bat Australia out of this Ashes series on Friday but instead they staged a Durham go-slow mixed with moments of frenetic madness that combined to produce their most miserable display of the series. The pitch was slow but the stage was set for England to display their superiority over Australia after the urn was retained in the damp squib of a draw at Old Trafford. Instead they dug themselves into a massive hole on day one of the fourth Investec Ashes Test.
Stephen Brenkley - The Independent
It is as well that England have already retained the Ashes. On the evidence of recent days they could well be handing them back shortly wrapped in fancy paper and ribbon. The team who took a 2-0 lead in this series against Australia is suddenly bereft of direction and drive, operating on mogadon when they are not having a quick fag behind the bike sheds. At various times they promised much. They have been promising much for months, dwelling on past glories, but in large sections of this summer and the summer before their batting has been capricious and unconvincing.