Ashes Paper Talk: A look at what the media make of the second day at Durham
Read what the press had to say about another eventful day of Ashes cricket at Durham.
Last Updated: 11/08/13 12:38pm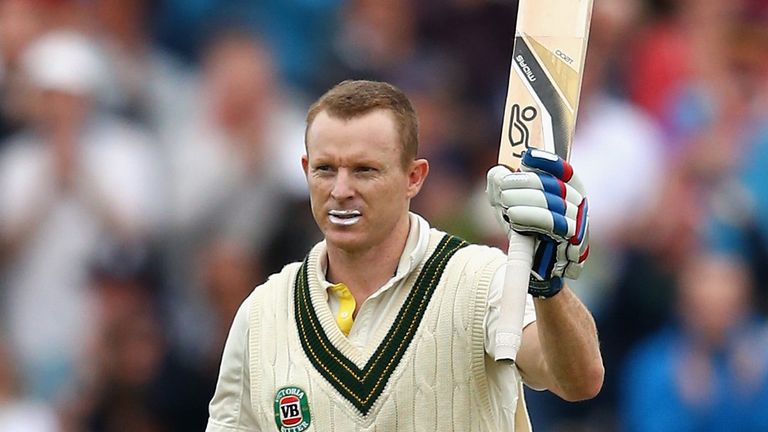 Rogers made 101 not out to leave Australia on 222-5 and just 16 runs behind England after day two, although that was only one story hitting the headlines.
DRS again grabbed a lot of the focus with a bizarre situation involving Rogers, and our friends in the press had plenty to say about both of the day's big talking points.
Malcolm Conn - Sydney Morning Herald
An hour after tea on Saturday, a section of the Chester-le-Street crowd began singing Queen's Bohemian Rhapsody. 'Is this the real life? Is this just fantasy?' Is it Shane Watson scoring a Test century?
No, but something just as unlikely. The first of the current Australian XI other than Michael Clarke to pass three figures in nearly a year was Chris Rogers, a fortnight shy of his 36th birthday, a player with more clubs in his resume than Adam Scott. Becoming Australia's second-oldest man to make a maiden Test century, Rogers was adding another footnote to a career which is already a curiosity. He has now improved his highest Test score in six of his nine innings. Who knows where it will stop? That was hardly relevant to the immediate situation on Saturday afternoon, as he and Watson arrested a slide and restored Australia's position.
Wayne Smith - The Australian
Given out when he was 20, opener Chris Rogers went on to become the oldest Australian batsman in 87 years to score a maiden Test century at Durham on day two of the fourth Ashes Test. Considering he is short-sighted and colour-blind, Rogers, just 20 days short of his 36th birthday, did remarkably well to see Australia through to a dominant position at the Riverview ground on a gloomy day when the ball was nipping at batsmen like a rabid blue heeler from first over to last.
It has been a long time since an Australian scored a Test century in such difficult conditions, with the ball at times seaming so sharply it was like facing a 140km/h version of Graeme Swann. But Rogers, in company with his former opening partner but now the team's new number six, Shane Watson (68), fought ferociously to ensure England did not claw back Australia's hard-won advantage from day one.
Richard Hinds - Herald Sun
At 35, Chris Rogers will not be around to apply his bat as a Band Aid on Australia's hemorrhaging top order much longer. But if Rogers' maiden Test century seemed like a cricketing gold watch - reward for years of hard work and perseverance in the game's second tier - it is not too late for the veteran opener to have an influence on this team's future. Not just in this series, or the next. Although Rogers' wonderfully dogged innings at Chester-le-Street was, in concert with Shane Watson, one of the few occasions in recent times when someone other than captain Michael Clarke was able to drag Australia from the mire.
Patrick Collins - Daily Mail
In a green and pleasant cricket ground beneath a haunted castle, they presented the latest episode of an English summer farce. The cast were wearily familiar; a gaggle of agitated cricketers, a couple of harassed umpires, a third official in a distant studio attempting to play God, and some 17,000 angrily uncomprehending spectators. England and Australia have been competing for the Ashes since 1882. Their rivalry has survived two world wars, several recessions, countless political crises and Douglas Jardine. Nothing can seriously impair its enduring appeal... but the DRS System is doing its best. They define a failed musical as one which sends you out of the theatre whistling the scenery. on Saturday, instead of debating the ebb and flow of a fascinating Test match, they trooped away from Chester le Street cursing the perverse, disruptive, time-wasting idiocies of DRS. Just as their suffering counterparts at Trent Bridge, Lord's and Old Trafford had cursed them in their turn.
Andy Wilson - Observer
At last, 16 days into the Ashes series, the much-maligned decision review system has a player who will surely never hear a word against it. Chris Rogers, a 35-year-old who had played one Test before this series, became the oldest Australian to score a maiden Test century for 87 years - but he would have been out on 20 without modern technology. Rogers had survived one review by England - for an lbw appeal by Stuart Broad, which replays proved had been correctly turned down by the standing umpire, Tony Hill - when, in the same over, Broad, Matt Prior and the slip cordon were convinced they had him caught behind. This time, Hill raised his finger, but Rogers immediately called for a review. The first set of replays, including the dreaded Hot Spot, proved that the ball had brushed his pad, not his bat - but that left him in danger of being given out lbw.
When replays showed a Hawk-Eye projection that the ball would have removed the bails, the England fielders celebrated. Hill even seemed to be preparing to send Rogers on his way, but the other umpire, Aleem Dar, quickly instructed him on the protocol - as the initial lbw decision had been not out, he should be reprieved by the umpire's call. "I think it's worked pretty well today," Rogers said. "I'll leave it at that."
Steve James - Telegraph
One for the oldies. Chris Rogers scored his maiden Test century at the age of 35 on Saturday, and it was a wonderfully heart-warming triumph for persistence and hope. It was his 61st first-class hundred - and his most worthy - but it was surely his hardest. For 19 long balls he was stuck on 96, as the magnitude of his nearing achievement dawned, and Graeme Swann probed at his nerves like a dentist. Twice Rogers nearly chipped the ball to fielders on the leg side. Once he tried to cut a ball that was nowhere near short or wide enough for the purpose. But then he swept hard at Swann. There might even have been a hint of desperation. The suffering had gone on for too long.