Ashes Paper Talk: A look at what the media made of England's win in Durham
Read what the press had to say about the fourth day of the fourth Ashes Test at Emirates Durham ICG.
Last Updated: 13/08/13 9:48am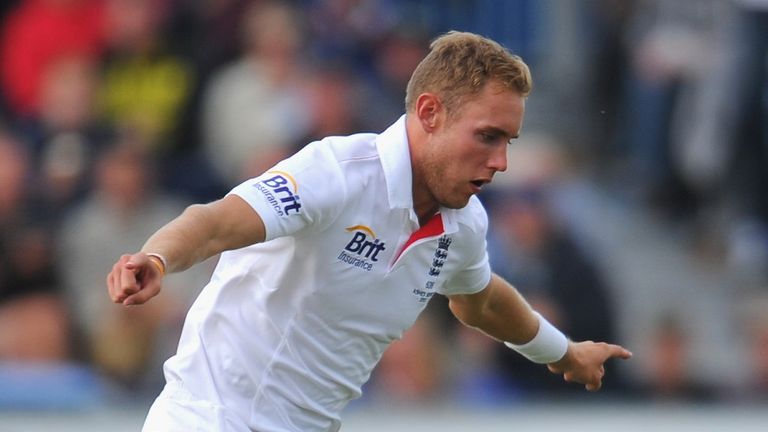 Broad followed up his five-wicket haul in the first innings with 6-50 as Australia slumped from 109-0 to 224 all out - handing England a 74-run victory.
The result means England have now won the Ashes for a third successive series.
Malcolm Knox - Sydney Morning Herald
When England won the first Test match a month ago, the perceived weakness in their bowling was its over-dependence on James Anderson. Since then, Anderson has taken just seven wickets at 52 apiece, but England have won the series comfortably. Their bowling strength has been deep and, well, broad. Stuart Broad is no doubt looking forward to coming to Australia this year, and we can only wish him a safe tour. Australian crowds will enjoy having him. Antagonistic he may be, obnoxious even, stretching the laws to their limits, but the last thing the nation will unanimously vote for is to have Broad banned.
Wayne Smith - The Australian
No one does shameful collapses quite like Australia and Michael Clarke's side conjured up one to remember, or rather to forget, at Durham to hand the Ashes series to England. Not since it was beaten in 1953, 1955 and 1956 has Australia lost three Ashes series in succession but rarely, with so much on the line and with victory so clearly in sight, has a team succumbed so meekly. There was more than an element of bad luck when Australia's quest to win back the urn drizzled out at Manchester with a rain-forced draw but, having had easily the better of that contest, Australia regrouped and marched on Chester-le-Street confident of winning the Fourth Test to give them the chance of levelling the series 2-2 in the final Test at The Oval next week. But all those dreams and ambitions sere shattered in the space of a bleak tea-to-stumps session in which Australia slumped from 1-147 chasing 299 for victory to be all out for 224, a humiliating 74-run defeat.
Malcolm Conn - Sydney Daily Telegraph
The statistics say it all. England has scored more than 300 five times and Australia just once, 7-527 declared in the last Test at Old Trafford when England lost the toss for the only time in the series and was saved by rain. Australia has used eight batsmen in this series and only three of them have managed to average 30, Michael Clarke (49), Chris Rogers (43) and Warner (30), although a couple of the bowlers have managed better than most batsmen. It is a poor reflection on Australian cricket that just the captain, a left field selection who will be 36 this month and a miscreant who missed a month through suspension should have the only passable figures.
Lawrence Booth - Daily Mail
For much of this match the general wisdom was that England's third-best seamer was Graham Onions. And he wasn't even playing. The contention was aimed at Tim Bresnan, who is used to being taken for granted in a 21-Test career over four years that has included a few days in the sun and many more in the shadows. On Monday, as Bresnan joined forces with Stuart Broad to run through Australia's paperweight batting, the critics - including Shane Warne in the Sky commentary box - went quiet.
Jim White - Daily Telegraph
As James Anderson came in to bowl to Usman Khawaja the sky behind him was coal black. Over his shoulder as he ran up, lightning sparked and sizzled in the distance. All afternoon, glowering clouds had skidded past by on their way to drench Newcastle. And yet, on a day when amber flood warnings were hoisted over much of the North East, by some meteorological quirk, beyond a brief flurry over lunch, not a drop of rain fell on Chester-le-Street. Even the elements, it seemed, did not want a second of this unmissable drama to be disturbed. This was Test cricket at its most compelling. All day the momentum rocked giddily back and forth in the manner of the over-refreshed chap dressed as the Honey Monster tottering down the steps of the temporary stand to the bar. Just as one side thought they were in the ascendant, so the rhythm altered, the plot changed and a spring was injected into the step of their rivals.
Vic Marks - Guardian
Just before the mid-afternoon drinks interval the TV cameras panned to Andy Flower down on the boundary edge, talking earnestly to England's twelfth man, Chris Woakes. Now he may have been chatting about Birmingham City's 1-0 triumph over Yeovil Town on Saturday but probably not. Australia were racing along; they would be 80 without loss after 20 overs when Woakes went out with the drinks. The match was slipping away and soon Woakes, wearing the preposterous yellow bibs that the ICC insist upon, could be seen out on the field talking to England's vice-captain, Matt Prior, during the break in play. This was more than enough to prompt Shane Warne to tweet; it does not take much. He said: "Eng coach now sending messages out to Cook. Is it the Under 10s? Mmmmm." No doubt Warne was right. Messages were probably being relayed. However, the "Under 10" jibe was a little tricky to understand. It is well known that Warne has paid little attention to what coaches have to say. He felt no need of them because he could trust his own instincts. But surely any sensible captain with a problem on his hands should be open to the observations of expert witnesses looking on from beyond the boundary. It would be juvenile to reject that sort of advice.