Ashes Paper Talk: What the press think of day one at the Oval
We take a trawl through the press both here and Down Under for their reaction to Day One at the Oval.
Last Updated: 22/08/13 8:07am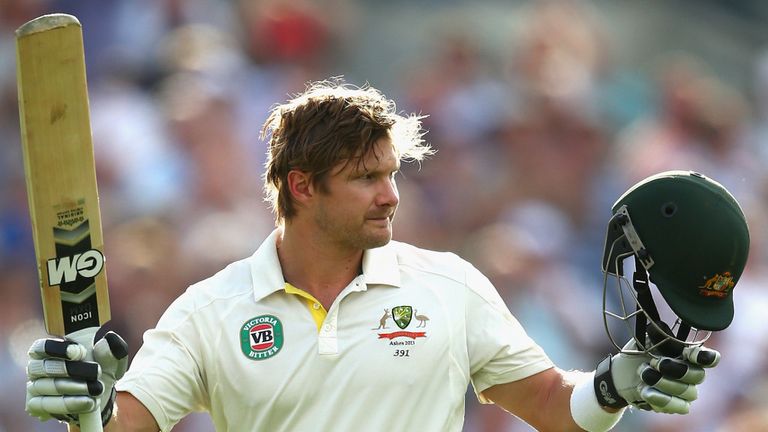 The Australian all-rounder has been struggling all summer but his huge hundred finally gave him something to smile about - even if a bouncer from Stuart Broad may have left him with a big headache by the time he was removed for 176.
With controversial selections on both teams and heighten tension after Lehmann's comments also in the mix, there was plenty for the scribes both over here and Down Under to get their teeth into.
Malcom Knox - Sydney Morning Herald
In Waiting for Godot, Samuel Beckett wrote that men are always blaming their boots for the faults of their feet. In Waiting for Watto, which finished its current season at the Oval on Wednesday, Shane Watson finally took responsibility for his footwork.
But what a wait it had been. When he reached his third century in eight years of Test cricket, Watson bowed his head and humbly raised his arms, in apology as much as acceptance. The ground announcer read out that it had taken 114 balls and 172 minutes. Such was the batsman's weary pose, he might have added: 'And 47 Test innings. And three years.' And an aeon of missed opportunities.
Gideon Haigh - The Australian
Australian cricket fans are on the hunt for what David Warner's brother calls escape goats, and sooner or later they're going to have to stop kvetching about Stuart Broad - their coach Darren Lehmann included. That being so, Shane Watson's mighty 176 at the Oval could hardly have come at a better moment. He presents the disenchanted with an inviting target: he bats, he bowls, he broods; he carries himself like Marvin the Paranoid Android making a cameo appearance in Baywatch. When Michael Clarke agreed during his pre-match press conference that 'maybe' some toughness had been lacking in Australia's cricket this summer, it had an echo of the judgment that Watson was 'sometimes' a team player emitted by a Cricket Australia official six months ago.
Richard Hinds - Herald Sun
as Watson rubbed the red mark on his neck, he must have wondered if the incendiary words of coach Darren Lehmann were the best response to Broad's repeated invitations to hate him. Lehmann, a graduate of Steve Waugh's academy of ''mental disintegration'', had said hoped Australian crowds ''give it to him right from the word go for the whole summer, and I hope he cries and goes home''.
But, in both word and deed, Broad has made it so obvious he thrives on Australian sledging you half expect to find ''The best of Matthew Hayden - live at first slip'' on his iPod play list. The question is not whether Broad is made of stern enough stuff to enter a rottweiler's kennel wearing a sausage necklace as he will do this summer. But whether the Australian players can back up Lehmann's tough talk against a talented English line-up.
Chris Barrett - Sydney Morning Herald
The long pause and grin were the giveaways. Asked whether his eyes had lit up when he heard that left-arm spinner Simon Kerrigan had been picked to make his England debut at the Oval, Shane Watson could hardly disguise his pleasure. Kerrigan's inclusion as a second spinner for the fifth Test alongside Graeme Swann was a fair shock, with England also overlooking Chris Tremlett and Steve Finn to replace the injured Tim Bresnan with another debutant, Chris Woakes.
Australia had named their own funky line-up with James Faulkner on debut instead of Usman Khawaja and on Wednesday it was almost as if England was saying, "we can outdo any wacky decision you make". Watson, who found Kerrigan easy pickings in Australia's tour match against England Lions at Northampton last weekend, was not the only one rejoicing in the 24-year-old's selection after tucking into him again at the Oval.
Malcolm Conn - Herald Sun
Shane Watson has deliberately targeted England's debutant spinner Simon Kerrigan with devastating consequences. The all-rounder smashed six fours from the left armer's first two overs as Kerrigan finished the opening day of the fifth Test at The Oval with 0-53 from eight overs, conceding more than six an over.
It appeared that Kerrigan, 24, and a veteran of 48 first class matches, developed the bowler's equivalent of the yips, delivering a head high full toss at one stage as part of a motley collection of full and short balls. Watson grinned then laughed when asked if he had deliberately targeted Kerrigan.
Jacquelin Magnay - The Australian
Shane Watson may have every excuse for inwardedly swearing at Australian coach Darren Lehmann for firing up Stuart Broad before the start of the fifth Test when a fiery bouncer from the paceman smashed below his jaw and into his neck shortly after the lunch break. Watson, on 91 at the time briefly took his eyes off the sharp pitched bouncer and ended up reeling in agony when the Broad delivery, at 88mph, struck him forcefully just below the ear, his helmet offering no protection. He ended up as the first Test cricketer to describe his injury as "a corked neck".
Watson batted on after receiving some pain medication and reassurance from medical staff and he ended with a career best of 176, caught by a magnificent outfield stretch by Kevin Pietersen. It was Watson's first Test century in three years.
Simon Hughes - Daily Telegraph
Before this Test England talked about being ruthless, seeking to go where no England team had been before and defeating Australia 4-0. Their team selection was seriously at odds with that intent. They gave debuts to a seamer who had already looked overexposed for England in one-day cricket, and an inexperienced left-arm spinner who was milked for four an over by the Australians while playing for the England Lions last weekend. On an admittedly flat Oval pitch, the combined figures of Chris Woakes and Simon Kerrigan of nought for 105 underline their ineffectiveness.
Andy Wilson - Guardian
Shane Watson was unable to hide Australia's glee at a rare selection gamble by England that backfired horribly on the first day of the fifth Ashes Test. Watson, who emerged from a miserable personal series with a dominant Test-best 176 to fire Australia to 307 for four, burst out laughing when asked whether he had been pleased to hear that England were handing a debut to the young Lancashire spinner Simon Kerrigan rather than recalling Chris Tremlett to their bowling attack. He had treated Kerrigan harshly in the Australians' tour game against England Lions in Northampton last weekend and was even more savage on him when he was brought into the attack before lunch, belting two fours in his first over and four in his second, which cost a total of 18. Kerrigan improved slightly in two more short spells but still ended his first day of international cricket with the chastening figures of 8-0-53-0.
Stephen Brenkley - Independent
All summer long, England have managed to dig a way out of deep holes. The evidence of their effective spadework - the Ashes resoundingly retained - has been so encouraging that they decided to excavate their own hole and see how long it might take them to emerge into daylight. Should they fail to climb out they know where to look for blame. Australia had reached 307 for 4 after the first day of the fifth Investec Test. Shane Watson, the nearly man of the past decade, made 176, driving imperiously and hitting the ball as hard as it has been hit all season.