Ashes fifth Test: Sky Sports picks out some of the highlights from Friday's action
The best moments on a third day very much suited to the Test match purists at the Kia Oval.
Last Updated: 23/08/13 10:13pm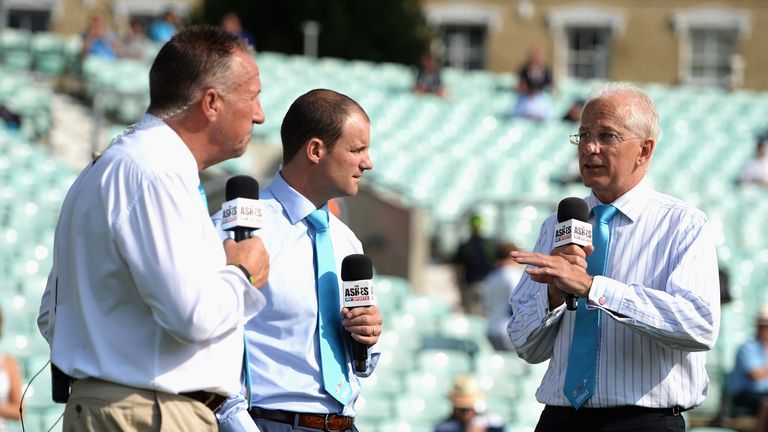 Under gloomy skies in Surrey the hosts eventually reached stumps on 247-4 shortly before 7pm, leaving them trailing by 245 with two days to go in the Test.
Australia, for their part, huffed and puffed in an attempt to push for a morale-boosting win ahead of the return series Down Under this winter. Nathan Lyon was rewarded for his efforts with the wicket of Joe Root for a top-score of 68, while Mitchell Starc struck two blows with the second new ball.
However, the tourists once again found themselves floundering against a familiar foe - Ian Bell was 29 not out at the close and, perhaps, laying the platform for a fourth century of the summer.
Here we take a look back at the pick of the action on day three - when the colour blue was out in force and runs proved tough to come by.
Root digging in
Opener Root had scored 268 runs in his debut Ashes series heading into the final match - 180 of them, though, came in one innings at Lord's. While his place didn't seem to be under pressure in the slightest, the Yorkshireman would have been keen to get some runs again. He began day three on 13 not out and looked in good touch as he reached his half-century, including hitting one glorious four through the covers that had Sky Sports' David Lloyd stating on commentary that Geoffrey Boycott would've been proud to play such a shot. In the end, though, hopes of a big score disappeared when he top-edged a sweep to short fine leg off the bowling of spinner Lyon, departing for a well-made 68 that included 11 boundaries.
Perfectly paced
While spectators leaving the Oval felt they perhaps hadn't quite got value for money on Friday, Nasser Hussain felt England would be fairly pleased with their efforts on what is a slow, low pitch. "They could have got themselves into trouble showing oomph on a pitch like that and could have ended up 250-7. They need to get as close to Australia as they can, no matter how long it takes, and fight hard to make sure Australia don't win a Test match," the former skipper said after England's top order had done much like Mr Hussain himself - given nothing away cheaply. He did, though, admit that captain Alastair Cook is "struggling" after falling to Ryan Harris for 25 - meaning his top score in the series so far still stands at 62.
Playing the field
Friday's Ashes Zone before play centred around setting a field, with Hussain, Michael Holding and Shane Warne discussing the importance of getting things right. Holding pointed out that it wasn't just the batsman on strike, or the match situation, that had to be taken into consideration, saying how important it was to understand the difference a pitch makes in terms of what length a seamer should bowl. Warne spoke of the need for spinners to "stay on", meaning a skipper should offer some protection early on before then bringing in close fielders. The Australian also couldn't help but have a dig at Cook's leadership style. "I think Alastair Cook is way too defensive as a captain," the great Australian leg-spinner said. "Yesterday we saw nine people on the fence - how are you going to get them out?"
Cricket United
While the players were in their whites on day three, blue was most certainly the colour around the rest of the Kia Oval. Cricket United has seen the sport's largest three charities join together to not only raise funds but also promote their causes on an international stage. The Lord's Taverners, Chance to Shine and the PCA Benevolent Fund combined for 'Cricket United Day' at the final Ashes Test, encouraging all spectators to come to the ground in something blue. The Sky Sports team offered their support by donning Cricket United ties, while the England players themselves wore special shirts complete with detailed collar that will then later be auctioned off to the highest bidders.
You can relive all the best action from Friday by reading our interactive commentary from The Oval. Alternatively you can view a gallery of the day's best images or watch highlights on the Ashes Events Centre