Ashes: We break down the performances of the England players during the 2013 Ashes series
We review the performances of the England players who appeared in this year's Ashes series.
By Rob Lancaster
Last Updated: 26/08/13 2:30pm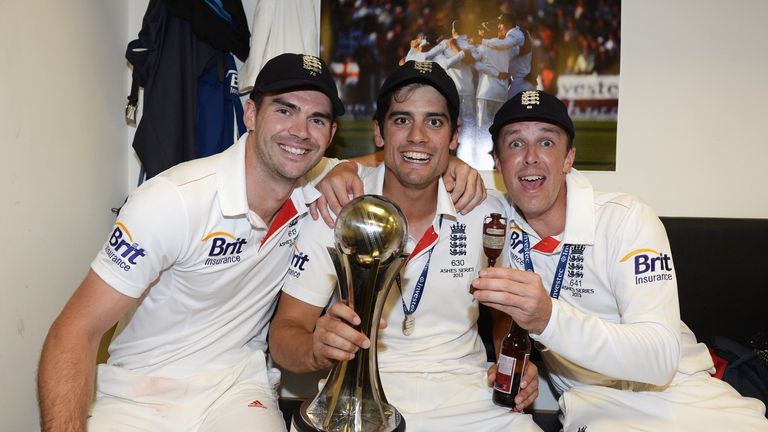 Here Sky Sports breaks down the performances of all the players the home side used during the five Tests, including offering a final grade. Do you agree? Have your say via the comments section at the bottom of the page...
ALASTAIR COOK (277 runs @27.70)
It was always going to be hard to beat the 766 runs he managed the last time he faced Australia, but Cook would've hoped for better than 277 from 10 innings with a best of 62. Unusually for him in his international career, he actually passed 50 on three occasions but was not able to kick on and register a big score. The tourists starved him of his favourite shots square of the wicket and he often provided catches behind by poking and prodding outside his off stump. However, his series did finish with him hoisting the urn aloft having captained his country to a 3-0 triumph. His leadership came in for criticism for being negative, but results speak volumes. He had control over his players and always remained calm, even in some tense circumstances.
GRADE: D (for batting) - B (for captaincy)
JOE ROOT (339 runs @ 37.66, 3 wickets @ 11.33)
The final stats don't look too bad, but it must be remembered 180 of his runs in the series came in one knock at Lord's, and in a match situation when England were well on top thanks to the efforts of their bowlers. There was a 68 at the Oval before an ill-advised sweep caused his downfall. A number of low scores shouldn't be a big surprise considering it is tough at the top of the order, and Australia's bowlers were always asking questions. Yet having been busy when he batted at six, the Yorkshireman, preferred as Cook's opening partner ahead of Nick Compton, at times became bogged down. Claimed three wickets in the series but was perhaps under-bowled by his skipper. Must've enjoyed the moment in Manchester when he was on the end of a David Warner hook for a second time in the summer, too.
GRADE: C
JONATHAN TROTT (293 runs @ 29.3, 1 wicket @ 28)
Like Cook, proved unable to match his efforts of the previous Ashes series. Uncharacteristically made starts without pushing on, often getting out in disappointing fashion, none more so than the first innings at Lord's when he was cruising on 58 before lobbing a simple catch out to deep square leg. It was the signal for Australia to attack him with short-pitched bowling, something few teams have opted to do in the past to a player so front-foot dominant. Also fell more than once leg before to left-armers swinging the ball back in. While he may be a specialist fine leg/third man to the seamers, Trott is ensconced as Graeme Swann's slip catcher. Picked up the wicket of Brad Haddin at the Oval, too. Will now want to rediscover his best form ahead of a return Down Under.
GRADE: D
KEVIN PIETERSEN (388 runs @ 38.8)
May not have scored as heavily as usual but still made some vital contributions, none more so than his century at Old Trafford that helped, along with the Manchester rain, England get out of trouble. Both at Trent Bridge and at his home ground of the Oval he showed the capability to dig in and fight for his runs, something he didn't do at Lord's as he made two single-digit scores at the home of cricket. However, he finished the series more like the KP we've come to enjoy, blasting 62 in England's failed run chase. In the fifth Test he was also honoured for becoming England's leading run scorer in all competitions. Also had to dismiss rumours the upcoming tour Down Under could be his last as a Test cricketer. The sport will hope that's not the case.
GRADE: B
IAN BELL (562 runs @ 62.44)
A career-defining series, and done in such style, too. Often accused of making good runs rather than runs at a good time, Bell on three occasions hit centuries at crucial points in matches that the hosts would go on to win. At Trent Bridge he basically late cut his way to three figures to put England in a match-winning position, then at Lord's he led the recovery mission after coming in at 28-3 on the first morning. His second-innings ton at Durham was just as valuable in setting Australia too many to chase down. Rightly awarded England's player of the series, yet strangely had not been named man of the match throughout the summer. The poster boy for the MCC Coaching Manual - is there anything better to watch in the game than a Bell cover drive?
GRADE: A*
MATT PRIOR (133 runs @ 19)
Came into the series as England's newly-crowned Player of the Year following his heroics in New Zealand during the winter. Ended it having endured a tough time of it with the bat and, to a lesser extent, behind the stumps. Waited until the final day of the fifth Test to make his top score of 47, meaning a man who averages over 42 in his Test career failed to register a half-century in nine innings. Finished up with 18 catches, meaning he was overshadowed by Brad Haddin's record mark of 29. Still, Prior is a vital cog in England's Test machine and a trusty lieutenant for captain Cook, particularly when it comes to choosing when to use the Decision Review System.
GRADE: D
STUART BROAD (179 runs @ 25.57, 22 wickets @ 27.45)
Ended the series with 22 wickets - 11 of which came in the fourth Test in Durham. As is becoming the way with Broad, he can go for periods without pulling up too many trees before suddenly producing inspired spells, just like the one at Chester-le-Street that reduced Australia from 174-3 to 224 all out late on the fourth evening. His 6-50 gave him career-best match figures and showed just what he is capable of when it all clicks into place. His figures in the first three Tests hadn't done him justice but he had still made an impact with the bat, even if he did need an extra life for him to make 65 at Trent Bridge. Those runs proved crucial in the final reckoning, though the consequences of choosing not to walk could result in some hostile receptions in Australia. Unlikely to bother him one bit.
GRADE: B+
GRAEME SWANN (126 runs @ 25.2, 26 wickets @ 29.03)
The dry surfaces during a hot summer played right into his hands, almost like England had asked for them to be prepared. Finished up as the home side's leading wicket-taker with 26 scalps, including taking nine in the match at Lord's. Once again revelled in the chance to bowl at left-handers - poor Chris Rogers was victimised, including being given out lbw to a donkey drop and then also leaving alone a straight one in the second innings of the same match. Swann might find pitches a little less to his liking in Australia, but will still be a crucial player in the series. Contributed runs, too - the tourists never seemed to learn the lesson about bowling anything in Swann's half. Always entertained in his television interviews as well, sometimes with the aid of his young son, Wilfred.
GRADE: A
JAMES ANDERSON (36 runs @ 7.2, 22 wickets @29.59)
Almost single-handedly bowled England to victory in that tense tussle at Nottingham, taking five wickets in both innings and finally ending Australia's resistance by removing Haddin on that unforgettable last day. His delivery to dismiss Michael Clarke on day one, however, was a swing bowler's dream, moving away late to clip the top of off stump. All went a little quiet after that and The Burnley Express looked somewhat jaded in the fourth Test. Did return to form at the Kia Oval though, claiming four wickets in the first innings. Finished up with 22 in the series and took the catch at Durham that sealed England's series triumph. With only Sir Ian Botham is in front of him on England's all-time list, Anderson is still very much the leader of the attack.
GRADE: B+
STEVEN FINN (2 runs @ 2, 2 wickets @ 58.5)
Finn burst into the series by taking wickets with his ninth and 10th deliveries - then did little else. His dismissals of Shane Watson and Ed Cowan in successive balls gave England the perfect start with the ball after they'd been dismissed for 215. However, he went around at more than five-an-over in the rest of the first innings and was sparingly used in the second (sending down just 10 overs) when his most telling moment came in dropping Haddin in the deep. There were no home comforts for the Middlesex man at Lord's either - he was dropped in favour of Tim Bresnan, allowing him to return to county action and try to find his rhythm. It would still be a major surprise if he wasn't part of the squad that heads Down Under to try and retain the urn.
GRADE: E
JONNY BAIRSTOW (203 runs @ 29)
With Root's promotion to open it allowed his fellow Yorkshireman to fit in at six. Bairstow continued to flatter to deceive, hitting a half-century at Lord's and averaging 29 without ever really suggesting he was set for a breakthrough innings that every young batsman craves. His half-century in the second Test only came after a huge reprieve, the right-hander bowled off a no ball from Peter Siddle. Being so bottom-hand dominant has caused the odd problem, but there is clearly talent there and it should not be forgotten Bairstow is just 23. The fact he can keep wicket means at the very least he should be selected this winter as back-up to first-choice Matt Prior.
GRADE: D
TIM BRESNAN (103 runs @ 25.75, 10 wickets @ 29.6)
Mr Dependable for England. Injuries hampered him over the winter and cut short his summer, too. Recalled at Lord's, he showed his all-round capabilities with four wickets and some valuable second-innings runs after being sent in as a nightwatchman (a surprising move considering he would have batted at eight anyway). It was a role he was to be used in again in the next two Tests, though his 45 at Durham saw him open his shoulders to belt a few boundaries that proved crucial in carrying England far enough ahead of their opponents. Unfit for the Oval, he finished the campaign with 10 wickets at a lick under 30. England will now wait, and hope, that he overcomes the back injury in time to be involved in the return series.
GRADE: B
CHRIS WOAKES (42 runs @ 42, 1 wicket @ 96)
Something of a surprise selection for the fifth and final Test, particularly when it was announced he would be batting at six ahead of Matt Prior. Doubts remain about his bowling at the highest level after he claimed 1-96 from his 24 overs; while the speed gun says he was in the mid 80s, the Warwickshire player still seems to need conditions more in his favour to prosper, certainly as a third frontline seamer. His batting, however, could be the key to him having a prolonged Test career - didn't disgrace himself in either innings and nearly helped steer England over the line in their dramatic run chase in fading light. Will hope he's not another one-Test wonder, though perhaps still looks more suited to limited overs cricket.
GRADE: D
SIMON KERRIGAN (1 run, 0 wickets)
England's sudden decision to change a winning formula at the Oval in the absence of Tim Bresnan offered spinner Kerrigan the chance to show his worth. Sadly, the Lancashire left-armer froze on the big stage. Watson took a particular liking to him, hitting his first two overs for 28 before lunch on day one. When the 24-year-old returned later he seemed to be struggling with himself, the mental demons leading to him just desperately trying to land it somewhere close. It was tough to watch, particularly as this wasn't the bowler who has been so successful for his county this summer. His chastening experience did make him a crowd favourite - no other England batsman got a bigger cheer than the No.11. May have bowled himself out of Ashes contention. Unused in the second innings, will be worried he's bowled himself out of an Ashes tour place.
GRADE: F