Cricket Expert & Columnist
Virat Kohli: Pressure is on India's new star, says Andrew Strauss
Andrew Strauss says Virat Kohli's ability to deal with the limelight will be key to his Test success.
Last Updated: 18/11/13 3:14pm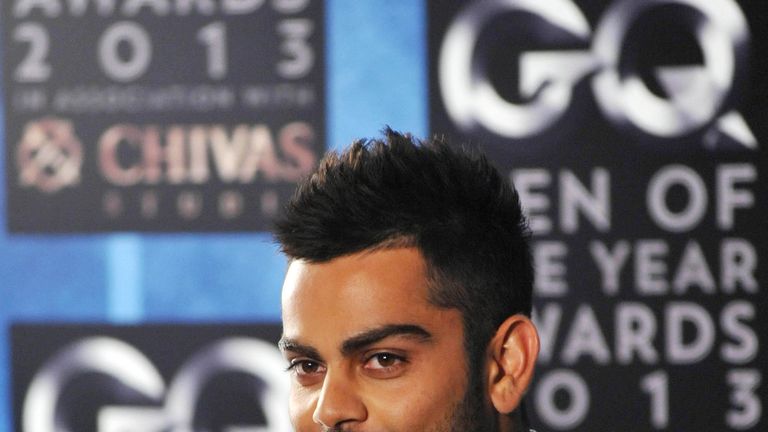 Tendulkar, 40, will bring his career to a close at the climax of India's second Test with West Indies - the Little Master's 200th match in the five-day arena - meaning Delhi-born stroke-maker Kohli should assume more responsibility in his nation's batting line-up.
The swashbuckling right-hander - who scored 57 during India's first knock against Darren Sammy's Windies in Mumbai - has amassed four tons in 19 Tests to date, as well as racking up three figures 17 times in his 119 one-day international appearances.
Former England skipper Strauss - who will be part of Sky Cricket's commentary team for all five of the upcoming Ashes Tests Down Under - believes Kohli has the quality to thrive in the longest from of the game.
But he says the batsman's skill will ensure he has to cope with intense scrutiny from the Indian public - much like the outgoing Tendulkar - and reckons his handling of that adoration will be key to his future success.
"Kohli looks phenomenally talented and his one-day record in particular is extraordinary," Strauss, who retired in 2012, told skysports.com.
"He is also very confident but he is going to have to deal with that tag of being India's great batsman and that is not an easy thing to deal with.
"There are all the pitfalls of fame and celebrity and it will be a challenge for him."
Triumph
Tendulkar - provided he does not bat again in his home city of Mumbai - will bow out from Test cricket with 51 centuries, 67 fifties, and 15,921 runs at an average of 53.78.
But Strauss feels the man known in his motherland as 'Tendlya' - who made his India debut against Pakistan in 1989 - must be saluted for his endurance and humility in addition to his supreme talent with willow in hand.
"Sachin is right up the top," added Strauss, when asked where Tendulkar ranks in the pantheon of all-time batting greats.
"Whether he is better than [Sir Don] Bradman or not it is hard to say but the records he has set I don't think will ever be bettered.
"It is a triumph of longevity as much as anything, as he has played for so long in all forms of the game and been so incredibly consistent in all of them, which is phenomenal.
"I know a little bit about pressure having captained England but he has had a hundred times that kind of pressure whilst carrying Indian cricket for 20 years.
"He has always seemed so unaffected by it, too; he didn't buy into the hype or the publicity and instead kept humble and kept batting.
"He is a really impressive man as well as a batsman and the game of cricket is going to feel a big loss when he goes."
Catch day three of India versus West Indies, from 3.45am, Saturday, Sky Sports 2.