Ashes Tour Diary
Sky Sports' man out in Australia Joe Drabble blogs on Bumble's golfing masterclass on day one of Ashes golf challenge in Adelaide
Last Updated: 27/11/13 5:54am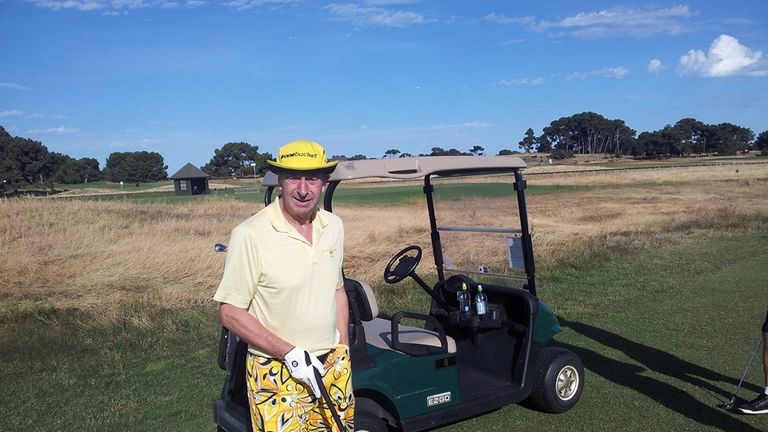 With the world famous Barossa wine Valley close by and some of the finest golf courses Down Under to choose from, South Australia is certainly a popular destination between Test matches.
There is no contest between a wine tour and a round of golf for our very own David Gower, who is happily in golfing retirement, however David Lloyd, Nasser Hussain and Ian Ward all packed their clubs and took to the course today for the start of the Sky Sports v Australia 'Ryder Cup-style' event at Royal Adelaide Golf Club.
The competition has taken place over the last few Ashes tours and an eight-strong team, which I have managed to gatecrash, will take on a selection of Royal Adelaide members over the next three days in a race to nine points.
Bumble, as usual, was the star of the show on day one.
Not only was he the best dressed player on the course, he also lived up to his outfit with some exhibition golf to help Sky Sports end the day just 3-1 in arrears.
A left-hander with a smooth swing, Bumble stood tall against some questionable local handicaps and intimidating sledging to keep us in the hunt going into the second day.
Nasser, who you may not be surprised to hear kept hold of the same ball all day, was on the receiving end of a 2&1 defeat and was particularly critical of his opponents' handicaps in the 19th after play.
My main issue, as well as driving, iron play and putting, was the snakes. As a player who spends most of his time in the rough, I was rather wary of what may have been beneath my feet, although I didn't actually see a snake all day...
A lot has been made of the sledging from Australia since I've been out there and it seems it's not just on the cricket field it takes place.
After missing my second three-foot putt of the round, Neil, a criminal judge out here in Australia turned to me, shook his head and said: "Joseph, your mother would be ashamed of you" before walking off to the next tee!
The course was an absolute privilege to play on. Immaculate fairways and greens, it is the perfect setting for a bit of R&R between Test matches.
A selection meeting is taking place tonight for tomorrow's pairings. Plenty of tactics involved but as long as we have Bumble and his John Daly shorts, we have a chance!