Ashes Paper Talk
A look at the top stories in the Australian papers as the country continues to revel in England's woes
Last Updated: 29/11/13 9:57pm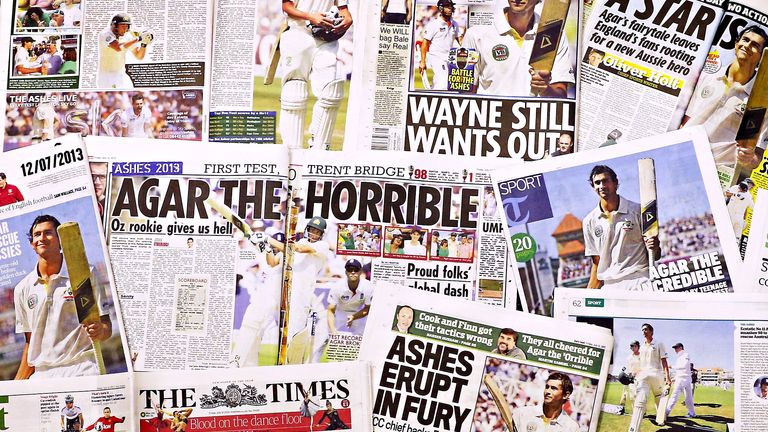 COUNTDOWN TO SECOND TEST: FIVE DAYS!
THE ADELAIDE ADVERTISER
Where better to start than in Adelaide, which is preparing to host the second Test of an Ashes series that has exploded into life following the events in Brisbane last week.
The Advertiser claims their two-day match against a Chairman's XI is more proof of the tourists' decline.
"New week, same story for the fragile English batting line-up.
On an Alice Springs day tailor-made for runs, the visitors spluttered before declaring at 7-212 against the Chairman's XI, with more questions than answers as they seek an Ashes spark and middle-order rock for the second Test."
THE SYDNEY MORNING HERALD
The Sydney Morning Herald is still enjoying the warm glow of Brisbane, specifically Mitchell Johnson's rise from Barmy army whipping boy to England tormentor. Ricky Ponting claims he knew all along the boy would come good after playing with him in the IPL earlier this year.
"I spent some really good time with him at the IPL this year in Mumbai. I knew then that things were starting to turn," retired Australian captain Ricky Ponting says. "He was bowling quick and just knocking blokes over with great deliveries. I've kept a really close eye on him since then and everything he's done [has built on that]."
Alastair Cook doesn't seem a Crazy Gang kind of chap, but Dean Jones thinks the England captain needs to shake up his team before the second Test with some leftfield training sessions. Jones is thrilled at the prospect of England sinking without a trace.
"If I was Cook, I would organise sessions that would get everyone out of their comfort zones. Morning boxing classes would be a nice start. I would schedule half-hour video sessions daily, reliving their insipid performances at the Gabba. I would be making sure that my senior management would kill off any negative locker-room talk.
He also thinks Andy Flower could take a leaf out of Paolo Di Canio's book.
"Cook needs to ban guys listening to music while on planes and buses. It is time the team started to talk and communicate with each other. They need to show an interest in each others' thoughts and preparations."
Martin Whitaker, however, was upset with the treatment of Stuart Broad in Brisbane, insisting Broad is the sort of hadr-nosed competitor Australians usually love.
"...in the brave, unapologetic, intensely competitive way that he plays the game, Stuart Broad is the archetype of the Australian cricketer lionised in this country for the past 40 years. Australian crowds don't have to like him, and they probably would have booed him anyway, but the only possible effect The Courier-Mail campaign could have was to inflame the crowd's animosity towards him."
THE DAILY TELEGRAPH
Meanwhile, Malcolm Conn reveals the level of debate in Australia over the selection or otherwise of Ryan Harris for the second Test.
Harris has a formidable record against England, but is injury-prone and may not be suited to the drop-in pitch at Adelaide next week. However, Conn says he could play because of Shane Watson's return to fitness.
"Strongly in his favour is the likelihood that Shane Watson will be able to bowl unhindered, with a net session today (Saturday) expected to confirm the injury-plagued all-rounder will be able to play a significant part with the ball in Adelaide."
Gerard Whateley has some larger questions for the Australian public and players in the wake of the sledging row that erupted at the end of the first Test, suggesting some players are treading a fine line.
"What constitutes intimidation? When does abuse tip from goading to bullying? Where is the respect between fellow professionals? How actively involved should the media of each country be?
What is the "line" the players speak of but conveniently never define? Does winning justify any means necessary?"
A lot of questions, there. He continues...
"There are those who see sport only through the prism of winning and losing. They will have no concept or care for such contemplations. They are the ones shouting for the politically correct to pipe down. Let the Christians and the Lions go at it.
"Others see the morality tale in sport. The reflection of life. They crave victory with humility and class. And the greeting of defeat with dignity and poise."
THE WEST AUSTRALIAN
Justin Langer, veteran of five Ashes campaigns and with a century in each of them, has no problem with the way the first Test was played.
"That's the way Ashes cricket should be played," Langer said after Australia triumphed in the Gabba slanging match.
"As long as it doesn't get personal, it should be played tough. Go back to bodyline and I am sure there were a few harsh words spoken. The only thing that has changed is there are a few more cameras and microphones now."