Pick of the day
We look back on the second day of the third Test in Perth
Last Updated: 14/12/13 7:37pm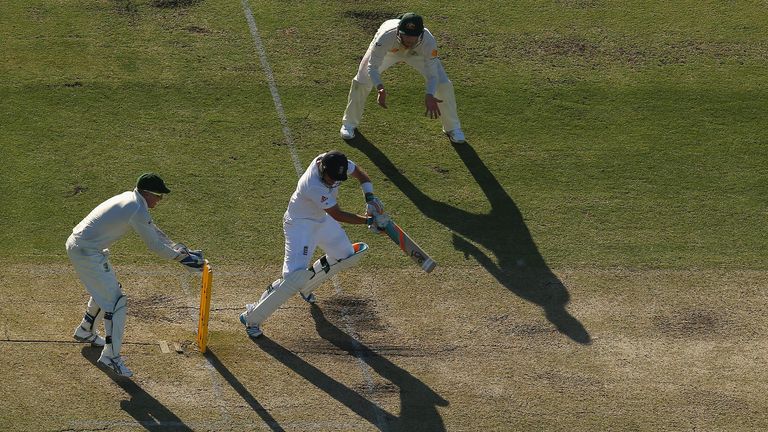 England's first task of the day was to knock the final four Australian wickets over quickly after the hosts had closed on 326-6 and they did just that as the Aussies added just 59 to their overnight score to finish 385 all out.
Despite the irritant of a last-wicket stand of 31 between Nathan Lyon and Peter Siddle, it still represented an excellent effort by the tourists and they ended a fine morning session by reaching 24-0 at lunch.
England moved onto 85 without loss in the afternoon but that became 146-4 as the Aussies bagged the prize wickets of England captain Alastair Cook for 72 and Kevin Pietersen for just 19.
That left England in a precarious position and had another couple of wickets fallen their hopes of saving this Ashes series might have vanished.
But an unbroken stand of 34 by Ian Bell and Ben Stokes took England through to the close on 180-4, leaving the match still nicely poised.
Here's a look back on events on day two with a range of opinion, analysis and video.
Cook digs in
Alastair Cook has been some way below his best in this series but a knock of 72 helped England stay in the game and could bode well for the final two Tests if his men can keep the series alive. Fellow opener Michael Carberry, who shared a first-wicket stand of 85 with his captain, said: "Cookie played really, really well. It's nice to see him getting back to what we know he can do. He's had a lot on his plate the last few games and he's a really determined guy. He's scrapped hard today. I've seen him play more fluently but, in the in the context of the game, it was just what we needed - someone to dig in and keep the Aussies at bay."
Pietersen's dilemma
It seems that Kevin Pietersen doesn't know whether to stick or twist in this Ashes. After criticism of his previous dismissals in this series, KP opted for a circumspect approach when he entered the fray on 90-2 to join skipper Alastair Cook. He took 15 balls to get off the mark and 44 before hitting his first boundary. But after seeing off Mitchell Johnson, Pietersen's eyes lit up at the sight of Peter Siddle and yet again he paid the price. Attempting to cut loose with a flat-batted pull, he was caught by the leaping Johnson at mid-on and fell victim to Siddle for the 10th time in Tests. Pietersen may have become just the fifth England batsman to pass 8,000 Test runs during his knock of 19 but in this series he's now made a paltry 120 runs at an average of just 24.
McDermott credits bowlers
Australia bowling coach Craig McDermott was satisfied with the way his men fought back with the ball on day two after undoing England's strong start (85-0) by taking four wickets for 61. "We got our act together after the break," he said. "Short-pitched bowling is not the way to go here. As a group, we were disappointed how we started but we turned that around this afternoon. Everyone bowled really well and the ball was swinging for us too. The last three or three-and-a-half hours, we bowled really really well and those crucial wickets in the last session was a great end to the day for us. Everyone keeps chiming in with wickets for us and it's just a really good all-round attack from my point of view."
Atherton on Root controversy
Joe Root's controversial dismissal had to stand because there was no firm evidence that it should be overturned, says Michael Atherton. Root immediately called for a review after being given out by umpire Marais Erasmus, who adjudged him caught behind off Shane Watson. But third umpire Tony Hill decided that DRS did not provide a compelling case for him to reverse the initial decision and Root had to go having made just four. Reflecting on Root's downfall, Atherton said: "Under the protocols as they stand, I thought the correct decision was made given that the on-field umpire gave it out. There was conflicting evidence, the third umpire did what he could only do which is say we'll stick with the on-field umpire's decision."
Ron Burgundy Ashes verdict
It's been tough viewing for England fans in this series so how about some light relief and a different perspective from the legendary anchorman. "Australia and England are locked together in a mighty battle of sport. The spoils... an almighty trophy cut from the bone of the gods," says Ron before being somewhat shocked by the size of the little urn.