The Ashes: Chris Rogers still feeling pressure ahead of fourth Test in Melbourne
Australia opener Chris Rogers has said there will no let up in pressure ahead of the fourth Test against England.
Last Updated: 21/12/13 8:25pm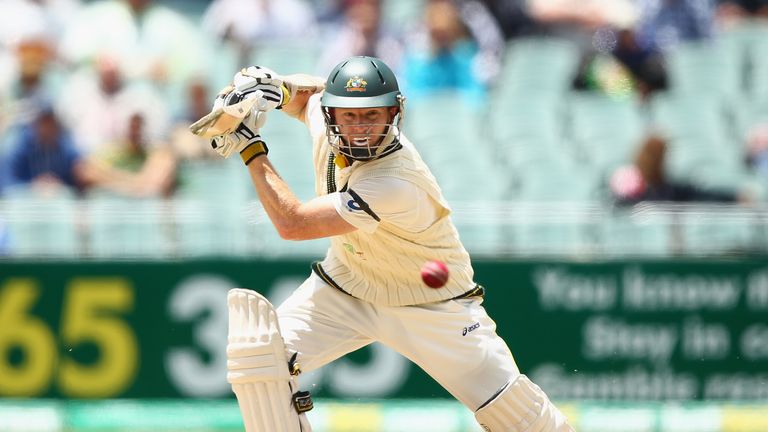 While Australia locked up an unassailable 3-0 series lead with victory in Perth earlier this week to regain the Ashes, Rogers admitted his personal contribution has been less than compelling.
Rogers has scored a total of 156 runs from six innings with only two half-centuries for a series average of 26.
He said that, at age 36, his time at Test level cannot endure too many low scores with players such as Phil Hughes waiting in the wings.
"Every game, I think that's part and parcel of playing for Australia," Rogers said.
"I'm one of the batsmen who hasn't got a hundred, so (I'm) under a little bit of pressure and probably haven't got the runs I had hoped for this series. I haven't been batting particularly well.
"There were a few things technically that haven't been great, but I did a bit of work with (former Australia opener and batting coach) Justin Langer before the last Test and that was probably as good as I've felt.
"Hopefully that's a good sign, but it all comes down to how many runs you get.
World record crowd
"To play in front of a Boxing Day crowd, it doesn't get any better. It may be a world record crowd, so to go out and open the batting against that I think it's going to be great fun - daunting, but amazing as well.
"I definitely don't want to get out first ball, but to have the honour of facing the first ball in a Boxing Day Test would be fantastic."
Even though the fate of the Ashes has been decided after barely 14 days of Test cricket, Rogers said the Australia team wants to complete a clean sweep in Melbourne and Sydney.
"It wasn't that long ago that we lost that second Test at Lord's, and the pain we felt after that was probably one of the worst moments in my career and probably for a lot of the other guys as well," Rogers added.
"That's still pretty fresh in our minds, so there will be no let-up. There's a lot of passion in this side and I'm pretty sure we'll want to keep beating the English.
"Three-nil in England, we didn't think that was a fair result.
"But if we ended up being four-three or five-three up (after 10 consecutive Ashes Tests), we would end up being happy with that. So there's a lot for us to play for."