Peter Siddle: Australia determined to finish Ashes job against England
Peter Siddle has warned England there is no chance of Australia easing off in the final two Ashes Tests.
Last Updated: 23/12/13 9:38am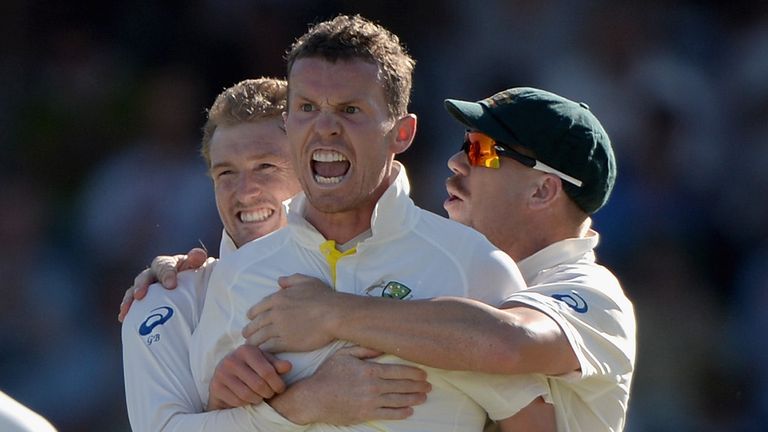 The tourists go to Melbourne for the Boxing Day Test with the urn already back in Australian hands following three straight heavy defeats.
England's build-up to the fourth Test has been disrupted by Graeme Swann's shock retirement and the subsequent row over his comments about some international players "(who) have no idea how far up their own backsides they are."
The Australians are not about to get involved in England's latest problems, according to Siddle, whose focus is solely on a repeat of the 2006-7 Ashes whitewash.
He said: "It's their changing rooms, not ours. All I can speak for is us. It's every boy's dream in Australia...all I ever wanted to do was get the Baggy Green.
"To achieve that is everything I could have hoped for. There's nothing else I want to do. It's something we cherish a lot.
"It's taken me four opportunities to finally get a chance to celebrate winning
an Ashes series. It's a great position to be in, but there are still two Tests to go, so we're concentrating now to make sure we don't let up."
Siddle was part of the touring Ashes side beaten 3-0 in the summer although - barring a hammering at Lord's - England's victories in those games were far less emphatic than Australia's this winter.
"Compare that 3-0 to this 3-0 - totally different," Siddle said. "We've been ruthless.
"To set the opposition 500 to chase three games in a row - never been done before - shows how switched-on we are.
"We haven't given them anything. That's what's causing England's problems."
Watch the fourth Ashes Test live on Sky Sports 2 from 10.30pm on Christmas Day