ICC Women's World Twenty20: title up for grabs in absence of clear-cut favourite
England can't afford to get bogged down by spin if they are to regain crown...
By Isa Guha
Last Updated: 24/03/14 6:11am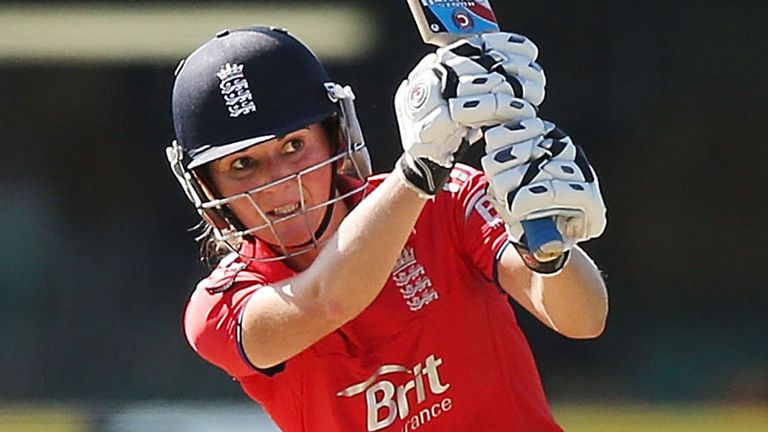 Charlotte Edwards' side - losing finalists in 2012 - appear in good shape after warm-up wins over Pakistan and New Zealand but Sky Sports expert Isa Guha says this might just be the most open tournament yet...
Isa, you played in the inaugural ICC Women's T20 in 2009, which England won. How has women's T20 changed since then?
Isa: In the last five years we've seen the emergence of several other powerful sides - principally the West Indies and Sri Lanka - to rival England and Australia. The global game is thriving at the moment. The fact that the England girls have recently signed contracts to become fully professional cricketers is a massive step towards professionalism across all countries around the world. England are leading the way in that department, as are Australia who have got a lot of support behind them.
We're also seeing more games coming down to the last few overs, which makes the matches more of a spectacle and will hopefully attract more viewers to women's cricket. We're entering an era where women's cricket is a sport that can be followed around the world because of the levels of competition and the different sorts of characters that are emerging from each team.
Judging by the warm-up games, this is a great chance for players like Jodie Dibble and Rebecca Grundy to step up and make a mark.
Isa: England are lacking a few players this time - Katherine Brunt and Laura Marsh are still injured, Hollie Colvin is having a break from the game and Arran Brindle has recently retired, but that means there are opportunities for youngsters. A lot of the girls put up their hand on a recent academy tour to Sri Lanka so there are people knocking on the door and that can only be good for the future of the game in this country. You are always going to miss someone like Katherine because every time she puts on an England shirt she gives it her all - plus more! Everyone in world cricket will wish her well on her road to recovery after her back operation. I know she is very frustrated not to be out there with the team. Being one of England's prime spearheads, she will be missed but Anya Shrubsole - who took 4-10 against New Zealand - will take over the reins and take wickets with the new ball.
Of the newcomers, who should we look out for?
Isa: Jodie and Rebecca might have a role to play out in Bangladesh if the wickets turn. Both of them are left-arm orthodox spinners but they are different in the way that they bowl. Jodie extracts a little more turn and gets more bounce because she is taller than Rebecca, who is more of a containing bowler - she tends to pick up her wickets by frustrating the batsmen.
Katie Cross came to the fore during the Ashes, performing really well in the Test at Perth. She offers England another pace option if required. Tammy Beaumont is coming back into the side having scored runs in Sri Lanka; her game isn't dissimilar to Arran's in as much as she's a gritty, determined character and her previous England experience will stand her in good stead. England changed their line-up for the game against New Zealand with Tammy batting at three and it may well be that during the tournament Heather Knight drops down to strengthen the middle-order. Natalie Sciver isn't a newcomer but she is a very exciting, match-winning talent who offers things with the ball and the bat.
England begin their campaign against one of their main rivals for the title, the West Indies. Who else will post a threat?
Isa: The West Indies have got a very good spin attack with the likes of Shaquana Quintyne, Anisa Mohammed and Shanel Daley in the squad - plus, of course, Stafanie Taylor. Depending on the pitch, England might well look to attack their seamers a little bit more. But their main threat remains Deandra Dottin, who is the star attraction of the whole tournament. She scored 78not out against Australia and if you don't get her out early she has the capability to decimate a bowling attack. She can hit sixes at will and likes to start with a boundary, so she'll be England's primary threat. It will be interesting to see how Charlotte uses Anya against her because she could be key. If she does save her for the middle overs to bowl at Dottin, Anya will still need to extract movement otherwise Dottin can easily get her hands through the ball. That will be an interesting contest.
Danni Hazell has been excellent in the six months; she has the ability to change her pace and has been flighting it a little bit more. She conceded only five runs off three overs against New Zealand and is certainly one person that England can rely on.
Who are your favourites to win?
Isa: I wouldn't say there is a clear-cut favourite this time - I think it's really open. Australia stand a really good chance of defending their title but it will be interesting to see how India play, because they've got a point to prove after their early exit from the one-day World Cup. Conditions should suit the quality spinners in their line-up but whether they've got the firepower in the batting to get up to decent scores remains to be seen. Then there's Sri Lanka, who have proved on a number of occasions that they are very capable of putting up a fight. The West Indies have a very good chance because this is a format that suits them - and they've got several hard-hitting batsmen and a good spin attack. It will be interesting to see how England play against spin because in the last few games in Australia that was an area they needed to improve because they got bogged down a lot; they struggled to penetrate the field and hit enough boundaries. But hopefully the girls will do well! It will take a real team effort to get to the final and win.
Follow the ICC Women's World T20 on skysports.com and Sky Sports, including live coverage of both semi-finals and the final.