Red Rose to bloom?
Lancashire squad of local lads are aiming to be challenging for honours in all formats of the game this season following a successful promotion push in 2013...
Last Updated: 17/04/14 1:13pm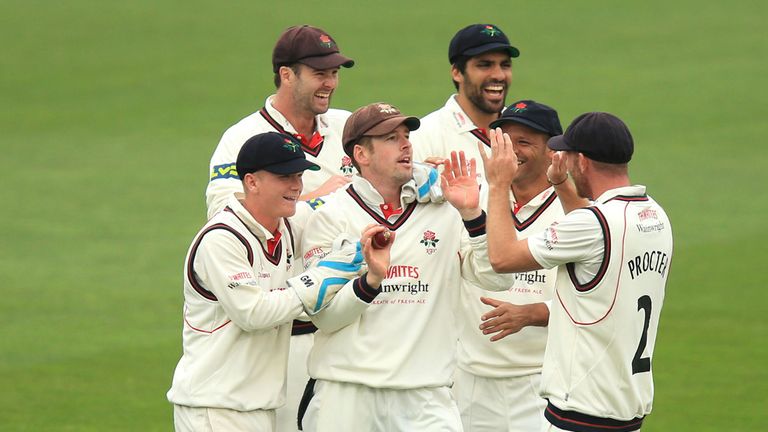 Lancashire's return to the County Championship's top flight didn't get off to the best of starts at Trent Bridge last week as they went down by 45 runs to Nottinghamshire.
However, a spirited batting effort on the final day ensured that they remain confident of making an impact on Division One this season.
Last season was the second time that the county had found themselves in Division Two but as they did on the previous occasion in 2005, they bounced straight back by finishing top of the pile in the second tier.
Lancashire have always produced home-grown players who have gone on to play for England
Kyle Hogg
The loss to Nottinghamshire came despite a century from former South Africa batsman Ashwell Prince on day four bringing the Red Rose to within touching distance of an unlikely victory. Prince has announced that he will retire at the end of the current campaign and having played a key role is helping the team gain promotion he is thrilled to be back at the highest level of county cricket.
"It's good to be back," said Prince. "It's been a great performance by the team to bounce straight back into the first division.
"It's not easy and it's not straight forward to come straight back, you know there are some big clubs in the second division who have all struggled over the past few years to come back into the first division and haven't managed to do it. So for us to be able to come back straight away has been a great achievement."
Coach Peter Moores revealed that it was the four-day format that the club had prioritised last season to ensure a return to Division One to provide a number of their talented young players to play at a level competitive enough to enable them to develop.
"We made a decision at the start of the year that that was going to be our main focus, to try and win the division, which we did, and credit to all the players and everybody here, we did it with time to spare," he explained.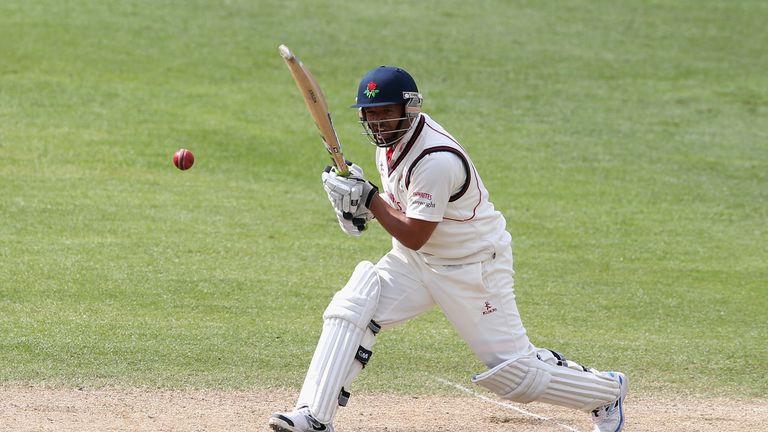 "It's important for us to be in Division One because there are some very good sides in there and we've got a lot of emerging players who need to play against those players to keep improving. We're desperate to try and repeat what happened in 2011 I think and go and win another Championship. So from that point of view, it was very important."
Of those emerging talents the vast majority are home-grown, local players. Something that Moores believes is important at a club like Lancashire.
"There's a lot of people who play cricket in Lancashire and Yorkshire, they're the two biggest areas for youth cricket so to give lads a chance then to move on and play for the county of their birth is a great chance," he remarked.
"They need to be good enough to do that but we've seen that happen a lot over the past three or four years. It's something we've be conscious of and it's something we want to do.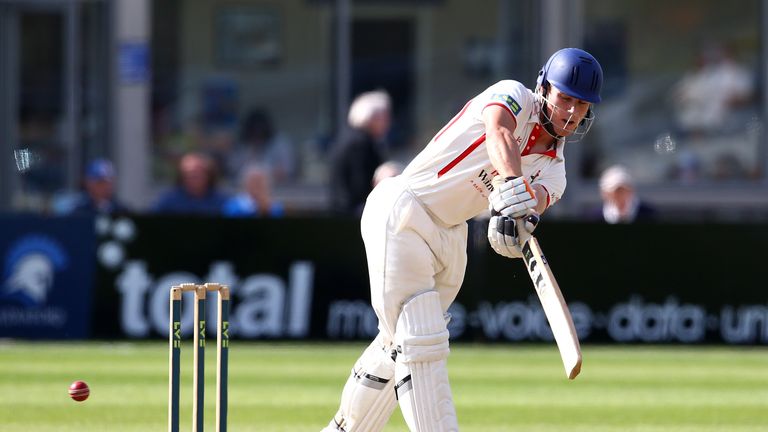 "Probably the last one was Luis Reece burst through in the Championship side last year, Arron Lilley got into the one-day team and some of them are moving on, Kerrigan and Parry, and playing for England which is great to see."
It is something that the players agree is hugely important for the county with opening bowler Kyle Hogg, speaking of the pride local players, himself included, get from playing for their home county.
"Lancashire have always produced home-grown players who have gone on to play for England," he said. "Other than Ashwell Prince and Jos Buttler, who's just come in, the majority of the lads are Lancashire lads and they have a great pride in playing for the Red Rose."
Glen Chapple, who turned 40 during the off-season, has played for the county of his birth throughout his career and knows more than most about what it means to represent Lancashire.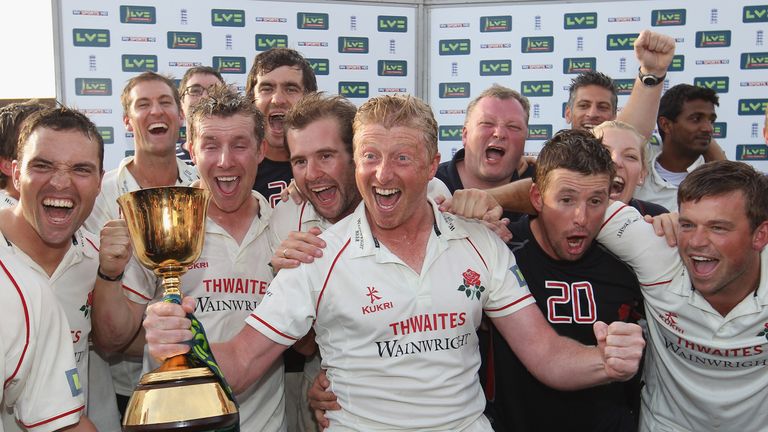 The seamer was in agreement with his coach and new ball partner over the necessity of having local players but added that once the team are out on the pitch it doesn't matter where the players hail from.
"I think it is important and I think a club like Lancs should always have a solid system in place for producing quality cricketers from the county," Chapple said of his side's abundance of local players.
"That doesn't mean that the players from outside are any less important, the blend is important, and when we play together we're all as one. The development is what you're looking to do, whether that is developing players you sign from other counties at a young age or developing them right through from 11 years of age."
As a team with three trophies up for grabs you want to be amongst those trophies and at the start of the season that is the ambition – to challenge on every front
Ashwell Prince
This season will be the Lancashire captain's 22nd season and he admitted that there were some difficult occasions during the winter that other players may have made other players question the wisdom of playing another year, but not Chapple.
So what is it that drives him on and allows him to keep performing year after year at the top level?
"A lot of it comes from playing at the club I've been at for my whole career and seeing the strength of the squad and my belief in the squad that it can challenge for trophies," Chapple said.
"We've won the Championship once since I've been here so there's a chance to double that in one year! You can find all sorts of ways to motivate yourself but I think the club and the team do that for you as well."
It is clear what motivates Lancashire as a whole, from the coach to the playing staff to the tea lady, everyone was on message. They want trophies. And they believe they have a squad more than capable of winning them. 
"There's a lot of competition for places and it's going to be interesting to see how the competition unfolds," added Chapple. "Everybody on the staff is capable of making an impression on the season for the club so in that respect it's great.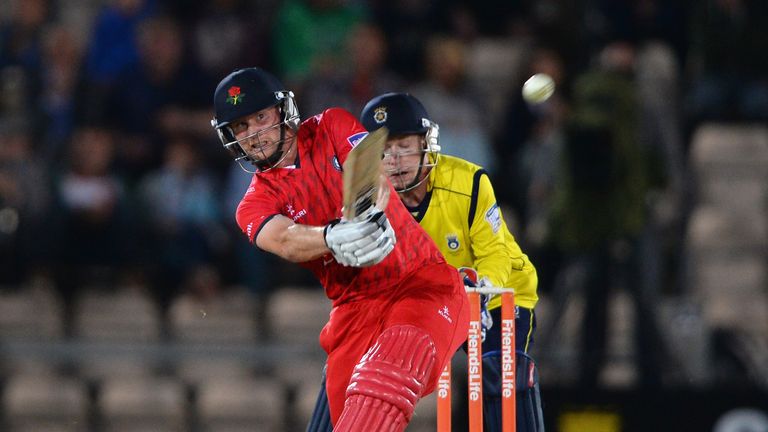 "If somebody is doing really well and still not getting a chance then that is when it becomes difficult. But we cross bridges when we come to them. Everybody is really hungry for success and that's where you want to be."
As for the retiring Prince, he is after the dream ending. Staying in contention for as long as possible, he said, is the key.
"As a team with three trophies up for grabs you want to be amongst those trophies and at the start of the season that is the ambition – to challenge on every front," he commented.
"I think the most important thing is that when it comes to the last month or so of the season to be in contention for all three trophies. As a squad that is the ultimate - to stay in the challenge and be right in the mix at the business end of the season.
We've won the Championship once since I've been here so there's a chance to double that in one year!
Glen Chapple
"Obviously when you are going out, you want to go out on a high. You want to go out with good performances individually and adding some silverware to that would be nice as well."
Despite the focus on the four-day format last season, Lancashire still put in some encouraging showings in the limited overs competitions reaching the Twenty20 quarter-finals and coming third in their Yorkshire Bank 40 group. So for this season, the goals are simple according to Moores.
"It sounds pretty obvious to say we want to go one step further but signing Jos Buttler gives us another top flight one-day player to add something to it," he said. "There're areas we've got to get better, I think, bowling at the tougher times is an area we're really trying to move forward on.
"We're going to have to play good cricket but I think batting-wise we've got a bit more firepower in the line-up with Jos coming into it. Bowling-wise the experience the experience of getting close, to a quarter-final or a semi hopefully stands us in good stead to move one step further this year."
For now though, the County Championship remains the focus with 2012 Champions Warwickshire the first visitors to Old Trafford since the club's promotion. Lancashire will be looking to secure their first victory to get their season off and running and prove that their squad of local lads has the talent to help them make their hefty ambitions a reality.