NatWest T20 Blast: Lancashire confirm talks with Andrew Flintoff over possible comeback
Lancashire are in talks with Andrew Flintoff about potentially making a comeback in this season's T20 Blast.
Last Updated: 13/05/14 3:20pm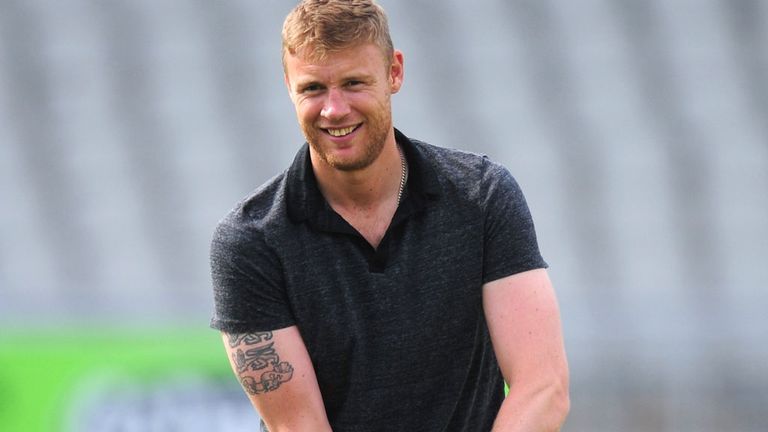 Flintoff has not played since the Ashes series in 2009 and has since been working in a variety of television and media roles, including a stint as a boxer.
But in a statement Lancashire said: "We are in talks with Andrew over possible involvement with the club during the NatWest T20 Blast campaign."
Sky Sports cricket reporter David Fulton said it remains to be seen what role Flintoff plays.
Fulton told Sky Sports News. "As yet, we are not quite sure when he might take the field, or what that involvement will be.
"Will it be in a playing capacity? Will it be in some sort of mentor or coaching capacity? That remains to be seen. The attraction of having Flintoff on the pitch is obvious - an all-rounder who can bowl a very heavy ball and who can hit the ball a long way.
"He has been netting with Lancashire on a fairly regular basis. It's been billed as 'mucking in with the lads' but it looks like it might be a little bit more than that.
"For someone who has not played a whole heap of Twenty20 cricket - his last game was in the Ashes in 2009. He hasn't been in cricketing action since then.
"There is a Twenty20 second XI match today - there were some rumours he might play in that. That hasn't happened. There's another one on Thursday.
"Lancashire's first match in the T20 Blast is on Friday at Trent Bridge. Don't expect him to take the field for that one. But this competition is drawn out over two or three months so don't be surprised if he gets involved at a later stage.
"It's exciting news - watch this space."