Tim Abraham
Sky Sports News reporter
England v India: Hosts relaxed but the pressure is on against MS Dhoni's side
Last Updated: 09/07/14 9:42am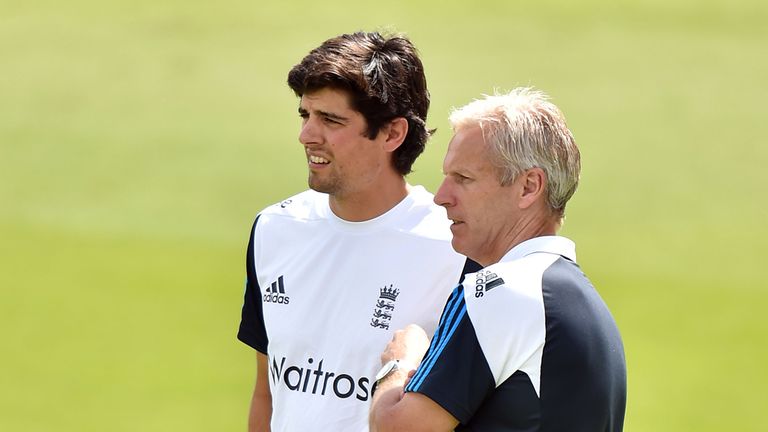 Tim Abraham looks ahead to England's Test series with India, which gets underway on Wednesday at Trent Bridge.
England are all set for their second Test series of the summer; the stakes are high and the heat is still on after the disappointment of the series defeat against Sri Lanka.
Captain Alastair Cook has been facing yet more questions about his captaincy style and his own troubled form, but the hunger and determination to lead from the front is there for all to see as England look to get back to winning ways. There's not been a dull moment in this come back summer so far, the dramatic series defeat to Sri Lanka was testament to that. 
The build-up, though, I must say has been much like any other. The England players have been in relaxed mood given the scrutiny and challenge ahead. During the first of two practice days, Stuart Broad was a safe pair of hands to convey the determination message and to be the latest player to back the skipper as leader and batsman.
Recalled Ben Stokes was left to get on with trying to impress the selectors, in a squad of 13, final selection, down to the captain and coach was going to be tricky.
Virat Kholi was put up by India for the media, and he spoke very well, measured, thoughtful and full of insight; he's the latest Indian batting sensation, and is tipped to become the next captain. He's set the world alight in one-day cricket, but stressed how succeeding in a Test series in England is a career ambition. 
Dramatic
The final day of practice started on a more dramatic note for England with confirmation Matt Prior, suffering with a tight right thigh, would need to prove his fitness. Jos Buttler had already reported for duty as cover, with the chance of realising his Test ambitions much sooner than he thought. Prior was expected to be fit but this was a clear sign Buttler is the next 'cab off the rank' as England's Test wicketkeeper after impressing in one-day international cricket.
Cook stressed the captaincy is not affecting his batting, and that he needs the bit of luck all require, for the much sought after big score. It was a chance to commit to the job, as long as the selectors still want him to do it. This has been billed as a series that will define his captaincy.    
His opposite number MS Dhoni knows better than anyone the scrutiny and pressure of being a captain - worshipped, idolised and so often criticised in a cricket-mad nation. He defended Cook, saying all go through difficult times, and advised him to ignore all the speculation.
That's something Cook failed to do when faced with yet more flak from his fiercest critic, Shane Warne in the build-up to the Headingley Test match, and he got dragged into a war of words.  
Trent Bridge is a favourite ground of the England players, especially the pace bowlers, where swing, pace and bounce reign supreme. England have won their last five Test matches here on the bounce, none more dramatic than the victory sealed over the Australians last summer. In the circumstances, any win will do.