Michael Vaughan questions whether Alastair Cook should stay England captain
Last Updated: 20/07/14 12:07am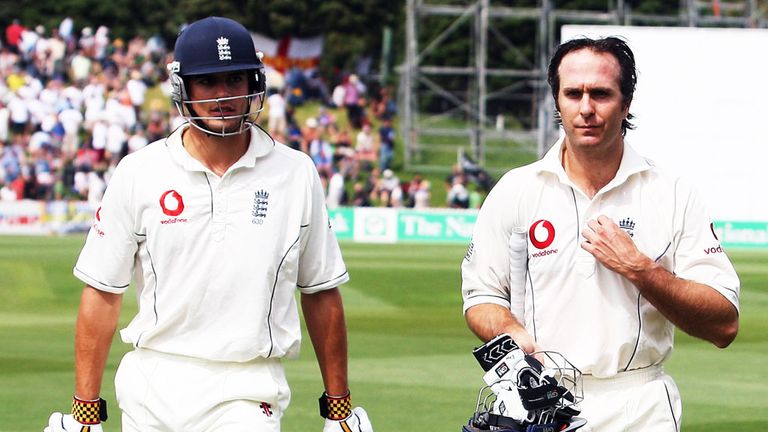 Michael Vaughan has echoed doubts about whether Alastair Cook should remain England captain.
Cook's role has come under increasing scrutiny after nine winless Tests and 26 innings without a century, his most recent failure coming in this week's second Test against India at Lord's.
Ex-England players such as Geoffrey Boycott and Alec Stewart have suggested that Cook can no longer handle the pressure of leadership and Vaughan, a former international captain, has raised similar concerns about the Essex man.
"We have reached the stage with Cook when he cannot be enjoying cricket. You don't when you are not playing well and the team is struggling," he wrote in his Telegraph column.
"It is easy for the England and Wales Cricket Board hierarchy to say it is going to stick by him but it has to ask what is best for the team and for Cook. The ECB has a responsibility to Cook the person to do the right thing and if that means taking the captaincy away then so be it."
The 39-year-old led England to a winning Ashes series in 2005, but admits he found it hard to combine the job of opening batsman and skipper.
"I went through terrible moments opening the batting and captaining the side," said Vaughan.
"I could not buy a run in my first series against South Africa and really struggled in Sri Lanka. It was killing me going to my room at night hating this job."
The former Yorkshire player decided to move down the order after a frank conversation with then-coach Duncan Fletcher, but does not think Cook will want to relinquish his opening duties.
"He looked me in the eyes over coffee and said what about dropping down the order to give yourself space and time to gather your thoughts and make the transition from captaincy to batting," Vaughan said.
"That one chat with Duncan saved me as a captain. If I had been stubborn and carried on as before I would not have lasted in the job because my form would not have been good enough to stay in the side."
Reflecting on Cook's future, he added: "English cricket has to get him back to batting consistently at the top of the order.
"He needs a bit of honest feedback. The ECB and Alastair cannot be stubborn and just carry on because they fear giving in to his critics. Plenty of great players have had to relinquish the captaincy to carry on being a player."