Sri Lanka v South Africa: Hashim Amla brackets Dale Steyn with the great fast bowlers after first-Test Galle heroics
Last Updated: 20/07/14 12:45pm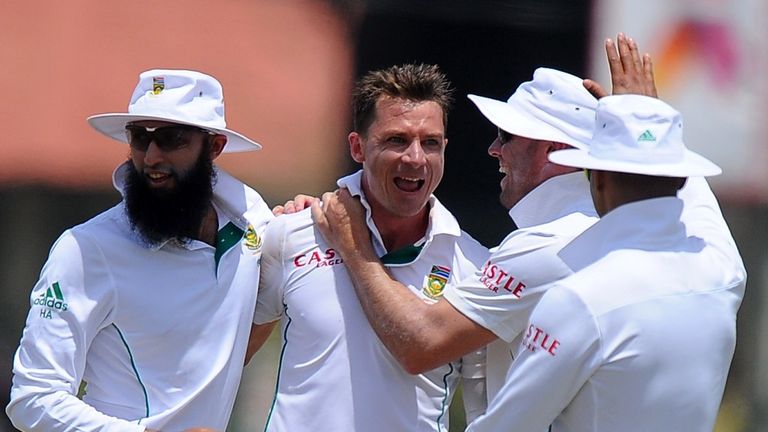 Hashim Amla bracketed Dale Steyn among the great fast bowlers after South Africa's first Test win in Sri Lanka.
Steyn and Morne Morkel took four wickets each as the home side collapsed from 110-1 to 216 all out in pursuit of a 370 target in Galle.
Figures of 4-45 left Steyn with match statistics of 9-99 - the best by a quick bowler in Tests at the ground - and helped South Africa win in Sri Lanka for the first time in 14 years.
"His figures speak for themselves, he bowled excellently," captain Amla said. "The lengths he bowled, the pace, the aggression - a great performance from a great bowler.
"I could look in the dictionary for a million adjectives to describe him, but I think it suffices to say that it was a great performance by a great bowler.
"The bowlers were really hungry - Dale and Morne asked for the ball regularly, which was brilliant. We picked up a few early wickets which made it a lot easier to maintain the pressure."
Steyn acknowledged the influence on his performance of South Africa coach and former opening bowler Allan Donald.
"I actually watched a couple of his videos before I bowled in this test," Steyn said. "He's always telling us how good we are and what legends we are - it must take a bit out of him to do that because he was a legend himself.
"For him to say those things to youngsters like us, I really appreciate that. The wickets are for the whole country but I'd like to say thank you to him,"
Sri Lanka captain Angelo Mathews said: "When we started the day at 110-1 our plan was to go after the target but, like in the first innings, we didn't bat well enough."
The second and final Test begins in Colombo on July 24.