Gary Ballance reveals Alastair Cook chat following Nottingham night out
Last Updated: 05/08/14 5:14pm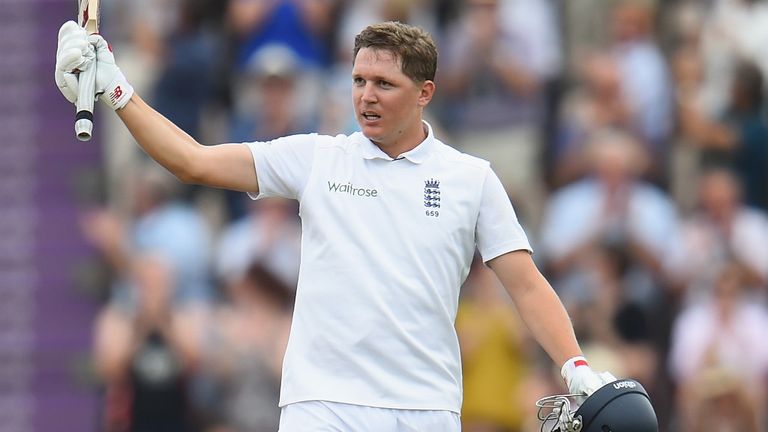 England batsman Gary Ballance has revealed he was given a "slap on the wrist" by captain Alastair Cook for his antics following the first Investec Test against India at Trent Bridge last month.
The 24-year-old joined a small group of team-mates on a night out in Nottingham after the game and was pictured posing with fans in the early hours, well refreshed and bare from the waist up.
England had given the players a night off between Tests and there was no alcohol ban in place but Ballance was nevertheless reminded of his responsibilities by head coach Peter Moores.
Cook also played his part, taking Ballance out for dinner and offering some words of advice - as well as a gentle rebuke.
"Obviously it had come out and I felt disappointed that I had let the lads down before a Test match, which was embarrassing and not what you want," said Ballance.
"I can't remember ever doing that before. Cooky took me out for some food with Joe Root and Matt Prior and just said 'these things happen' and that in a few days' time you would be laughing about it.
"There was not really a telling off - it was more a slap on the wrist and probably 'don't do it again'.
"It was after a Test, we had a few days off and you could go and have a drink but I probably had one too many.
Nervous
There was not really a telling off - it was more a slap on the wrist and probably 'don't do it again.
Gary Ballance
"I was nervous what my parents would think but they were very understanding. I think they've framed one of the pictures."
On the field, the Yorkshire batsman has enjoyed a fine start to his Test career, hitting three centuries in five matches this summer to cement his place at number three.
He scored a Test-best 156 at Southampton in the third Test last week to help England set up a victory which levelled the series at 1-1, but there were no raucous celebrations after England ended their run of 10 matches without a win.   
"After we won we just went for a few beers at the hotel. It was great to get my first win and a special moment," said Ballance.
"It was a great feeling because it's been tough the past few months.
"We've had decent chances all summer but haven't taken them. It's good to get that complete performance in Southampton, it's just what we needed."
Watch the fourth Test between England and India live on Sky Sports 2 from 10am on Thursday.